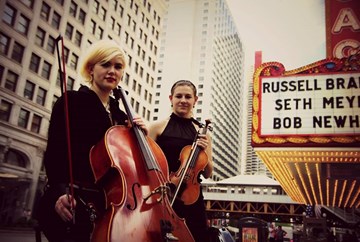 By: Amelia Garza
August 24, 2015
Nicholas Barron studied music at the New England Conservatory of Music but found his best lessons were learned on the streets of Chicago from the reactions of audiences who passed him by.
Being a street musician offered him "instant gratification," he said, that he couldn't get from any other venue. Whether a musician is good or bad, he or she will know instantly by the response from pedestrians.
Fellow street musician George Banks, a percussionist, guitarist and singer, feels the same way, "What I really like is when they give you a lot of nice compliments. You think your head is as big as a burrito, well my head—I can't get my head out the door sometimes, people are so nice."
"There's a difference between intellect and experience," Barron said. "I wanted to learn how to sing falsetto, right? So I went to the subway and I learned Al Green's Let's Stay Together." As listeners gathered around him and sang along, he learned from them. Soon he perfected his falsetto and was able to sing the words to his favorite song.
Barron, 50, got his start as a street performer while living in Europe, including a six-month stay in London in the mid-80s. He continued street performing in Chicago until 1991 and has since opened for artists such as Al Green, BB King, Buddy Guy, Johnny Cash, James Taylor, Michael Bolton, WAR, Nelly Furtado, and many more.
Although he is no longer an active street musician, he says he owes much of his success to the time he spent performing in the streets and subways. "Even though I've been to music school and stuff, there was something about being in the tubes and playing and the immediacy, the spontaneity, the energy that people are feeding off of and also, the unexpected nature," says Barron, "It's not a music club; it's a subway. And people's perceptions about [you] playing on the street or subway can change when they hear that you're really good."
In Barron's new song, "When the Fat Lady Sings," he writes about his time as a street performer and following his dreams. "I used to have people, guys in suits who were like lawyers and accountants and they'd say, 'God. I wish I could be you. I wish I could do what you do,'" says Barron. He goes on to say that although these men and women had money, they were envious of him because of the freedom of expression being a street performer granted him and also because he was able to do something he loved.
Aside from the many positive reactions, he and Banks say they encountered difficulties in being allowed space to perform, particularly at Chicago Transit Authority (CTA) stations. They, along with a dozen other performers, grouped together in 1986 to form the Coalition for the Advancement of Street Art (CASA) in order to convince the city to keep street music alive.
They received help from the American Civil Liberties Union (ACLU) and the late Alderman, George Hagopian (30th Ward.) In their postition, they cited the First Amendment right of free speech to be able to freely sing and perform wherever they choose.
From their work, CASA was able to get licensing in CTA subway stations allowing street musicians the right to perform. The stops back then included Washington and Jackson Blue Line stations as well as Jackson and Washington/State (now known as State/Lake) Red Line stations.
According to Banks, the stops have now been narrowed down to three; he recently was ticketed while performing at the Red Line station on State/Lake.
CTA spokesman Jeff Tolman confirmed that performers are only allowed at three CTA locations: the Jackson station on the Red Line and the Washington and Jackson stations on the Blue Line.
In order to perform at these locations, a musician must have a Performer's Permit issued by the CTA. These permits are issued upon approval at the agency's main office (567 W. Lake St.) and are valid for one year from the date of issue. The performers do not need to audition to receive a permit but must have a valid photo ID and must pay an annual processing fee ($10).
There are no date or time restrictions on when a street musician can perform at these designated areas. If a performer is not displaying their badge/permit, or is performing without a permit, a citation can be issued by the Chicago Police Department, Tolman said.
Separate from the CTA, the City of Chicago issues a $100, two-year license to street musicians. The performers are allowed to play on any sidewalk, parkway, playground or other public way within the city limits, said Mika Stambaugh, director of communications for the Department of Business Affairs and Consumer Protection.
Following the success of CASA, Barron went on to pursue his independent career, although he and Banks remain committed to the principle of public venues for street musicians.
Banks, 59, has been singing and playing percussion and guitar for Chicagoans for the past 30 years. Formerly a theatre student, Banks decided to pursue music in the early 1980s. He loves playing songs from the '50s and '60s and has had a three-week stint on "Celebrity Cruises." He still performs during the summer at the farmer's market on Division Street.
Banks became associate director of Chicago Street Musicians (CSM), a not-for-profit organization created by Gabriel Chapman and Sarah Barnes in 2009. CSM's mission is "to celebrate and recognize Chicago-area street musicians by educating the public at large and by providing additional performance opportunities for street music."
"There's strength in unison," Banks said of CSM, which seeks to offer more opportunities for street performers. Potential customers can approach Chapman with requests for musicians of various genres; he then reaches out to Banks, who can find a performer to fill the gig.
There are a range of performers that CSM works with, many of whom are listed on their website. One performer includes Fred Caine, also known as Kensey, a singer and harmonica player. Kensey began performing in the 1970s. He has learned from Jimmy Reed and the late Junior Wells, who introduced him to the blues scene in 1972. In addition to being a street musician, Kensey is also an artist and does face paintings at Chicago Bulls games.
Both Barron and Banks emphasize that few street musicians are homeless. In fact, many are students and aspiring performers representing the range of Chicago cultures, trying to gain experience in the best way possible.
Violinist Hannah Watson graduated from Columbia College Chicago with a bachelor's degree in music composition in 2012. She has studied under violinists Diane Delin, Edgar Gabriel, and David Yonan.
Another trained musician is Leyla Royale, a cellist who also graduated from Columbia College Chicago in music composition and audio production. Together, these young women co-founded Chicago Street Strings, They perform at weddings and other gigs with fellow string musicians.
Jerry Williams got his start as a street performer a few years ago. He has been playing alto sax since he was 11 years old and plays daily outside of the Art Institute. Williams now studies music performance at Northern Illinois University.
In his role as associate director, Banks considers himself a psychologist of sorts. His job title requires him to keep in contact with musicians and he often times finds himself listening to their complaints about policemen harassing them or not being able to play wherever they want. Banks tries to work issues out with the performers but many times, their problems can't be easily solved. "If there's [a complaint] in the subway, we don't want to do too much with that because they may take away or try to take away [our] permission to work down there," says Banks. "People ask me all the time why we can't get more places… Well, because they won't give them to us."
Tolman says there are no plans to expand the number of designated performance locations because they want to be a "good neighbor" and do not want to disturb those in residential or business areas near elevated lines.
This is a concern to street musicians because downtown subway stations keep them warm during harsh winters and cool in steamy summers.
Since there are fewer performance opportunities in the winter, street musicians learn rather quickly the need to save money they earn in the warmer seasons. Banks feels that by offering musicians more spots to perform at, instead of taking them away, Chicago can keep this art form alive.
Barron suggested the appointment of someone to oversee street musicians to make sure that "even the police know, there's a difference between homeless people—who need to be respected—[and] street musicians and street artists who are really an intricate part of the city and just making sure their perception is important and it's a valued thing," he says.