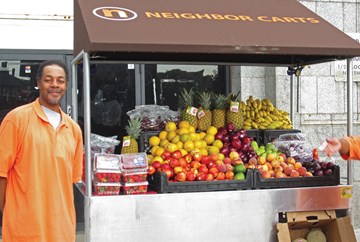 By: Suzanne Hanney
October 11, 2012
StreetWise has helped to bring a healthy new retail venture to Uptown as part of a city-wide pilot program aimed at creating jobs and ending food deserts.
An orange and brown-canopied produce stand, branded Neighbor Carts, at 4628 N. Broadway (Wilson Avenue and Broadway Street) is the newest produce stand to have come from StreetWise joining forces with Neighbor Capital LLC.
Founded in 2009 by social entrepreneur, John Piercy, Neighbor Capital is a social impact business focused on developing collaborative solutions to create sustainable communities. In furtherance of his desire to develop real-time economic solutions that empower both low-income and under-served residents, Piercy focused on a business model that would offer communities a product that contributed to the social good.
"Neighbor Carts hope to address two problems at once," said Piercy, "First, the carts provide a lasting economic opportunity for people seeking entrepreneurial employment and second, they provide easily-accessible healthy foods throughout Chicago."
The Neighbor Carts/StreetWise collaboration began last year when StreetWise Executive Director Jim LoBianco identified the need to offer more sustainable job creation for men and women seeking services from StreetWise.
Neighbor Carts meets this objective and more. It provides a new entrepreneurial employment activity that is more complex than selling the magazine. It also strives to improve the employment and income of participants by providing expanded job skills with a higher degree of transferability to the private sector.
Besides the Uptown Neighbor Cart operated by StreetWise vendors, there are carts at the following locations:
* 3758 W. Ogden Ave.
* 1601 W. Division St.
* 25 E. Chicago Ave.
Neighbor Carts expected to be ready this fall include:
* 3129 W. 26th St..
* 4020 W. 26th St.
* 3600 W. North Ave.
* 3645 W. Chicago Ave.
CLICK ON THE IMAGE BELOW TO VIEW THE CURRENT NEIGHBOR CARTS LOCATION MAP: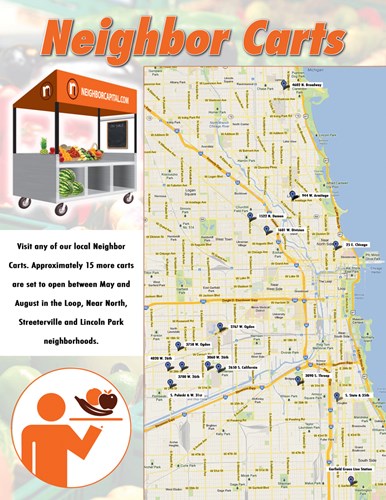 Neighbor Carts is committed to locating 50 percent of its carts in communities with little or no access to fresh produce. The goal for 2012 is 10 Neighbor Carts operating in Chicago, with 20 to 30 vendors engaged in job training and social service support. Each Neighbor Cart measures 6 ½ feet long by 3 ½ feet wide and stand 8 feet high with the removable canopy.
The StreetWise role in the Neighbor Cart venture is to provide job readiness training and long-term social service support to the produce vendors. "StreetWise recruits at-risk candidates; conducts a pre-admission screening that includes a criminal background check, drug test and aptitude test (i.e., basic math, reading and comprehension skills); and then provides workforce training and ongoing social service support", said Patrick O'Connor, StreetWise assistant director of workforce development.
The work is physically demanding, with vendors on their feet most of the shift. Produce vendors are responsible for taking the cart from its nearby overnight storage at 6:15 a.m. and moving it down the street for set up. Sales generally close around dusk; but first, the cart vendors must delicately repack remaining produce to allow its sale the next day (produce is not sold after it has been on the cart for more than 2 days). The 12-hour sales window means more than one person has an opportunity to work on a cart during the course of a day.
The initial pool of 19 candidates came from within the existing StreetWise participant population, as well as from the Lawndale based Hope House Ministries; Thresholds, Chicago's largest and oldest provider of mental health services; and Back on My Feet Chicago, a national nonprofit dedicated to creating self-sufficiency among homeless and underserved populations by engaging them in running to build self-confidence.
Candidates were winnowed down to seven high performers. After the initial job training provided by StreetWise, Piercy leads trainees through instruction in: Street Vending Basics; Business Principles & Financial Management; Customer Service & Retention; Produce Retail, Operations & Management; Sales, Marketing, & Customer Acquisition; Sponsorship & Marketing. The curriculum includes classroom, group activities and one-on-one tutoring.
Beginning produce cart vendors can net $350 to $500 weekly, according to Neighbor Carts publicity materials. Mid-level sellers can do $500 to $750 and the best vendors $1,250 weekly. Officials cite a potential for $3,750 to $6,250 in monthly earnings.
When O'Connor and Piercy interview potential candidates, they look for sales experience, acceptance of the demands of the job, and most of all – motivation.
Operating the produce cart appealed to StreetWise vendor Don Smith because, "it gave me the opportunity to be my own boss, have my own business. If I'm a boss, maybe I can help somebody else with employment."
StreetWise vendors Michael Moore and Andy Allen also welcome the opportunity because of their lengthy sales experience.
Moore has been selling more than 35 years – since he was 12 – when he assisted his brother selling oils, perfumes and soaps from India and Africa.
"It gives me the opportunity to work as an entrepreneur, as a businessman," Allen said of the Neighbor Carts, who once sold Chicago Bulls championship shirts on the street.
The cart's selection and prices are competitive with city supermarkets and often cheaper than convenience stores. The Uptown cart recently offered plums at 50 cents each, small mangoes at 2 for $1, oranges and cucumbers at 3 for $1, a quart of strawberries or a whole pineapple for $2, grapes for $3 a bag and cherries for $5. A bunch of roses was $7 and lilies were $5. You could get a cold bottle of water for $1 and a 16-ounce bag of peanuts for $3.
Adhering to a tried and true street vending strategy, the cart vendors are apt to lower prices on produce they want to sell before end of day.
Don Smith is known to give especially good deals to create a rapport with friendly customers, "If customers stop and give advice or they've got a baby, it's so nice," he said. "We try to give, not to take. We try to give the neighborhood something to look forward to instead of looking down."
 Sharon Brown stopped at the cart after she got off a bus on Wilson and headed up Broadway to the CTA Red Line station. There's not much of a produce selection in her neighborhood near 22nd and Springfield, she said, so she bought plums, a pineapple and mangoes to eat at home.
Just a few minutes later, Jowan Lewis bought a bag of peanuts after school, on her way home to Evanston. "I don't have to eat the processed food when I'm famished," she said. She prefers fresh fruits and vegetables for her metabolism, she said, and she shops at Whole Foods.
Healthy food goes with their healthier lives, the StreetWise participants say.
"I'm trying to improve my health by eating more fresh fruit and vegetables, being more disciplined," said Moore, who previously sold StreetWise Magazine downtown and on the West and North Sides. "I like meeting different people and I like being outdoors. I'm a nature guy."
What about the early and late hours?
"Work is work. I enjoy it," he said.
Smith also welcomes the opportunity to take a step forward. "When I first came to StreetWise, I wasn't on my square," he said. "I wasn't taking care of my business, wasn't paying bills on time, being a responsible adult. Now that StreetWise has helped me, I don't have to look over my shoulder. I'm catching up with my bills."
As a StreetWise Magazine vendor, Smith sells at Dearborn and Maple Streets in the Gold Coast. He also serves on the Quality Assurance Team (QAT) that monitors other vendors and helps them succeed. He wants to maintain both jobs in addition to the produce cart.
"StreetWise helped me to be the person I am today; I was never hopeless, just helpless," Smith said. "I would never have heard of this [Neighbor Carts] if not for StreetWise."
Selling fruit is a good job, Allen said, because "it's helping people to have better lives. At one time I would have sold drugs or cigarettes. I sold a lot of things that are unhealthy to the body. This is the total opposite. When I was selling drugs I was taking and now I am giving back."
Allen admits he was once hopeless, and felt doomed. He once drank and did drugs instead of paying rent and slept outside in 20 below zero weather.
"If you make your hard bed, you've got to sleep in it," he said. "I chose for things to get better and things are getting better. I changed my perspective on life. I chose to save my money and to start putting my money toward more positive things."
Allen came to StreetWise April 2012 and started selling the magazine at Chicago Avenue and Franklin Street in River North. He joined the Back on My Feet group and plans to run the Chicago Marathon one day. He also journals every day and has joined the StreetWise creative writing group.
Allen said he wants to share his experiences in StreetWise magazine to prevent others from going down the wrong road. "I wish I could have read an article like I want to write."
Stepping up to become a produce cart vendor is an additional way of taking charge of his life, rather than just waiting for job call-backs.
"What StreetWise is doing for me is helping me to help myself. As James Brown said, "don't give me nothing. Just open up the door and I'll get it myself."