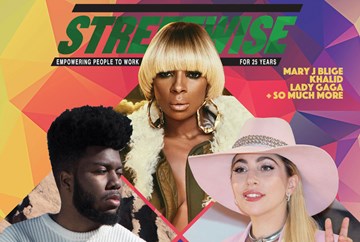 By: Jonathan Corvin-Blackburn
June 19, 2017
A new season is upon us and everyone knows that June through August are the best months to be in Chicago. Discover the best shows from a few names you have heard of, and some you may have not. We will answer hard hitting-questions like "Is grunge the next evolution of folk?" "Can a singer go from making 6-second Vine covers to filling Allstate Arena?" and "Is it truly ironic if it rains on your wedding day?" Find out these answers and more in our Summer Concert Guide.
June 19
Gregory Porter
Jay Prtizker Pavilion, Millennium Park
6:30 pm
Free
Head to Millennium park for their Juneteenth celebration with a night of classic jazz. Gregory Porter is an important voice of the genre and his 2017 album Take Me to the Alley won a Grammy - his second. With vulnerable lyrics and smooth vocals he perfectly encapsulates the spirit of Jazz. Also featuring Chicago's own cellist, Tomeka Reid, and her quartet.
June 29
Lola Marsh
Schubas Tavern
8 pm
$15
If you're a fan of Lana Del Rey, you will love Lola Marsh. Originally formed as a duo in 2013, they added more band members to expand their sound. This Tel Aviv group's folky-pop sound is perfect for soundtracking the summer. Keep an eye out for their debut album, which is expected to be released some time this season.
June 29
Lady Wray
Jay Pritzker Pavilion, Millennium Park
6:30 pm
Free
Nicole Wray hasn't had it easy. After breaking out in 1998 as an R&B artist on Missy Elliot's label, she continued to make music but struggled with being dropped by labels and not being able to release her work. That all changed last year with the release of her new album Queen Alone and her new moniker Lady Wray. Her new sound is based on more traditional soul combined with doo wop vibes. Her raspy vocals and heart felt lyrics complete the picture.
June 29
OK Go
The Vic Theatre
7:30 pm
$28
Known for their inventive videos featuring elaborate contraptions and perfectly timed choreography filmed in one take, this indie rock group is returning home. Originally from Chicago, they first gained popularity with their video for "A Million Ways" and continued innovating from there. Always catchy and radio-ready, their concert is not to be missed.
June 30
Ratboys
Schubas Tavern
8:30 pm
$10 ($12 at door)
This local band has a self-proclaimed "post-country" sound that blends Americana with a distorted twist. They are touring the U.S. to promote their upcoming album GN, which just happens to be releasing on the day of this show.
June 30
Mary J. Blige
Chicago Theatre
8 pm
$60.50+
Often referred to as the Queen of Hip Hop Soul, this nine-time Grammy award winner needs no introduction. Touring to promote her 13th studio album, Strength of a Woman, she's still going strong after 28 years in the industry. Refusing to stagnate, she continues to innovate by collaborating with unexpected artists such as Disclosure and Emeli Sandé for her 2015 album the The London Sessions. Her show will include new songs as well as old favorites such as "Real Love" and "Family Affair."
July 01
Lila Downs
Ravinia
7:30 pm
$27+
This Mexican-American singer-songwriter combines many different aspects of modern and traditional Mexican music with indigenous influences. Her music is sung in a multitude of languages, but her tunes can be appreciated even if you don't understand the words. More than just a musician, Downs is also a political activist, working with many organizations to help Latin American indigenous peoples.
July 07
Sheryl Crow
Ravinia
7:30 pm
$49+
"Soak Up The Sun" with this nine-time Grammy award winning singer. One of the biggest names in pop and country music, Sheryl Crow returns to Chicago to promote her latest album Be Myself. If "all you want to do" is have some fun, this night is guaranteed to "make you happy."
July 17
Big Thief
Jay Pritzker Pavilion, Millennium Park
6:30 pm
Free
Yet another excellent free show in the Summer Music Series is this indie-rock band that has been well-received by critics. Big Thief is touring to promote their latest album Capacity released on June 9. Joining them will be folk-soul duo Overcoats who we featured in our last guide, making this a memorable night of music.
July 17
Beth Ditto
Lincoln Hall
8 pm
$17 ($20 at door)
The leading lady of Gossip is stepping out on her own. After giving us a small taste of solo work in 2011 with the electronic dance album Beth Ditto EP, she's back with the soulful rock vibe that has defined her band's sound for years. An outspoken feminist and queer activist, Ditto is unabashedly cool. She has put her distinct touch on more than just music, expanding into fashion and makeup lines as well. Join her as she promotes her latest album Fake Sugar, scheduled to be released on June 16.
July 18
Sir Sly
Bottom Lounge
8:30 pm
$17
With snappy choruses, dark synth, and hypnotic melodies, this group will have you dancing. Their upcoming sophomore album is still in the works, but they will surely have some new tunes to play.
July 20-22
Lake Street Dive
Thalia Hall
8 pm
$36+
If soulful vocals with a side of rock and roll is your jam, make sure to catch a show during this band's three-night stint. Based in Brooklyn, this group is known for merging genres to create tunes that will have you singing along. They will be featuring a different opener each night, but we recommend catching them Thursday along with the super energetic Bhangra band Red Baraat.
July 26
Margaret Glaspy
Lincoln Hall
8 pm
$20
Not content with playing music in other bands, this artist from New York has proven she deserves the spotlight. With her first full release, Emotions and Math, she has evolved her sound to blend the vulnerable folk style of her previous EPs with a raw, distorted edge. If grunge-folk was not already a thing, Margaret Glaspy is ready to make it one.
August 3
Shawn Mendes
Allstate Arena
7:30 pm
$29.50+
If you listen to the radio for an hour, you will probably hear Shawn Mendes at least three times. At the young age of 18 this Canadian has already released two albums and multiple chart-topping singles. It's fitting that he learned to play guitar from watching tutorials on YouTube because it was posting six-second acoustic covers on social media that he first gained a loyal following. Thankfully his concert won't have the same short time limit, enjoy his tunes for a full night this August.
August 11
Marika Hackman
Schubas
9 pm
$12
2017 may be ready to prove that grunge is the natural evolution of folk, as another artist on our list has made a similar transition. Marika Hackman is traveling across the Pond to promote her latest album I'm Not Your Man released in early June. Her music is both catchy and poetic. Also featured will be The Big Moon, a four-piece rock band hailing from London, making for a full night of bad-ass women in rock.
August 16-17
Khalid
House of Blues
8 pm
$25+
Featured in just about every "artist to watch" list in 2016, Khalid made his full debut in March with the release of American Teen, an aptly titled first album that perfectly encapsulates the struggles and concerns that most people experience during adolescence. The album's upbeat vibes and catchy melodies are juxtaposed with his chill, relaxed sining style. Not just for teens, his music  shows a clear artistry and distinct vision that people of any age can relate to and enjoy.
August 25
Alanis Morissette
Ravinia
8 pm
$38+
Alanis Morissette is one of the most influential voices in alt-rock of the mid-90's. More than just a musician, she has dabbled in acting, philanthropy, and even more recently an advice column for The Guardian. Just make sure to come wearing a pair of pants with pockets or your one hand won't have anywhere to go.
August 25
Lady Gaga
Wrigley Field
7 pm
$46+
Wrigley Field better prepare itself for an influx of disco sticks as a horde of Little Monsters descends upon the park. The first woman to headline a show at Wrigley, Gaga is promoting her latest album Joanne. Throughout her career she has gone through many evolutions, her latest showing a much more country vibe, though her most recent single "The Cure" proves she can still produce a radio-ready bop. Come hear all of her hits, new and old, and see a performance that is sure to wow.
August 28
VÉRITÉ
Lincoln Hall
8 pm
$14
One of the hardest working independent artists, this Brooklynite has released 11 singles in just over four years. She blends electropop with folk influences to create a sound that is both sensitive and upbeat. Join her as she promotes her long-awaited LP Somewhere In Between, which is set to release June 23.
September 11
A R I Z O N A
Lincoln Hall
7:30 pm
$16 ($18 at door)
Confusingly based in New Jersey, this trio is heading to our state to promote their recently released GALLERY. Just like their namesake, their music feels warm and sunny with songs full of infectious melodies that are both sweet and emotional.
The Venues:
Allstate Arena, 6920 Mannheim Rd., Rosemont
Bottom Lounge, 1375 W. Lake St.
Chicago Theatre, 175 N. State St.
House of Blues, 329 N. Dearborn St.
Lincoln Hall, 2424 N. Lincoln Ave.
Jay Pritzker Pavilion, Millennium Park,
201 E. Randolph St.
Ravinia, 200 Ravinia Park Rd., Highland Park
Schubas Tavern, 3159 N. Southport Ave.
Thalia Hall, 1807 S Allport St.
The Vic Theatre, 3145 N. Sheffield Ave.
Wrigley Field, 1060 W. Addison St.