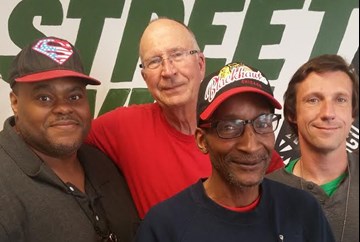 By: Staff
February 27, 2017
New England Patriots 34, Atlanta Falcons 28.
Vince: That's the first time we've had an overtime Super Bowl and first time we've had a comeback of such magnitude. I had Atlanta, but what a year of awesome comebacks! We had the Cleveland NBA finals down 3-1, they came back to win. The Cubs down to Cleveland and they came back to win in an extra inning. Then finally the Super Bowl.
John: I didn't care for either team, but that comeback was quite monumental. Don't forget, what preludes a comeback is a collapse, and that's what the Atlanta Falcons did. Kyle Shanahan decided to do a couple pass plays instead of running. Matt Ryan took a sack when he should have thrown the football up to where Lady Gaga was, or maybe where the Bush dynasty was sitting. Taking a sack in that situation, following a penalty, that took them out of any chance of winning. The turning point was the fumble deep in Atlanta territory. Matt Ryan just let it drop. We can credit Tom Brady for what he did but we have to put the hammer down on Matt Ryan. He was the regular season MVP, not Tom Brady. He should have known better.
Bill: Like any comeback you can go back through play after play and any one thing could have turned it because it was so close. I noticed by the 4th quarter that Atlanta looked to me like they were going to lose. Looking at the linebackers line up, they didn't look like they were on their toes. Something happened in the momentum and the attitude of the two teams. My own feeling is that all the sports have become more explosive than they used to be. In basketball and football, you've got man-on-man coverage and so if you get hot there's no stopping them. It's not that the other team is a bad team.  It's just explosive because of the patterns of how they are playing offensively. You've got these high scores and opportunities for people who get hot and get going. I do not like to admit this but somehow it annoys me to have these Eastern teams winning, like the Yankees and the Patriots. I don't like Brady's attitude, the coach's attitude, the owners, but you've got to admit they are a blue ribbon team. This is one of the best teams you are going to see and Brady is now the greatest quarterback in the history of the game. There's no comparison.
Russell:  I really enjoyed the game. I had about 35 people at my house and about 33 were Falcon fans.  I'm not a Patriots fan, but I was pulling for them. I don't believe it's over until it's over.  The fat lady wasn't singing, I could hear her humming, but she wasn't singing. I think Atlanta messed up at halftime celebrating in the booth. It was too early for that. I had confidence, I've seen teams come back before, not in the Super Bowl, but other games guys will score four touchdowns in the 4th quarter. I was right. I was calm and cool. Next thing I knew, we were coming back. I give credit where credit is due. Tom Brady did what no other man has done before. He's got five rings. He's the greatest ever. I'm sad it's over with 'cause that's it for football for a while. 
Vince: What was in that huddle when Tom Brady said to his teammates, "this is what we're going to do?"  They got together as a team and did it. I've noticed that when teams get up by a large margin they tend to relax and rest. All of a sudden the other team becomes a Tony Robbins speech, "Peak performance.  Get into your passion." Then all of a sudden they beat the other team. When you are down by a whole lot, you don't have anything to lose. Everyone expects you to lose, so you might as well throw everything in. I think that's what teams decided to do this year. I believe the Cubs have changed the game for all teams now. I think now once teams hit the big leagues they need to say, "We cannot rest. The game is not over.  Run up the score."
Special shout out to Elena Delle Donne from the Chicago Sky has a sister that is sick so she's been traded so she can live on the East Coast close to her sister.  We wish her well, she was a great player for the Sky. Unfortunately, she's gone, but thank you for what you did when you played for the Sky.
Russell: I'll miss her too, I'm still going to be pulling for her even though now she's playing for Washington.  You gotta do what you gotta do.