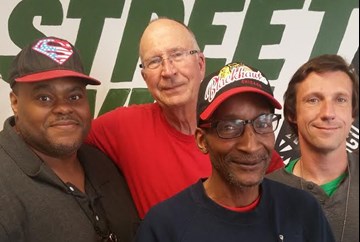 By: Staff
January 29, 2018
John: We are approaching Super Bowl Sunday and let's talk about who we want to see in the game. Right now there are only four teams left, so what are your favorite matchups?
Donald: At this point, there's no bad matchup. All of the teams left are playing well and would be exciting to watch in the Super Bowl. Minnesota and Philadelphia is a toss-up, although in the AFC, I give the edge to Tom Brady and the Patriots.
Russell: I am getting tired of seeing New England every year. I am rooting for Jacksonville, mainly because it is time for a change. Also, it's been a while since anyone repeated so I don't think the Patriots are going to win again. In the NFC, I have to pull for the [Minnesota]Vikings. It would be so cool to see a team play in their home stadium in the Super Bowl for the first time ever. Minnesota and Jacksonville would be a fun game. [Jacksonville's Blake] Bortles vs. [Minnesota's Case] Keenum would be an interesting quarterback matchup, which no one could've seen coming at the beginning of the year.
John: Between Philadelphia and Minnesota, I don't really have a preference who I want to see. The only thing I am rooting for is a close game. It will be tough to top the Minnesota and New Orleans division playoff game. That game was an instant classic and it's going to down as one of the top finishes ever. People are going to be telling their kids and grandkids about that game.
Donald: The Minnesota Vikings seemed destined to make the Super Bowl after that comeback. That really was special. I still like the Patriots to win it all, but the other three teams are going to keep getting better. Jacksonville, especially, is gonna be nothing nice to deal with in the future.
Russell: Minnesota Vikings are from the NFC North and they're representing our division well. I am pulling for them. I just can't go for the Patriots this year, so I'm hoping for the Jaguars.
John: The Vikings have had a long history of tough losses, from Gary Anderson to Blair Walsh, so their victory against the Saints hopefully got the gorilla off their backs. If they can win the Super Bowl, it'll be like when the Red Sox, White Sox, and Cubs won the World Series.