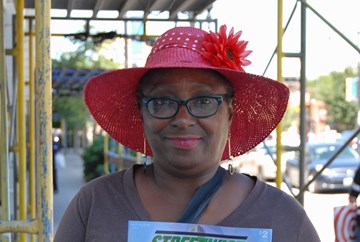 By: Jasmine Stewart
September 26, 2016
I have been working for StreetWise for three months and I love it. Prior to working for StreetWise I was unemployed with no source of income. One day, I saw a StreetWise vendor selling in front of a Jewel, and I noticed she had a very outgoing personality while communicating to her customers and as a result a very profitable day. I became curious.
Sometime later I met another woman who was also selling StreetWise and I took this opportunity to speak with her about being a potential vendor. She immediately encouraged me to join the StreetWise team, and inspired me to become a vendor.
I really enjoy working for the organization. I feel that it has given me a great sense of responsibility and work ethic. I have made friends with the fellow vendors at StreetWise and it feels like we're all family. I love that I have a job that allows me to be social and that I actually look forward to doing every day. It feels great to wake up excited to go to work knowing that it will be a productive day.
My location is the Whole Foods on Broadway and Thorndale. I love the neighborhood that I sell in, it's great! There's so much to do in the area as well as great restaurants to eat at. Everyone that I meet is really nice and polite. The neighborhood demographic is predominately composed of college students who love to keep up with current events; this really helps me with my sales because I am able to provide my customers with a product that is informative and creative.
My strategy when selling is being friendly and direct. I often start with a greeting and a smile, followed by a small pitch of the magazine and the mission behind the magazine. I try not to be pushy or too blunt. I find that people will respond more when they see the sincerity of your character and that's what I project to my customers. I will chat with them and have small talk about social and current issues as well about the current events that are listed in the magazine. People will receive me with kindness and will often purchase some magazines.
One of the things that I love about this job is that I am able to work out in the community of Chicago and socialize with the general public. I have lived in Chicago since 1974, I moved here with my family from Mississippi with the hopes of living a better, more comfortable life. Since I started working for StreetWise I have learned that anything is possible when you're determined to achieve your goals and that being persistent enables me to grow while I am trying to reach my goals.
My primary goal is to improve my income so that I can become financially stable and live a comfortable life. I want to continue to provide for myself and build my wealth. Many of the people that I come into contact with have become my regular customers and they always treat me with kindness and respect. I want to say Thank You to all of my customers for supporting me and encouraging me to continue to sell.