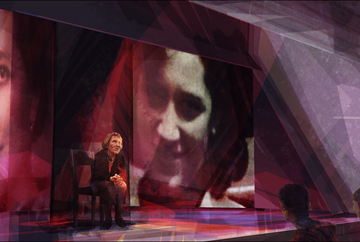 By: Suzanne Hanney, from prepared materials
October 30, 2017
The Illinois Holocaust Museum & Education Center has found a way to help the last survivors of World War II Nazi atrocities tell their stories in perpetuity. Its new multi-million-dollar Take a Stand Center, which opened October 29, is the first in the world to combine high-definition holographic interview recordings and voice recognition technology.
Survivors can relate their oral histories in a lifelike manner. And when all of them have passed on, they still will be able to "converse" with young people.
The Museum has the world's largest speakers' bureau of Holocaust Survivors. The 13 people in the interactive Abe & Ida Cooper Survivor Stories Experience were selected for the variety of ordeals they experienced during WWII; some survived camps, others were in hiding and assumed false identities. They include seven Chicago-area people: Aaron Elster, Fritzie Fritzshall, Samuel Harris, Janine Oberrotman, Adina Sella, Israel Starck and Matus Stolov.
The Museum & Education Center worked with the University of Southern California Shoah Foundation, which developed the "New Dimensions in Testimony" technology, to be sure Survivors were asked the most popular questions. The idea of using holographic technology came when Stephen Smith, executive director of the USC Shoah Foundation, was seated at a professional event with Museum board member Jim Goodman. Together, the two institutions tested the 2D version of the 3D hologram technology for over two years.
The new permanent exhibit also looks forward by showcasing 40 courageous "Upstanders." They include historic leaders like Nelson Mandela, Susan B. Anthony, Jane Addams; contemporary artist Theaster Gates and advocates Malala Yousafzai, Henry Cervantes of the Peace Exchange in Chicago and Dr. Zaher Sahloul and Mrs. Suzanne Akras Sahloul, who are respectively senior advisor and president of the Syrian American Medical Society and founder/executive director of the Syrian Community Network.
"Our Museum team is proud to be leading the way in using history and lessons of the Holocaust and the inspiration of Upstanders to equip our community, teachers, students and the public to take a stand for humanity," said Museum CEO Susan Abrams.
LOCAL SURVIVORS
AARON ELSTER of Lincolnshire was born in 1933 in the small village of Sokolow-Podlaski in northeastern Poland and lived in its ghetto with his two sisters, mother, and father until the ghetto was liquidated in September 1942. Elster escaped the liquidation and hid in various surrounding farms. Eventually, he found refuge in the attic of a Polish family, where he hid for two years until the war's end. Afterward, he lived in several Polish orphanages and was eventually smuggled out of Poland to various Displaced Persons camps in West Germany.
Elster and his sister came to the United States in June 1947. He was educated in Chicago and served in the armed forces in Korea. He is married and has two sons and two grandchildren.
Elster is vice president of the Illinois Holocaust Museum & Education Center and co-chairman of its speakers' bureau. He also chairs the speakers' bureau for the Hidden Children Association of the Holocaust's youngest survivors, which honors the past and advocates for children in similar situations today. He is co-author of "I Still See Her Haunting Eyes," which chronicles his Holocaust experiences.
FRITZIE FRITZSHALL of Buffalo Grove was born in 1929 in Klucharky, Czechoslovakia. She was 13 when Nazis occupied Klucharky and she, her mother and two brothers were deported to the Auschwitz – Birkenau extermination camp. Near the end of the war, Fritzie was moved to an Auschwitz subcamp, where she worked as a slave laborer in a factory. In 1945, while on a death march from Auschwitz, she was finally liberated by the Russian army.
After the war, in 1946, she came to the United States and was reunited with her father, who had been able to escape the Holocaust. All her other family members had perished.
Fritzshall is president of the Illinois Holocaust Museum & Education Center. She speaks extensively about her experiences and lessons of the Holocaust. In 2015, she was awarded the Bertha Honoré Palmer Making History Award for Distinction in Civic Leadership from the Chicago History Museum.
SAMUEL R. HARRIS (born Szlamek Rzeznik) of Kildeer is one of the youngest concentration camp survivors. Born in Deblin, Poland, in 1935, he was just 4 years old when the war began.
Having lost his parents and most of his family to the Holocaust by age 7½, Harris survived by hiding in the Deblin and Czestochowa concentration camps. He arrived in the United States at age 12, and through the Jewish Children's Bureau in Chicago, was adopted by Dr. Ellis and Mrs. Harriet Harris of Northbrook. A diligent student-athlete at New Trier High School, he went on to college, career, marriage and fatherhood.
In 1981 Harris reconnected with his past at the World Gathering of Jewish Holocaust Survivors in Jerusalem. He was an instrumental force in the building of the 65,000 square-foot Illinois Holocaust Museum & Education Center, of which he is president emeritus. In 2014, Sam received the Ellis Island Medal of Honor, given by the National Ethnic Coalition of Organizations for accomplishments and inspired service to the United States.
JANINE OBERROTMAN of Lincolnwood was born in Lvov, Poland. She was 15 when the Nazis invaded her hometown and began pogroms, random killings, and round-ups. Her father found her a job in construction to avoid deportation. Soon, that job could no longer
secure her safety, and Oberrotman had to move from hiding place to hiding place.
For a few days she found shelter at the home of a kind Polish lady. Subsequently she hid at the German commandant's villa, which was under construction; an armoire concealed a secret entrance to the underground and a camouflaged patch under a dirt road.
After her escape from the ghetto, while living in a Ukrainian village under an assumed name, she was denounced by a local woman and arrested, interrogated, jailed, and deported to forced labor in Stuttgart, Germany. Liberated in 1945, she hitchhiked to Paris and immigrated to the U.S. in 1953.
ADINA SELLA was born in Hamburg, Germany, in 1935. In 1939, her father was arrested by the Gestapo along with other Jewish men of Polish descent. Her mother, with Adina and her brother, obtained transit visas for Italy and secured her father's release.
The family settled in Arezzo, and Adina and her brother began attending a convent school. The nuns taught the family Catholic practices and mannerisms to help them blend into the Catholic town. When Italy joined the war with Germany, the underground moved the family to an abandoned house in a tiny farming village, where they remained for several years, begging for food from the surrounding farms.
In 1944, officers from the retreating German army set up camp in the farmhouse. They paid the family little notice beyond asking Sella's mother to cook for them. But as the soldiers prepared to leave, they said the house would be leveled as part of their retreat.
The family fled to the woods, where they found themselves between the German and British armies. A British soldier helped lead them into the British trench, where they were given bread and chocolate. The family returned to Arezzo and moved back into their apartment.
Inspired in part by an encounter with the British Army's Jewish Brigade in Arezzo, the family moved to British Mandate Palestine in 1945. Sella moved to the US in 1963.
ISRAEL STARCK was born in 1929 in the town of Podhoryan- Munkács, near the Carpathian Mountains in the Carpatho-Ruthenia region of the Czechoslovakian Republic.
In March 1944 German forces invaded and occupied the country. A month later Starck, just 14, and his entire family were deported by the Nazis to Auschwitz-Birkenau, where his parents perished.
Over the next year Starck was interned in three more concentration camps: Mathausen, Melk, and Ebensee. He was liberated by the American armed forces on May 6, 1945, in Ebensee. Eventually he and other war orphans were sponsored entry to the United States by Eleanor Roosevelt and he arrived to Chicago in 1948. He is the author of "A Boy Named 68818."
MATUS STOLOV of Evanston was born in Minsk, Belarus, in 1928 to Polish Jewish parents who had fled to Russia after the 1917 revolution to build a socialist utopia.
When Germany invaded in June 1941, Matus, his mother, and his older brother tried to escape eastward. They ran for a train and the two sons were able to jump aboard, but the mother couldn't make it. Matus jumped down and stayed with her.
In July, a ghetto was established in Minsk with 100,000 local Jews from the region and another 35,000 Jews brought from Germany, Bohemia, and Moravia. By the fall 1942, Matus' aunt arranged for false papers for Matus and his mother through the underground. Walking at night, they met the partisans and were sent with a group of underground fighters
into the unoccupied zone of the Soviet Union. Walking for over a
month and eating whatever food they could find, they eventually
crossed the front line and met Soviet soldiers who liberated them. After the war, they returned to Minsk and Matus resumed his education. Despite obstacles because he was Jewish, he became an engineer.
After deciding to emigrate as a refusenik, the family was increasingly persecuted until finally being allowed to leave. The Stolov family arrived in Chicago in April 1982 on the second day of Passover and celebrated their first Seder.
GLOBAL SURVIVORS
NIMROD "ZIGI" ARIAV was born Szulem Czygielman in Lublin, Poland, in 1926. His mother, father and twin brother, Avraham, decided to leave Lublin while it was still possible in 1940 – early in WWII -- and head to the smaller town of Belzyce, where they would be less conspicuous.
During September 1942, the Belzyce ghetto that had been established with Jews from Lublin, Krakow and Germany was being liquidated; its residents were sent to the Sobibor camp in eastern Poland. Zigi's parents split the family up in the hope some of them would survive. However, Ariav found his father dead in a pool of blood in front of the synagogue. He and his brother buried their father with their own hands, along with 149 others who were shot on the spot.
His mother decided he was safer in Warsaw. He boarded the train and arrived there first as Henryk Gorski. After the murder of his twin brother, he became known as Jerzy Eugeniusz Godlewski. He lived with Poles, spoke Polish, joined the Polish Home Army, trained as a Polish resistance fighter and was critically wounded while fighting in the Warsaw Uprising of 1944. After liberation and months of recovery, he joined the Haganah, the Jewish paramilitary organization in the British Mandate of Palestine, and prepared fellow survivors to fight while they were waiting to leave for Israel from Marseille. Once in the new Israel, he joined the infant Israeli air force, fought in all the major wars and distinguished himself as a member of the aeronautic and defense community under his fourth and final name, Nimrod Ariav (affectionately known as Zigi to his friends). After a successful business career, he retired in his late 70s.
The Holocaust found EVA MOZES KOR even in her tiny farming village in Romania. Born Jan. 31, 1934, Eva had two older sisters and a twin, Miriam.
After Hungary annexed the slice of Romania where they lived, the family faced anti-Semitic harassment from the neighbors and classmates who had been friends. They were only Jewish family in the village and their house was stoned and pelted with food for hours.
In 1944, they were forced to move to the Cehei ghetto in Simleu Silvaniei, Romania. Then in May, they were squeezed onto railroad cars with the rest of the ghetto and sent to Auschwitz in southern Poland.
On the selection platform, Eva and Miriam were immediately recognized as twins and separated from the rest of their family, which was taken to the gas chambers. Eva and Miriam were taken to a special barrack where Dr. Josef Mengele housed subjects for his medical experiments.
Mengele gave the twins injections, drew large amounts of blood and meticulously measured their body parts and photographed them, often for six to eight hours at a time.
One injection left Eva gravely ill. Separated from Miriam and left to die, she remembers Mengele saying sarcastically, "Too bad, she's so young. She has only two weeks to live." Determined to prove Mengele wrong, Eva battled the high fever and five weeks later, she was reunited with her sister.
In January 1945, the approaching Soviet Army prompted the Germans to send camp inmates on death marches to land they still controlled. The Soviets reached Auschwitz on January 27, to find only children, sick and elderly left behind.
Eva and Miriam were first sent to a convent in Katowice, Poland to recover and then to Minsk in the Soviet Union, where a woman who had known them in Auschwitz cared for them until they could be reunited with an aunt and a cousin in Romania.
In 1950, the two girls moved to Israel and Eva served in the Israeli Army for eight years.
She married Holocaust survivor Michael Kor in 1960, joined him in Indiana and raised two children, Alexander and Rina. She dedicated herself to raising awareness about Mengele's medical experiments in 1984 by creating CANDLES: Children of Auschwitz Nazi Deadly Lab Experiments Survivors and in 1995 by founding the CANDLES Holocaust Museum and Education Center in Terre Haute, IN.
ANITA LASKER was born in 1925 to a well-off family in Breslau, Germany (now Wroclaw, Poland). Her father was a successful lawyer, her mother a violinist and her uncle a famous chess master. She had two older sisters, Renate and Marianne.
But in 1933, laws started to change in Breslau and Jews were excluded from many areas of society. Anita eventually moved to Berlin to study cello since there were no longer any Jewish teachers in Breslau and Germans would not take Jewish students.
She was in Berlin for Kristallnacht in 1938, but came home immediately afterward. Her father escaped arrest with the help of a non-Jewish friend and her sister Marianne managed to leave Germany for England.
In 1941, Anita's school was shut down. She and Renate began working at a paper factory as part of mandatory war service. They met French prisoners of war there and began forging papers so they could return to France.
In 1942, Anita's aunt and uncle were deported, followed quickly by her parents, who  were taken to Isbica, about 350 miles away in eastern Poland, forced to dig their own graves and then shot into them. Her grandparents were also deported, never to be seen again. Anita and Renate were arrested by the Gestapo, who had been monitoring their forgery business, and imprisoned in Breslau.
The sisters were ultimately reunited in 1944 at Auschwitz, where Anita was in the orchestra, which played marches in the morning and personal musical requests of the SS in the evening.
Transferred to Belsen in October, the two could barely keep up with the number of bodies they were forced to drag from the camp. In April 1945, however, the British Army liberated the camp and they became translators. They stayed at a Displaced Persons camp there until they were smuggled to Belgium by a British officer.
The sisters arrived in England in 1946. Anita became a professional cellist and founded the English Chamber Orchestra. She married pianist Peter Wallfisch, whom she had met in Paris. They had two children, May and Raphael, the latter who also became a famous cellist. Marianne died in childbirth in 1952. Renate became an author and journalist who wrote extensively on National Socialism and married the author/journalist Klaus Harrprecht.
EVA SCHLOSS was born in 1929 in Vienna, Austria to Erich and Fritzi (Freida) Geiringer. Her father owned a shoe factory and her mother came from a wealthy winemaking family. She had an older brother, Heinz.
In 1938, Germany annexed Austria and enacted laws against Jews. Much of Eva's extended family – her maternal aunt and uncle, grandparents and cousin, paternal aunt and uncle and cousin – escaped to England. Her father transferred his business to the Netherlands and moved to Amsterdam.
In 1940 Eva, her parents and brother moved onto the Merwedeplein, a Jewish square where the Frank family lived. Eva met Anne and Otto Frank. Heinz went to school with Margot Frank. But in May the Netherlands was defeated by Germany.
On May 11, 1944, the four family members were all captured, brought to Gestapo headquarters in Amsterdam and taken almost immediately to Westerbork concentration camp in the northeastern Netherlands. But after only a few days, the family was deported to Auschwitz-Birkenau in southern Poland. Eva and Fritzi worked in "Kanada:" the German spelling of "Canada." The country symbolized wealth to the prisoners, who were forced to sort possessions left on the train by the prisoners (who were already on the way to the crematoria) and send the items back to Germany. Erich and Heinz worked in lumber and agriculture.
In January 1945, Erich and Heinz were sent on a roughly 340-mile death march to the Mauthausen (Austria) camp, but they died of exhaustion on the way. Late that month, Eva and Fritzi were among those liberated in Auschwitz by the Red Army.
The Red Army moved Eva and Fritzi to Odessa, Ukraine for their protection.
After the war, they returned to the Netherlands, where they resumed their friendship with Otto Frank. In the late 1940s, Eva moved to London, where she met and married Zvi Schloss, a German Jew who had fled after his father was interned in Dachau, near Munich. Fritzi married Otto Frank and they worked together to spread Anne's diary and to promote Holocaust education.
Eva and Zvi have three daughters and five grandchildren.
RENÉE FIRESTONE was born in Uzhorod, Czechoslovakia in 1924 to a cobbler, Mauritius, and a former milliner, Julia. Since Uzhorod was the next town from Munkacevo, her experiences were similar to Fritzie Fritzshall in terms of deportation, death marches and liberation. Renee had an older brother Frank and a younger sister Klara.
In 1938, Hitler placed Uzhorod under Hungarian domain and Jews there became second-class citizens. Renee's father was put on a forced labor battalion but eventually released. In the early 1940s, Frank was arrested and taken to Munkacevo for questioning, where he was tortured in a prison. Renée's parents negotiated his release, but he was soon taken to a Hungarian forced labor camp.
In April 1944, Renée, her sister, father and mother were deported to Auschwitz/Birkenau, where her mother was killed upon arrival but Renée and her younger sister Klara remained together. That fall, however, Klara was taken to Dr. Hans Münch's experimental Hygienic Institute, where she died.
In December 1944 Renée was taken on a death march and then transported nearly 400 miles to Liebau concentration camp in southeast Germany, which was liberated by the Red Army the following May. She and two other women from the camp hitchhiked back to Czechoslovakia but ended up in Budapest, Hungary, where survivors were congregating. Here, Renée found her brother Frank, who had escaped from the forced labor camp and survived the war as a partisan.
The brother and sister learned that their father was very ill in the Theresienstadt (Terezin) camp, about 365 miles away in northern Czechoslovakia. They brought him to Prague, where he received medical care but died soon afterward.
Renee married her brother's friend Bernard Firestone in 1946 and they had a daughter, Klara. Two years later, the family moved to the United States. They settled in Beverly Hills, where Renee became a well-known fashion designer.
She has been very involved with the Simon Wiesenthal Center, and started the outreach program at the Museum of Tolerance in Los Angeles.
UPSTANDERS
Working for Education
ADAM BRAUN, founder of Pencils for Promise, an organization that builds schools and increases literacy in the developing world.
MARLEY DIAS, who at age 11 created #1000blackgirlbooks, a list of children's books with African-American protagonists.
FRIEDL DICKER-BRANDEIS, who organized secret art education classes for children in Terezin and collected over 4500 drawings from students.
TIM KING, who founded a network of public college prep boys' schools in Chicago, including the nation's first all-male charter high school.
MALALA, the Nobel Peace Prize-winning teenage activist for girls' education in Pakistan and around the world.
ROBERTO RIVERA, Chicagoan and founder of the Good Life Organization and Fulfill the Dream curriculum.
JULIUS ROSENWALD, leader of Sears Roebuck, philanthropist who built schools in the southern U.S. for African-American children.
Working for a Safe Community
JANE ADDAMS, social reformer, advocate for women's, children's and immigrant rights.
HENRY CERVANTES, peace builder at the Peace Exchange, a Chicago organization that teaches young community leaders to advocate for nonviolence.
GEORGE CLOONEY, who co-founded Satellite Channel, which tracks and documents genocidal activity in Sudan and South Sudan.
THEASTER GATES, Chicago artist and founder of the Rebuild Foundation, which invests in arts, cultural programming and developing the entrepreneurial skills of local residents.
JAN KARSKI, a Roman Catholic and Polish resistance member who reported Nazi atrocities during WWII to leaders around the world, none of whom acted upon his intelligence.
CRAIG & MARK KIELBURGER, founders of Free the Children and We Day, global environment and children's rights activists.
ZIVIA LUBETKIN, leader of the Jewish Underground in the Warsaw Ghetto, the only woman in high command of the ZOB.
JUAN MENDEZ, who was physically and mentally tortured for 18 months in native Argentina for representing political activists and then turned his legal skills to finding justice for torture victims.
Working for Equal Rights
SUSAN B. ANTHONY, suffragette, abolitionist and women's rights advocate.
RUBY BRIDGES, who as a 6-year-old in 1960, became the first African-American to integrate a white public school in New Orleans. She later became a civil rights advocate.
BILLIE JEAN KING, former World No. 1-ranked professional tennis player and an advocate for gender equality.
JOHN LEWIS, who was one of the leaders of the civil rights March on Washington and who risked his life marching for equal rights in Selma, Alabama.
NELSON MANDELA, leader of the anti-apartheid movement and president of South Africa.
RALPH METCALFE, who won silver and gold medals for track in the 1936 Berlin Olympics, which demonstrated to his Nazi hosts that race did not define talent and greatness.
HARVEY MILK, the first openly gay politician elected to public office in California, who supported a diverse range of human rights and community issues: gay, environmental and labor rights, and neighborhood relationship-building.
DR. VICTOR PINEDA, president of World ENABLED and a leading global expert on disability rights.
EUNICE KENNEDY SHRIVER, sister of President John F. Kennedy and U.S. Sens. Robert and Edward Kennedy, who in 1962 founded Camp Shriver, which in 1968 evolved into the Special Olympics, a source of sports training and competition for people with intellectual disabilities.
GLORIA STEINEM, a lifelong activist, organizer and champion of feminism who supports issues related to equality, regardless of gender.
BRYAN STEVENSON, civil rights lawyer and founder of Equal Justice Initiative.
EDITH WINDSOR, LGBT activist and plaintiff in U.S. v. Windsor, which overturned a section of the Defense of Marriage Act.
RABBI STEPHEN S. WISE, a prominent American Reform rabbi and leader of both the American and World Jewish Congresses. A vocal opponent of Nazism, he advocated for greater admission of refugees to the U.S. and Palestine before WWII.
Working for Economic Opportunity
CESAR CHAVEZ, labor activist who co-founded the National Farm Workers Association
LEILA JANAH, social entrepreneur and founder of Samasource, which trains workers in the developing world.
CARLI LLOYD, American professional soccer player and advocate for equal pay for women.
PREMAL SHAH, social entrepreneur, head of Kiva.org, and a leader in microlending to help lift people out of poverty.
ANDREW YOUN, co-founder of the One Acre Fund, supporting small-holder farmers in the developing world.
Working for a Healthy Environment
JACK ANDRAKA, 15-year-old high school sophomore who invented an award-winning and inexpensive early detection test for pancreatic, ovarian and lung cancers.
DARLENE AVISO, who delivers water to others with no access to it on her Navajo reservation.
MA JUN, Chinese environmental activist and founder of the Institute for Environment and Public Affairs.
WANGARI MAATHI, Kenyan environmental and women's rights activist; first African woman to win the Nobel Peace Prize.
XIUHTEZCATL MARTINEZ, as youth director of Earth Guardians, a group of activists, artists and musicians who are committed to protecting the Earth. He is one of 21 plaintiffs suing the U.S. federal government for the right to a cleaner planet.
DR. RAJ PANJABI, physician and founder of Last Mile Health, an organization that provides primary health care to rural Liberians.
DR. ZAHER SAHLOUL and MRS. SUZANNE AKRAS SAHLOUL, the respective senior advisor and former president of the Syrian American Medical Society (SAMS) and founder/executive director of the Syrian Community Network.