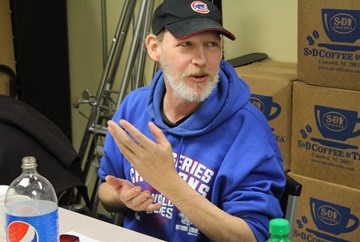 By: Robert Laine
January 29, 2018
I have long been a proponent of doing volunteer work. I also believe that it should be work that is mutually beneficial. To this end, I recommend volunteering at Free Geek at 3411 W. Diversey (just off the Logan Square stop on the CTA Blue Line).
At Free Geek, you can learn how to build desktop PCs and possibly refurbish laptops. In the process, you will also learn the basics of Linux and how to install it, to the point you can install it on your desktop or laptop at home, if you like. Once you have logged 24 hours of volunteer time, you qualify for a $75 credit towards a desktop of your choice or a $100 credit towards a laptop of your choice.
Free Geek also offers single-day seminars on a variety of computer topics (Linux command line, gaming in Linux, production software in Linux, etc.). There are also  different computer interest groups that meet there that you can join for free.
The average number of PCs that a brand-new person will build during the first 24 hours of volunteer time is four, depending on the learning curve. No one will be judgmental of those who take longer. There is no educational requirement. The only requirement is patience and the desire to learn.
Additionally, if you already own a computer and want to buy something for it, Free Geek has the greatest deals on used equipment. I personally have bought from them on dozens upon dozens of occasions and have never been disappointed. They have 5.25-inch internal desktop hard drives at $5 each or two for $6 (about a year ago). The hard drives are 80gb in size for all. The monitor I'm using right now I bought at Free Geek for $15 two years ago; it supports higher resolution and quality DVI and is still working great. I've even bought a TV tuner for my laptop for far less than I would at a retailer.
If you trust yourself to do the work, then you should trust yourself to buy the work.
People have volunteered there to learn the skills to get a better job, and they did it. Along the way, they not only learned basic computer electronics but also how to recycle components properly and how to safely dispose of toxic components.
Any component that is deemed to be no good is broken down to the absolute basics: metal, plastic, motors, wires, etc. By separating these things, they can all be recycled properly based on their chemical composition.
I hope that you, the reader, check them out, whether it's to volunteer, to buy something you want for your computer, or just to check out what it's all about. Whatever the reason, it's worth it.
Robert M. Laine has been working in the IT industry for 30+ years. He has a B.S. in Computer Science. He has worked for the Chicago Tribune IT group and as the in-store technician for Staples. You can email him with questions or comments at BobLaine_sw@mail.com and visit LaineTech.blogspot.com