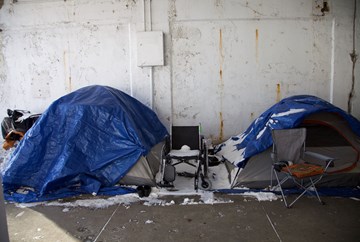 By: Suzanne Hanney
September 17, 2018
One year after the Tent City under Uptown's Lake Shore Drive viaducts was demolished, 16 people remain unhoused or in shelters, says Tom Gordon, former mayor of the Lawrence Avenue viaduct.
City officials and police shut down the encampments at the Wilson and Lawrence Avenue viaducts last September 18 to facilitate repairs to the bridges. Gordon led remaining residents to various nearby sites that appeared to be abandoned, only to be chased away by police.
Since then, "I didn't desert my people," Gordon said. Lacking tents, he has provided them hand warmers and foot warmers to use with tarps over and under their bedding. He kept supplies in his unit at the now-shuttered Wilson Men's Hotel and alternated sleeping there or with encampment remnants. Now he is looking for an apartment on the North Side to share with a friend, using proceeds from his disability check.
"I want to stay on the North Side because that's where my work is at," the 60-year-old Gordon said. "They made me the mayor of Uptown Tent City so I am still fighting for housing - not just for myself but for the homeless as well. Not just any housing. We want affordable housing. I won't stop 'til we get it."
There were 81 Tent City residents who received permanent housing through the "Lake Shore Drive Chronic Homeless Project," while four people are still in the process, said Peter Toepfer, executive director of the Center for Housing and Health at the AIDS Foundation of Chicago, which coordinated the City's placement efforts among local shelter providers and nonprofits.
However, the City's initial commitment was only to 75 Tent City residents who signed up in April 2016, Toepfer said. Some of these people lost contact with outreach workers or no longer needed housing, then more people moved into the encampment as others moved out. Negotiations with the Chicago Coalition for the Homeless led to a second round of 22 people, he said.
Toepfer said that his sense is that various nonprofits may be continuing to get encampment residents housed through Chicago's regular Continuum of Care (CoC). The CoC is 100 organizations and individuals that work to end homelessness in Chicago, coordinated by the agency known as All Chicago.
According to the Chicago Dashboard to End Homelessness, updated weekly at allchicago.org, 9,342 individuals are now homeless. There are 854 permanent housing units; average length of time in the homeless system is 212 days. The number who became homeless this month is 39, but 90 left homelessness behind.
To be fair, the City does not own much of this housing. Many of the Tent City residents wound up in units owned by nonprofits or by private landlords who agreed to take Chicago Low Income Housing Trust Fund (CLIHF) vouchers. These vouchers provide rent subsidies to non-profit or for-profit landlords, for people who earn up to 30 percent of the area median income ($17,790).
Uptown has more CLIHF vouchers than any other neighborhood but Ald. James Cappleman (46th ward) would welcome more – and more are needed throughout Chicago, he said.
The sticking point, said Tressa Feher, his chief of staff, is not low-income tenants but that landlords don't understand the program. Connecting them with mentor landlords has helped.
Among 77 Chicago neighborhoods, Uptown also has the highest number of government-assisted units (4,470) according to data Cappleman's office compiled from local, state and federal authorities.
The next highest number of government-assisted units is in Grand Boulevard (3,963) followed by the Near West Side (3,875) and Near North Side (3,866). Other communities include Edgewater (2,075), West Town (1,914), Rogers Park (1,428), Logan Square (1,337), Englewood (1,104), Lincoln Park (920), Albany Park (355), North Center (288), Lincoln Square (256), Hyde Park (229). There are 11 communities that do not have government-assisted housing units.
Carole Aldape
September 16 is just two days before the one-year anniversary of the dismantling of the Uptown Tent City, when Carol Aldape went into Cornerstone Community Outreach shelter. It's also the day Aldape will learn if she has the one-bedroom apartment in Uptown that she has been seeking in order to be close to her doctors at Weiss Hospital.
Aldape, 68, has stenosis of the spine, which is why she uses a wheelchair for getting around outside, carrying groceries or walking her dogs Bella and Chief. "My legs are getting wobbly, rubbery." She also has high blood pressure, diabetes and MS. She worked as a manicurist for 22 years and sometimes had three jobs at one time.
Aldape came to the Tent City after she lost a nearby Section 8 apartment because the landlords wanted to sell it. She was walking her dogs under the viaducts and said to herself, "I wonder if I could live here?" Tom Gordon, who was "mayor" of the Lawrence viaduct, heard her and welcomed her there. "It was like God had answered my prayers," she said, because two real estate-minded friends had been unable to find her a unit. "No one was taking Section 8."
Aldape's wheelchair caused a landlord to have second thoughts about renting her an apartment she liked in Edgewater. Another unit in Rogers Park was too small to fit her table and chairs and her cherished curio cabinet for her family photos and TV. She has gotten a letter from her doctor that says Bella and Chief, a rat terrier who belonged to her late sister, are her therapy dogs.
"I don't know what I would do without them. They are my reason to be alive. I like having them to take care of and they take care of me. Bella is a good watch dog and Chiefy a good barker."
Shenise Cottreau
Former Tent City resident Shenise Cottreau said she "messed up getting housing three times and I am not going to mess up again." The first time she was away from the encampment staying with a friend when social workers found her a unit. The second time she didn't show up and the third time she didn't like the unit.
Now, she said will take the housing from Breakthrough Ministry on the West Side, even though there is a major problem. It doesn't include her fiancé, Wilson Cole.
Cottreau was kicked out of her home in downstate Springfield when she was 18.
"We got into it. My mom couldn't handle me no more. She sent me up here with a train ticket, a box of condoms and a few dollars. It's upsetting but it's true. My guy swooped me up and we've been together ever since – four years ago."
Since the Tent City's dispersal, she and Cole have slept on CTA trains, parked cars, a nearby golf course and behind buildings at Wilson and Broadway. Cole works for a woman patching drywall and taking out old ceramic floor tile. Cottreau panhandles.
"I just ask people for money. They do be nice and give. I don't say nothing. I just hold a cup. I get more than he does working."
In the past, however, she wanted to go back to school in the veterinary field.
"This is not how I want to live my life. When I was young I had it all figured out. I figure I can get back on track. It's all left field when it should be right."