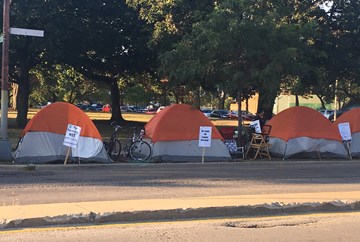 By: Suzanne Hanney
October 2, 2017
Tent City residents evicted from the viaducts at Wilson and Lawrence Avenues September 18 were looking for other displaced members to stay at undisclosed locations by week's end.
Tom Gordon, the "mayor" of the Tent City, said that he was trying to find the 15 to 25 people by phone and word of mouth. Gordon's direction was that they would meet at closing time at the Target store and then travel to a location he wouldn't identify.
"We don't need a leak," he said. "These people need their rest. They are tired of running. Give them housing or leave them alone."
Gordon was reacting to the aftermath of the eviction. On Monday night those who had not been placed in housing or shelters – about 30 people in 28 tents – camped out on the southwest corner of Wilson Avenue and Marine Drive. However, the group was only allowed to remain there until 11 p.m. Tuesday, Gordon said. At that point they were led to a lot in the 4900 block of North Sheridan Road that had "no trespass signs" but no lock, where they remained overnight.
Gordon said he had earlier discounted that site because it had previously been locked and marked with signs. When police lined the fence Wednesday morning, they arrested one lingering member of the encampment for criminal trespass and then relocked the lot. The group scattered, frightened.
The September 18 eviction came after a federal court ruled against residents remaining during repair of the 1930s-era viaducts. One lane in each direction and the sidewalk will be open during construction, said Susan Hofer, Chicago Department of Transportation spokesperson.
However, when the viaducts open next spring, they will have one bike lane and a walking lane, which will leave little room for the tents. The Chicago Coalition for the Homeless, Uptown People's Law Center (UPLC) and others said the design discriminated against the Tent City, since bike lanes elsewhere in the city were in the street.
"We believe they are putting the bike lanes under the viaducts to permanently evict this community," said Megan Groves, director of development and communications at the UPLC. "In a lot of parts of the city you can get a ticket for riding on the sidewalk."
Starting at 7 a.m. Monday September 18, city workers began to close the viaducts. Tent City residents had earlier moved their tents to the grassy area between the sidewalk and the street. But by 10:45 a.m., police had begun to urge the tents be taken down so that construction warning signs could go up in their place.
Alisa Rodriguez, deputy commissioner for the Department of Family and Support Services (DFSS), said that permanent housing had been found for 53 of the original 75 members of the Tent City; 23 subsequent settlers had been placed in bridge units.
Rodriguez urged remaining Tent City members to take one of 11 interim housing spots at Cornerstone Community Outreach and at North Side Housing, both in Uptown, and another 45 at Pacific Garden Mission, southwest of the Loop.
Carol Aldape, 68, went to Cornerstone once she was assured she could keep her two dogs: Chief, a Chiahuahua/rat terrier who had belonged to her late sister and her own Bella, a pit bull/Siberian husky. She did not want the dogs fostered, she said, because she alone knew when they were being tempermental. Reached September 21 by phone, Aldape said she was happy at the interim housing but that she would still try to have her Section 8 voucher reinstated. She had lived in an Uptown lakefront condo but was given notice in December that it was being sold; the moved to the Tent City in May.