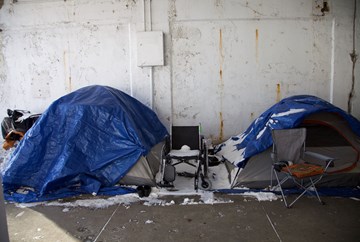 By: Suzanne Hanney Photos by Suzette Bross
April 24, 2017
The news that the bridges over Lake Shore Drive at Wilson and Lawrence will be repaired this summer has given a new urgency to housing people in the Tent Cities there. Among the 75 people originally part of the City's Chronically Homeless Pilot Project at the Uptown viaducts, 43 people had been permanently housed, 13 were in bridge housing, two were unsheltered and 17 had gone inactive (left the state, gone to jail or refused to engage) as of March 10, said Diane O'Connell, staff attorney with the Chicago Coalition for the Homeless.
O'Connell said that the City pilot program had done "an amazing job. It's gotten housing for people who were hard to house. Some people with substantial barriers – criminal background, credit problems, mental health issues – have gotten some really nice places. Some were living on the street for a very long time and they've gotten permanent units they're never going to lose."
Social workers with the various agencies in the City pilot project also worked hard to house couples and friend groups close to each other, (sometimes even on the same floor), she said.
However, the 1930s-era bridges over Lake Shore Drive will be undergoing structural repairs down to their foundations and piers this summer. Susan Hofer, spokesperson for the Chicago Department of Transportation, said that CDOT was in the process of preparing the bid after the State of Illinois released the funding March 24. The $8.4 million project will take a mix of federal, state and local money, Hofer said.
Hofer said that at least one lane under each bridge would be open; "it will be passable but congested." She added that beachgoers might consider taking an alternate walkway north or south of Wilson and Lawrence. Driving on Lake Shore Drive will not be affected, she said.
The people remaining under the two bridges are mostly those who came after the City's signups for the Chronically Homeless Pilot, O'Connell said. The City's consistent stance has been that it would not start another program to house remaining Tent City residents because it does not want to put all its resources into one neighborhood out of fairness to encampments all over the city, she said.
Just the same, many of the social workers who had engaged with the pilot program have continued to meet informally with Tent City residents. Advocates will do the same.
"I think we're going to closely monitor the situation as we have done for years," O'Connell said. "The people who have nowhere else to go have a right to be there. The Homeless Bill of Rights protects their right to be there. The Constitution protects their right to be there. They have the right to own their property, to be free from criminalization and harassment by City agencies."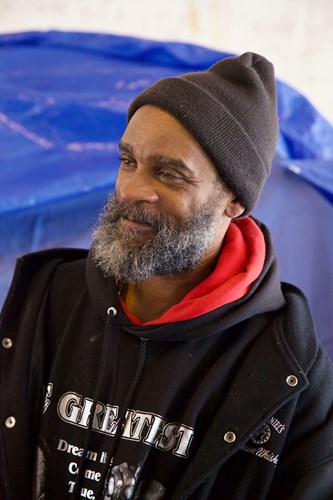 Ralph Edmonson has been at the Lawrence Tent City for nine months since the threatened closure of North Side Housing's nearby shelter. Edmonson grew up on the South Side but when he got out of the penitentiary he was paroled to Uptown. "We really don't have no choice." Over his 50-year lifetime, he has been locked up for 27½ years.
Edmonson said he feels comfortable in Uptown. "It's more convenient for more jobs; there's a lot of work up here." He survives by handing out flyers.
He said he is working with someone from Thresholds to obtain housing and "I can get hold of them anytime I feel like it." He gets food stamps now and would like to obtain Social Security disability benefits.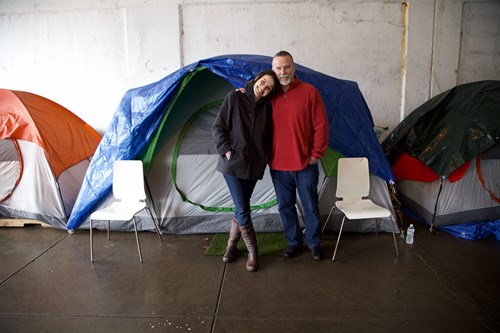 Suburban-raised Maria Murray became homeless after an abusive marriage of three years. She left and moved into two different Chicago shelters but found no help. She came to Uptown because she had heard about a shelter there. When it turned out to be full, she went to the Lawrence viaduct, where she met Joseph who became her friend and "survivor buddy."
"We had different upbringings but ultimately we are the same," she said.
Married Nov. 19, 2015, they had panhandled to raise the $70 for the license. The couple spent the first year of their marriage outside. "It's empowering to know we survived," she says. "I consider ourselves lucky we made it."
The Number One killer is loneliness, they agree. It drives people to drink more, Joe says, "because they feel they have nobody."
Joseph was raised in foster care with too many other kids to get much attention. "I didn't get tossed around but I slipped through the cracks. I fell in with the wrong crowd. When I met Maria my life truly changed. I've never been loved like this by a person."
Joe had moved to the viaduct after being released from a central Illinois prison with $10 and a ticket to Chicago. He spent 13 years in prison for a crime he did not commit, but for which he was set up by others in his drug-dealing circle, he said. He no longer does alcohol or drugs.
The couple missed the April 2016 signups for the City's Chronic Homeless Pilot program under the Uptown viaducts because in February they had accepted an offer to work in a small town. But the deal turned out to be bogus: a religious group's fundraiser, Joseph said. They returned to the Lawrence viaduct in July.
Since then, they have been among the most visible Tent City spokespeople: at press conferences, on Facebook and in groups like North Side Action for Justice. After they spoke at a downtown church, they received individual help from a member who made sure that everyone at Lawrence viaduct had warm coats for the winter and plastic bins so that rats couldn't get at their possessions.
Maria is seeking a clerical job and Joseph possibly one in landscaping. The couple had previously advertised themselves on Craigslist as a "Handy Couple" so they could save for an apartment.
"If you housed someone [who is] on the street, within a year or two they would become self-sufficient," Joseph said. "A lot of people would prove the old system wrong. All they require is housing and opportunity."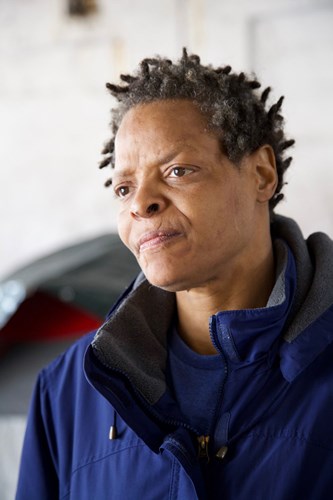 Diane Kelley-Rubo came to the Lawrence viaduct in December because of privacy issues at her nearby housing. She grew up on the South Side, attended Calumet High School, and is going to Truman College to get her GED so she can go to Moody Bible Institute. Her goal is to eventually open a "hope home" where street people can live indefinitely.
"This is where God wants me to be," Kelley-Rubo says of the viaduct. "We care down here, we've got a lot of men and women of God down here."
Although she anticipates surgery on her feet and neck, "I am not worried about me. God will take care of me."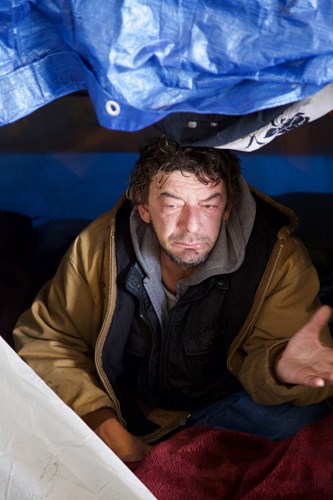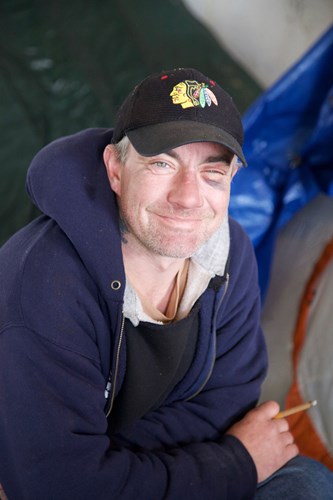 Senad Fylan (Left) has been homeless since 2012 after a dispute with his ex-girlfriend. "She was a gambling addict and called the cops on me. I did nothing."
Fylan said he had a construction business that employed four full-time and three part-time workers but he lost everything, including his tools. 
He moved from the suburbs to Uptown because he had spent 19 years in Rogers Park and Uptown.
"Good friends are the only benefits he's got," said his friend Mark Anderson (Right), who also left his house on the southwest side after his girlfriend burned his clothes and his tools.
"He's got no luck in his life, like I do," Fylan said.
Anderson is a carpenter, so "when I go to work I have to depend on people to loan me tools." He can make $200 a day but there hasn't been work in cold and rainy weather. He would need three to four days of regular work to afford an apartment. Meanwhile, his phone had gotten wet in the rain so that he wasn't sure how he would call in the next day to see if there was a job available. But if he could get two days of work, he could afford to fix it. Anderson had been robbed in the past week and his eye socket was shattered. He lost $50 cash and went to the emergency room. He is not on Medicaid or food stamps and has no health insurance. "Everything I got is what I work for every day."
Anderson said, "If I got an apartment, I'd let him [Fylan] move in with me." Fylan, meanwhile, said he is working with someone from Thresholds who comes to see him once a week. He has no phone.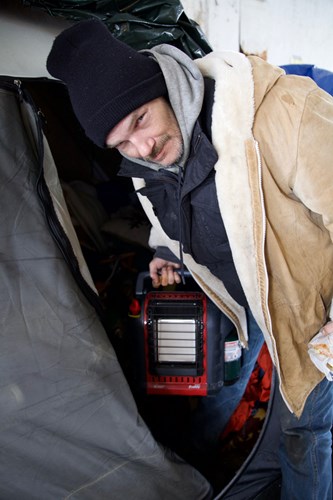 Tom Gordon stays at the Wilson Men's Hotel but has been at the Lawrence viaduct since February. "I'm going wherever the people go. I've been helping these people. When they don't have fuel I'll cook for them. I have a grill inside my tent. I make coffee in the morning."
Neighbors have been good to the community, bringing clothing, shoes, propane for heating – and enough to share. In just the space of a 30-minute visit with StreetWise, two different groups of people brought Potbelly sandwiches left over from a church event and new dry socks.
Gordon said he has heard there are other homeless people living nearby in the park and adds, "If they need bedding, there has got to be a way to reach out. All they have to do is ask. Everybody looks out for everybody down here. But you'll get kicked out of here if you steal. That's the No. 1 rule."
Many of the residents had heaters this winter. Gordon said he watches that heaters go only to people who will use them, not sell them. He also guards heaters if people leave their tents. In February, he used his own money to buy propane to share.
Suzette Bross is a photographer living and working in Chicago. Her work is in the Art Institute of Chicago, the National Gallery of Art in DC and the Museum of Contemporary Photography among others.