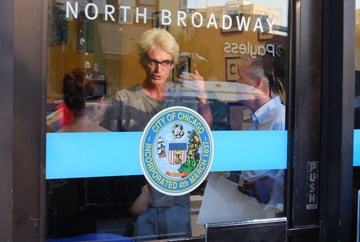 By: suzanne Hanney
October 9, 2017
Advocates for the former Uptown Tent City called for "street heat" to be applied to Ald. James Cappleman (46th ward) and Mayor Rahm Emanuel so that similar encampments can have a place in the neighborhood and elsewhere in Chicago.
Since the September 18 evictions at the Wilson and Lawrence Avenue viaducts, police have told remaining encampment members that they will be arrested anytime they pitch tents on City property without public way use permits, Uptown Tent City Organizers said ahead of the September 25 protest and open mic at Cappleman's ward office, 4544 N. Broadway. The 1930s-era viaducts over Lake Shore Drive have falling concrete and are being repaired over the winter.
"The Eighth Amendment says it's unconstitutional to criminalize homelessness: to arrest people who don't have anyplace to sleep," said Alan Mills, an attorney and executive director of the Uptown People's Law Center (UPLC). "You cannot arrest people because they are homeless. Instead we should give them homes."
"People need tents to sleep outside in the cold," said Andy Thayer of Uptown Tent City Organizers, which was a co-plaintiff with UPLC in a federal lawsuit against the city to preserve the Tent City or some housing alternative. Instead, "Cappleman is trying to drive out working class people and make the ward Lincoln Park North," Thayer said.
Cappleman did not speak to reporters but instead issued one page of talking points. In it, he said he had:
• preserved affordable housing units in the ward, which has the highest number of government-subsidized units in the city;
• added 45 Chicago Housing Authority units and 22 Low Income Housing Trust Fund units for people making up to 30 percent of the Area Median Income ($21,070 for a family of two);
• approved a zoning change and government funding for a new Sarah's Circle facility that provides permanent housing for 38 homeless women and new space for their 50-bed shelter;
• approved construction of a new shelter in the ward, Apna Ghar, the only domestic violence shelter in the Midwest for immigrant women.
However, Jeffrey Littleton, who met with the alderman in his office, told the protesters that he had also asked Cappleman about the 1500 units of affordable housing in the ward that have vanished due to gentrification.
Jeremy Nichols, case manager and fund manager at Cornerstone Community Outreach, 4628 N. Clifton Ave., told the protesters that he has been at the shelter for 20 years "and it's getting harder and harder to find housing in this ward. We need more affordable and subsidized housing."
Thayer faults Cappleman for his support of a luxury high-rise at Montrose and Clarendon, which received $15.8 million in tax increment financing (TIF) in January 2016. That money should have been used for affordable housing, he said.
Developers who receive City money must provide 1 in 5 units as affordable. The $125.4 million, 26-story building will include 20 affordable units built on-site, where rents will reportedly start at $1,688 for a studio. Another 58 affordable units will be built off-site.
Thayer said the advocates want a citywide solution where people would have the right to pitch tents as long as they were not blocking the public way. Police would also be disciplined for harassment of encampment residents.
"If you're not going to be housing people, don't harass them," Thayer said.
During the rally, Thayer described the jaw-dropping reaction of City attorneys when advocates joined them in federal court.
More of the same was needed, he said.
As an example, Thayer introduced former Tent City leader Louis "Abdul" Jones.
"I've done some things in my time and I was homeless because of my choices. But I am not homeless now because of my choices," Jones said. He advocated alongside Heartland Alliance, Thresholds, ONE Northside and other agencies to get housing for Tent City residents. In the process, he obtained housing too.