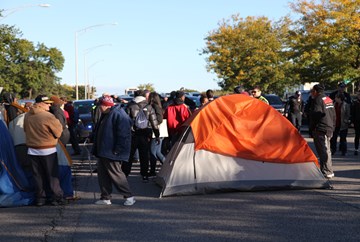 By: Suzanne Hanney
October 24, 2016
Advocates from across Chicago joined Uptown tent cities residents October 13 in a march that briefly shut down Lake Shore Drive during the morning rush hour.
Leah Levinger, director of the Chicago Housing Initiative (CHI), said advocates organized the rally once they knew City officials would announce October 14 whether they would confiscate encampment tents during weekly street cleaning under Lake Shore Drive viaducts at Wilson, Lawrence and Foster. CHI instead proposes the Keeping the Promise ordinance, which calls for Chicago City Council oversight of the Chicago Housing Authority. The reason is CHA's $400 billion surplus, an average of 4,600 public housing units left vacant for each of four years and an average of 13,272 housing vouchers uncirculated.
The proposal has the support of 25 aldermen. But Levinger said Mayor Rahm Emanuel told her he opposes it because changes in the federal deregulation contract would make City Council oversight redundant.
She disputed CHA CEO Eugene Jones Jr.'s testimony to the City Council last February. Jones said that CHA began 2015 with reserves of $221 million and spent $82 million on new construction and resident services. "By the end of 2017 we will be in the red."
Levinger said that CHA's latest financial report, which came out in April and covers the period through September 2015, still shows the $400 million surplus.
Emanuel committed to housing the 75 encampment residents last April but it hasn't happened, Levinger said, because there is no housing, particularly on the North Side. "So because his plan has failed he wants to just move people out. Our argument is, it is a financial problem, a political will problem. $400 million goes a long way."
Chicago Department of Family and Support Services spokesperson Jennifer Rottner said later that 41 of the 75 people had been housed, with 12 inactive. Another 21 people are working with DFSS outreach workers to get housing.
"The City is continuing regular weekly cleanings at the viaducts and consistent with its practice during these cleanings, it will not be taking occupied tents," Rottner said in the statement.
Lori Clark, executive director of Jane Addams Senior Caucus, said the tent cities correlate with the Keeping the Promise ordinance because there are waiting lists for many senior buildings. "If we keep the promise, those people in tent cities would have vouchers and housing."
Cynthia Scott, a resident of the CHA's Lathrop Homes, said that it has 900 units – over 700 of them vacant. Its redevelopment will return only 400 public housing units.
"No wonder the mayor has trouble finding housing for these people under the viaducts," Scott said. "This is a city-wide problem. As a community we need to stand together."
If the tents were removed for the winter, "body counts will be on the list," said Loydell Roberson of the Lawrence Avenue encampment. "We need the public to tell the mayor to open up their hearts."