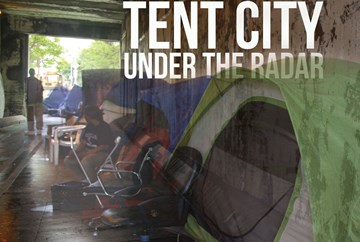 By: Suzanne Hanney
July 2, 2018
The Uptown Tent City was evicted last September, but remnants are still there "under the radar" – and under city officials' skin.
"We'll be out here all summer until Mayor Emanuel houses the remaining 15 people," said Louis "Abdul" Jones, "mayor" of the Wilson viaduct Tent City. Despite City efforts that began in April 2016, 15 people were still homeless under the Wilson and Lawrence bridges over Lake Shore Drive when police cleared the Tent City to accommodate repairs to the bridges.
There are still people sleeping in tents in the park and in Uptown doorways, with new people bringing the total to 35 or 40, said Tom Gordon, "mayor" of the Tent City at Lawrence viaduct.
On June 18, the Wilson viaduct was the starting point for an Interfaith Moral Fusion Justice Revival by the Illinois Poor People's Campaign, a re-realized version of Dr. Martin Luther King's vision that began in 1968 but never reached fruition. Flyers for the event referred to last year's evictions and now, new bike lanes that are in the space used by the Tent City.
"We will be coming together, acknowledging the fact that the city evicted them, also calling out that the city is trying to prevent them from coming back," said the Rev. Saeed Richardson, a tri-chair of the Illinois Poor People's Campaign. He is also director of policy at the Community Renewal Society and senior pastor of First Baptist Church in Waukegan.
The Wilson viaduct – and the faces of the people impacted there -- will be the focus for the campaign's final Monday, after six weeks of action around fair housing, fair pay and fair health care in Springfield, Richardson said. Philosophically, its focus is ending poverty, racism, militarism "and all this distorted moral narrative that says you're poor because you haven't tried hard enough," Richardson said.
"I see it as a pattern," said Diane O'Connell, a staff attorney with the Law Project at the Chicago Coalition for the Homeless (CCH), a participant in the June 18 rally. "The same thing that happened in Uptown is happening all over and has been happening for a long time. In response to complaints by middle-class or wealthy tenants or landowners, from housed people, the City will take actions to exclude homeless people from spaces, such as barricades on Lower Wacker Drive, or in Uptown, these bike lanes on sidewalks. This approach is harmful and ineffective. The only thing that will solve homelessness is housing."
CCH and the Uptown People's Law Center (UPLC) filed a lawsuit in circuit court about the Wilson and Lawrence bridges' design. UPLC Executive Director Alan Mills said that the results are unsafe, because a right turn lane onto Lake Shore Drive now encompasses the bike path, although there are two lanes under the bridge.
"The bike path is on the sidewalk," Mills said. "They have expanded auto traffic after its busy point but reduced lanes where it's busy. The bottom line is, the only reason they did this is to eliminate an area where homeless people could stay."
UPLC is also a partner in a lawsuit about the criminalization of homeless people: that homeless people cannot keep their possessions on the public way anywhere in the city. During biweekly cleanups, city crews have removed people's possessions, Mills said.
"Uptown was the test case. I'm speculating they decided that since they got away with it here, they can do it anywhere," he said of subsequent encampment sweeps.
"Lower Wacker is a great example," CCH's O'Connell said. "Over the years the City has taken steps to make it unacceptable for people to live there. There was the massive reconstruction of the RiverWalk and the removal of the little corners people have found to sleep in. Now they are fencing off the Triangle, one of the last accessible places homeless people could sleep on Lower Wacker."
On June 7, CCH hosted a press conference at the Triangle, at the junction of Wabash Avenue and Wacker Drive, below the First Church of Christ, Scientist. Crews from the Chicago Department of Family and Support Services (DFSS) were on hand to facilitate the encampment's removal ahead of a June 11 deadline.
"The City strives to treat homeless residents with respect and dignity, while connecting them with the programs and services they need to move from crisis to stability," DFSS Director of Communications Jennifer Rottner said in a statement. "For the last several months, DFSS has been conducting homeless outreach for individuals in the Lower Wacker triangle and will continue working to connect them with the resources they need."
A man who called himself "Willie," among the nine people still at the Triangle, said he would move farther east to Columbus Drive. A nonunion bricklayer, Willie said his family had lost sentimental things such as clothes and pictures on a previous sweep by city cleaning crews.
"We know they come on Thursday. The kids was at school. My wife was trying to find a job and I was doing the same thing. If your body's not here, your stuff is gone. The only reason they are not doing it today is you all are here," he said of media and advocates.
The Triangle encampment was not allowed to have tents and there was no cooperation among residents. "It's every man for himself," Willie said. "I guess there's no love among us."
But the situation was different at the Uptown Tent City, said Sandra Ramsey, executive director of Cornerstone Community Outreach.
"It's interesting to me that humanity finds its level of community: their own law and order, trying to make a go of this terrible situation," Ramsey said.
"I envision that's how it must be in a refugee camp. You can't just have hideous chaos. Somebody must rise up. And that's what happened. Abdul rose up."
Wilson viaduct "mayor" Jones, known on the street as Abdul, said he imposed a structure in order to respect women. In addition, "the City won't do for us unless we do for ourselves: live like normal people, respectably and clean."
Jones assigned Tent City residents into three working groups: sanitation, distribution of donated supplies (food, clothes, tents, propane); and overnight security. There were five women on daytime cleaning and reception and five men, Jones included, who handled security from midnight to 6 a.m.
Extra supplies went to a storage tent. And there was always an empty tent – with women standing by – in case a woman needed the Tent City, for domestic violence or other reasons.
Later, Jones contacted Tom Gordon about becoming "mayor" of the Lawrence viaduct. On Sept. 1, 2016, Gordon went to the Wilson Men's Hotel, rented a room that he used for 24/7 storage and simultaneously set up a tent under the Lawrence viaduct.
When the Tent City was dismantled, Gordon was among those not housed. After the police crackdown on encampments, he continued to lead the floating community to various parks and empty spaces he would not reveal to media. He even briefly organized a late-evening meet-up at the Uptown Target store.
There are still tents in the park, Gordon said, and he also has people keeping an eye on an encampment at Roosevelt and Desplaines. "There's cleanups down there every two weeks and we want to make sure they keep their tents," he said.
And on a recent Sunday morning, Gordon was at the New Creation Healing Community – the Under the Bridge Church, which worships in a tent northeast of the Wilson viaduct. On this particular day he announced an event for homeless people – with food, clothing, tents, gift cards – sponsored by a south suburban park district.
The Rev. Paul Lee, a retired doctor of Oriental medicine, and his wife, Joyce, started the church just over a year ago under the Wilson viaduct. The Lees and Connie Robertson had provided the music at a service at Inspiration Corporation in Uptown but Lee wanted to minister to homeless people. He set up the church after an email to 230 Korean pastors, who donated the tent they use now. Sometimes the pastors invite him back to give testimony.
Meanwhile, Joyce provides the food and coffee that precedes the service. To celebrate the church's first anniversary the week before, they had a Korean barbeque. This week, Joyce had made the leftovers into beef sushi.
After all, Lee said in a sermon about when the sisters Mary and Martha hosted Jesus, "if you are hungry, you cannot concentrate" on the Word.
"It helps people to have a place to come on Sunday, the longest day of the week around here, with nothing going on until afternoon," said Nova Haye, who does security at the church, as he did at Lawrence viaduct. Haye remained on the streets with Gordon until January, when he took a room at the Lorali Hotel.
Love and structure can take activism only so far, however. Jones credits Vivien Tsou, a housing organizer with ONE Northside, for helping Tent City dwellers gain visibility with the media and the mayor.
"If you don't say nothing, you don't get nothing. The people who got housing with me and Paula [Coleman, his significant other] were the ones who marched with us."
The City responded by asking shelter providers and nonprofits to do outreach with Tent City dwellers in order to place them into housing, Ramsey said. Led by the AIDS Foundation's Center for Housing and Health, participants included Cornerstone, Heartland Health Outreach, Heartland Health Housing, Deborah's Place, Inner Voice, Heartland Human Care Services and North Side Housing. Using City money, three full-time case managers were hired – at Deborah's Place, at Inner Voice and at Heartland Health Housing.
Peter Toepfer, executive director of the Center for Housing and Health, said that the center received $300,000 in city money to allocate for services among the agencies.
The situation worked, said Jeremy Nicholls, manager of the Cornerstone men's program, because the service providers knew the people, the special challenges they might have such as dual diagnosis (combined mental illness and substance abuse) and which programs might fit them.
CCH, Uptown Tent City Organizers, ONE Northside and the activists themselves continuously pressured the City for results through the media. "Residents like Louis, Joe and Maria Murray said 'don't forget about us,'" Nicholls said. 
But to be fair, the City did not own the promised housing, for which $600,000 was allocated, Toepfer said. Ultimately, people wound up in units owned by nonprofits, or private landlords who agreed to take Chicago Low Income Housing Trust Fund (CLIHF) vouchers. Emanuel sent a letter to these landlords in July 2016 to enhance that effort. The Chicago Housing Authority (CHA) accounted for fewer than 20 units.
Because of the pressure, two waves of Tent City residents were prioritized for housing, Nicholls said.
"I'm glad they were housed, but I know the 75 were prioritized over men and women experiencing homelessness at Cornerstone or elsewhere around the city," Nicholls said. "It makes the shelters look bad that these 75 people were housed but not those people already in line. There are vulnerable people over here in their 60s, 70s, with COPD, hypertension, HIV, young mothers. It's really robbing Peter to pay Paul." Chicago's Homeless Management Information System (HMIS) updates weekly on allchicago.org According to its Dashboard to End Homelessness, there were 8,816 people homeless as of June 12, and 831 available permanent housing units.
A remaining problem, said ONE Northside's Tsou, is that in order to be permanently housed, people had to move to the West Side and South Side in order to be locked into a subsidized unit.
The demand for North Side housing is high enough, Nicholls added, that criminal histories, evictions and credit scores were barriers for Tent City residents.
The North Side lost 5,000 affordable units between 2015 and 2016 alone, Tsou said. As a result, Tent City residents' alternatives there were nursing homes and SRO hotels.
But both the Wilson Men's Hotel and the Lorali SRO are up for sale, Tsou said, which could mean renovation and higher rents.
"The whole point of the Tent City fight, the reason people were living in tents under the bridge, is that Uptown is home for these folks. The North Side is their home, the place where they feel safe and comfortable. There is not enough affordable housing on the North Side."
WHERE ARE THEY NOW?
Maria and Joe Murray met at the Tent City, became "survival buddies" as she says, and then married. Maria received private help and moved out from under the Lawrence Avenue viaduct to an Uptown apartment in March 2017.
Because Joe had a record for a crime he says he didn't commit, he was unable to share the apartment, so Maria continued to come back to the encampment and to remain active in its social media.
Since the dismantling of the Tent City in September 2017, Joe has remained outside. However, the Murrays are frequently together because Maria began a retail job in Uptown in April 2017. She has a bachelor's degree in business management and entrepreneurship from Columbia College and received a promotion to lead style consultant. 
Joe has ability with carpentry, plumbing, painting and electrical work, so he has done odd jobs -- alone and with his wife -- so that they can save up for a place where they both can live.
Louis "Abdul" Jones and his girlfriend of more than 10 years, Paula Coleman, received housing in the Englewood neighborhood paid by the Chicago Low Income Housing Trust Fund (CLIHF).
Coleman says she likes their kitchen and bathroom, their back porch, even keeping her own house clean. But Jones said fatal shootings and drug dealing in the neighborhood are too close for his comfort.
He is frequently back in Uptown for case management, job training and using phones at StreetWise or Cornerstone Community Outreach. He also does odd jobs like moving. He'd like to move back permanently in the next few years.
Coleman is considering work at a nearby South Side warehouse but she would need boots and her diabetes is a concern. Jones said he previously worked in shipping and receiving and could return to that.
His more immediate goal is to get married. "She's got a real man to support her," he said of Coleman. "I want her to enjoy her grandkids for the rest of her life. We fought these streets together."
On the day the Tent City was shut down, Carol Aldape moved into Cornerstone Community Outreach (CCO) with her dogs Bella and Chief, after City officals asked the shelter. Aldape praises the shelter's cleanliness and her caseworker. She is also grateful to Mark Brown of the Chicago Sun-Times, who had written about her.
Her dogs are emotional service animals, both she and CCO executive director Sandra Ramsey agree, but Aldape is also keeping herself going for their sake. "I don't want them to go to the pound."
Aldape, who will be 69 in July, worked as a manicurist for 22 years and sometimes had three jobs at one time. She now has high blood pressure, diabetes, MS and stenosis of her lower back and uses a wheelchair for getting around outside or carrying groceries.
The wheelchair caused a landlord to have second thoughts about renting her an apartment she liked in Edgewater. Another unit in Rogers Park was too small to fit her table and chairs and her cherished curio cabinet, for family photos and her TV. Aldape said she might be able to move west and travel back to her doctors at Weiss Hospital via CTA buses on Montrose or Lawrence Avenues. She came to the Tent City after the owner of her nearby Section 8 apartment decided to sell it.