By: Staff
November 29, 2016
V.W.
Hello, I go by V.W. and I have been selling StreetWise magazine since 2012, near the Jewel at Broadway and Berwyn Avenue. When I moved into my apartment with a voucher, I realized that I did not have any more money for things like groceries. My rent was paid with the voucher, but I still needed to buy other things. One day I found a copy of StreetWise magazine on the CTA Red Line and saw there was an orientation to begin selling magazines. I also noticed that the ZIP code was in my area, which is important because my transportation is limited. I came down to the office for an orientation and have been selling ever since! StreetWise has helped me by opening the door to a source of income for those with a criminal background. When everyone else said no, StreetWise provided me with an opportunity to earn money and escape boredom. Ever since I started, I have not quit. I am prevented from working a full-time salary job due to income I receive from a health condition, but I am allowed to work this job.
I would love to share a favorite customer story of mine, but I have too many favorites to choose from! In general, I would like to thank the customers for being so dedicated to picking up each issue. Also, they are very supportive of the StreetWise mission of supporting the vendors. 
I am so thankful for the StreetWise organization. Specifically, I appreciate the income it allows me to earn and the hope that they gave me. StreetWise is very inclusive in accepting new vendors. Furthermore, I am thankful for the staff and the self-employment opportunity. I am allowed to make my own hours and set my own goals within an easy-going organization that allows me to control how and when I work. 
OJ
I have been selling StreetWise for a little over two years, at the Clark and Halsted intersection near CVS and also in Lincoln Park at Armitage and Sheffield Avenues.
I came to StreetWise after losing my career as an electrician in the US Army due to layoffs. I was struggling with addiction for a time and a friend recommended StreetWise to me as a way to get back on my feet and earn some money. StreetWise has helped me by getting me to stop my addiction. They gave me a second chance and never fired or judged me. As a vendor I have a sense of purpose and hope. They gave me employment and a source of income.
StreetWise also helped me to understand the importance of connecting with members of the community. I have so many interesting customer stories, but my best story is that before I got my second job I was selling in the summer outside of a Domino's. It was very hot and sales were down. Eventually I broke down to the members of the community that were around me. I spoke to them about classism and prejudice and said I wanted people to understand that I just want to connect with them – that it's not about the money. They gave me a chance to be a part of the community and I appreciate them for that.
I'm most thankful for, first and foremost, Jesus Christ because he saved my life. Secondly, I'm thankful for StreetWise because they backed me and gave me a second chance and purpose. Next, I'm thankful for really connecting with the customers – as they give me a chance to sell magazines. Lastly, I am thankful for my family.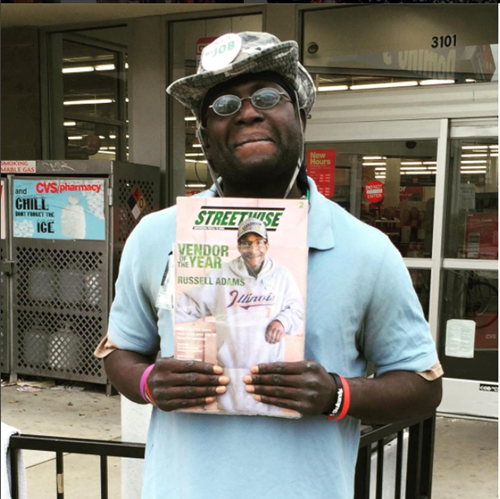 Diana Thomas
I have been selling StreetWise for eight years, mainly around the 4129 S. Michigan Ave. area, but I make trips to other locations in order to sell to my customers.
I learned about StreetWise from another vendor from whom I used to buy the magazine. Later on I met Russell downtown and he gave me information about the organization, like its location and what it's all about. After that I came to the office and started being a vendor.
StreetWise gave me a sense of responsibility and the routine of working a job without being in a traditional full-time position. Also, being a vendor allowed me to connect with my community. In fact, I've gained a few more customers recently. I even have a few people who started as my customers and now donate directly to StreetWise. During this Thanksgiving season I'm thankful for the housing I have after waiting for a Section 8 voucher for 10 years. I have moved around to a few different apartments, and I'm thankful for some of the communities starting to improve as well.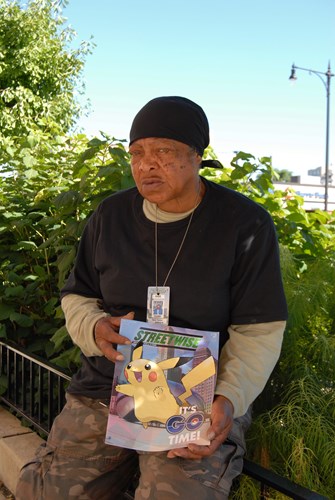 James Metzgar
I worked for Gold Eagle for 30 years. I eventually came to StreetWise after I took an early retirement package 10 years ago. Since my retirement, I looked for ways to supplement my retirement income. StreetWise has been good for me in this regard for it is very difficult for senior citizens to find even part-time, regular work. StreetWise also once helped me to find a new apartment when I needed to move. I also enjoy being part of StreetWise's writers group where I can share my long life of experiences.
While I am not rich, I am thankful that I am living very comfortably in a nice apartment and I have adequate clothing, food and health care. I will be going on a pilgrimage to a Catholic Shrine at Our Lady of the Snows in Belleville, IL in the St. Louis/metropolitan area for Thanksgiving. I will get to see the beautiful Christmas season "Way of Lights" and recharge my spiritual batteries. I can be grateful that, even though I'm not seeing family members at Thanksgiving, I will be seeing them at Christmas when I will be visiting them in McKinney, TX near Dallas.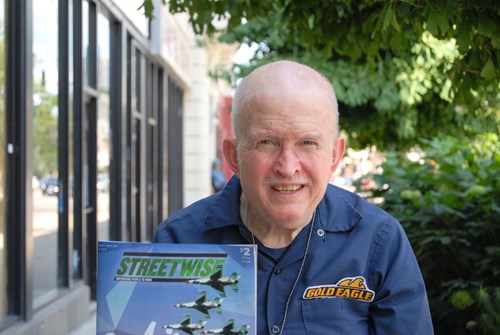 Steven Riggs
What brought me to StreetWise in April 2016 was a need to earn an honest income. They told me that within 24 hours of coming in contact with the program, you can earn money. This is true! I'm a witness. Right after the orientation, I went out and sold 30 magazines on my first day. I can now at least provide food and clothes for myself.  I sell in Roscoe Village at Roscoe and Damen from 7-9 a.m. It's a beautiful neighborhood and the people have beautiful personalities. They are friendly and inviting; the doors are always open. Everyone talks to everyone and knows everyone by first names. I'm still trying to learn everyone's names because I know it would mean more to my customers if I could call them all by their first name. After noon you can find me at the Jewel on Lincoln and Hudson in Lakeview.
I'm thankful for one of my customers specifically. I met a guy who's a nanny and looks like a professional wrestler with a full beard and long hair. You'd never think he was a nanny! He told me about a payment system for my phone and encouraged me to start accepting credit. By next month, I'll be one of only three vendors who accept credit for my magazines!
I'm also thankful for StreetWise and how it helped me positively change my attitude toward work in general. Now, I feel like I'm working for a purpose. Some of the money I make goes back to help the homeless, the poor and the unemployed. This has improved my self-esteem, self-image and self-confidence. I love my job and I'm thankful for it!
A. Allen
I have been a StreetWise vendor for four years and am also a field supervisor for other vendors.
I am truly grateful for my sobriety and health. I have so much to be thankful for because the abuse and neglect I did to my body while indulging in my active addiction should have left me dead or incapacitated mentally or physically. I always thought, "Once a drug addict-alcoholic, always a drug addict-alcoholic." I felt as if there was no way out of my addiction. My mind told me I would die that way. 
My life has improved tremendously, not only to the point of being better myself but in my goal to help others do better as well. I sometimes feel like the ugly duckling who realized he was a swan. Today I realize I'm made in the image of God and I can do all things through Him. That gives me strength. "I will from this day forward look to the hills from whence comes my help. My help comes from the Lord. The one that made heaven and earth." (Psalm 23)
Percy Smith
Percy has been with StreetWise for 13 years and is a vendor at the Barnes & Noble at Clybourn and Webster Avenues.  StreetWise has opened up doors for Percy and it has supported him in several ways including allowing him to return to school to study behavioral science and supplementing his income to pay his rent. Percy is trained in the social services and is a substance abuse counselor. With that training he started a support group at StreetWise in 2004 called Life Savers, a Narcotics Anonymous group that he facilitated for 11 years. Percy saw that some people were stuck in their addiction and needed support on how to manage their money and find the resources they needed to move forward in life. He wanted them to use the StreetWise program the way it was intended and to help them get on more stable ground.
Percy is thankful for his supporters who have been calling and checking up on him and his health progress lately. It makes him feel that he's part of something positive. Percy looks forward to returning to work this November. He's also thankful for StreetWise and its work helping people who really need it and for giving him an avenue to help people out any way that he can, too.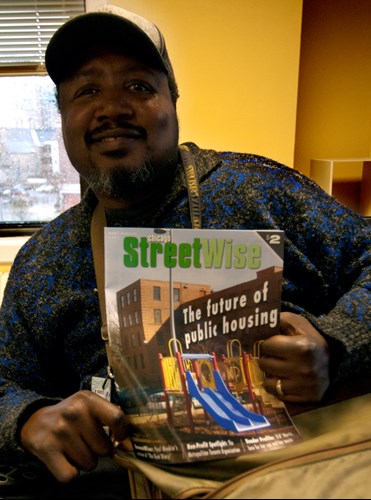 Heather Derobertis
I've been with StreetWise for seven months and I enjoy everything StreetWise has provided for my family. I came to StreetWise because a friend had brought it to my attention. "Try it," he said and I did. I like it and it helps me provide for my family, especially for my four kids and husband.  I'm trying to get further in life. I struggled living on the streets when I was a teen. My friends helped me along the way. I picked up my life when I found out I was pregnant. I took care of my son since he was a baby all the way until he was 5. I strived then, I am still am striving now with work and taking the kids to school and doing right by everybody.
I'm thankful for my kids, for life and for surviving the hard times. StreetWise has helped me in numerous ways, like given giving me a job so I can provide food for the table and a roof over my head. I am thankful for my husband and how he has helped me and my kids get out of a bad relationship. We spend all holidays together but Thanksgiving really brings us together. The whole year we have a lot of things going on and it can be hectic. Thanksgiving gives us a chance to forget all that and have a couple of days of peace and enjoyment.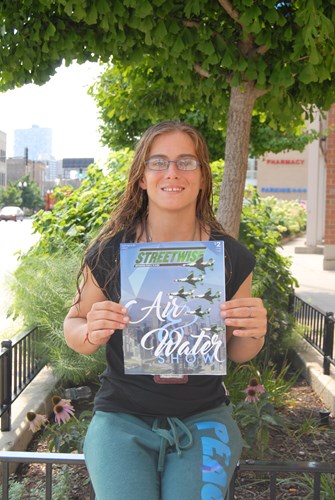 Clifton Turner
I've been with StreetWise for 20 years and I currently sell on Davis Street in Evanston. I haven't always sold in Evanston, but now I live there.
I came to StreetWise because I needed a job.  I heard about it from the TV. I remember, in the early days,  there were a lot of vendors coming in.
I used to drive another vendor around to take on business and recruit people. I enjoyed doing it.
StreetWise helped me to make a better living. I get to set my own hours for the job. My life changed from being broke to having money. I've also learned how to deal with people. 
I try to be friendly. Some customers will give me $10 or $20. I don't have too many conversations with customers. One or two have been buying from me for a while. Some are friendly and some are in a hurry.  They are usually going to work. I try to say "hello" and "how ya feeling?"
I'm thankful for being alive and seeing another day.
I remember Thanksgiving when I worked for Salvation Army and I was a bell ringer. I've had many jobs. 
I love Thanksgiving. You get to be off. You get to be with family. I like the turkey and to watch some TV.