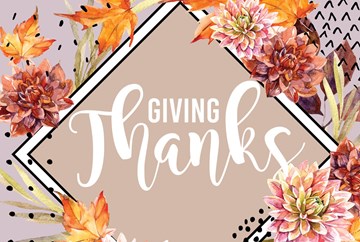 By: Kiristen Sowa
November 20, 2017
A Allen
Thanksgiving is truly a time to give thanks. I always appreciate this time of year, because it is a reminder to be grateful. Being grateful is a good, positive attitude to have, especially in this day and age. During Thanksgiving, I take my time to recognize and appreciate my family, friends, associates, co-workers and customers. And I even focus my gratitude on the Pilgrims and founders of this great nation. I also appreciate my community, city, state and country. Thanksgiving gives me an opportunity to take a new look at an old friend. Because it's in the spirit of giving thanks, I renew my commitment to be ever grateful for what I have and where I am now, at this moment. Christmas and New Year's are not the only time to be jolly. It all starts with Thanksgiving. Giving thanks is the beginning of all the holiday festivities. When all is said and done, let's all continue to be thankful. It is a season that never has to end. And thank you for taking the time to purchase and read this article.
JoAnne Breivogel
Thanksgiving was always a time for the whole family to get together. Family members from all over would fly or drive in to visit. My momma would be the one to cook, but all the parents would take turns bringing things. Sometimes they would cook a whole meal at their house, but still come to our house, and save their food at home for later, because they wanted my mom's food. She made it real for ya. She would put lots of love and care into it.
We would gather like that for most of my life, up until 1995, when my parents passed away. Then fewer and fewer people would come each Thanksgiving. Sometimes we could get a big group together, but it wasn't anything like when I was little. Back in the day, we would have everyone. Aunts, uncles, grandparents, cousins, brothers, sisters, and even the occasional boyfriend/girlfriend of some relative would come through. They were usually nice, but didn't stick around long. As we got older, the spouses and children would come too. We would talk and laugh and catch up on how everyone's life was going. We would ask how jobs were going and tell stories about the year. And we would all laugh; laughter was a big part of it all.
Vadii Ellis
The first thing I think of when I think about Thanksgiving is FOOTBALL. Football all day. When some people talk about the Macy's Parade, I think to myself, there is no competition: Football is going to be on my TV screen. Ever since I can remember, it's been a day all about football and good food. We used to spend Christmas at my Aunt's and Thanksgiving at my house. My mother would cook up all the food with my grandma and great-grandma. There was always turkey and all the fixings, but my favorite was always the ham. If I had to pick only one favorite, it would definitely be the ham.
Thanksgiving was always a low-key, relaxed day. There's nothing really special or different from other days out of the year, just gathering everyone together for the big meal. My mother passed away last year, and my grandmothers have been gone for a while too. So much of the holiday was based around them – being with them, eating their cooking. Since they're gone, we don't get together as a family as much anymore. It's almost like, since they're gone, what now? Some people get to feeling pretty sad, missing the people who passed, especially on the holidays. And I can understand that.
Tommie Hannah
My family is really huge, we have a lot of people to try and fit in one place. It's like the Brady Bunch. There were cousins, on cousins, on cousins! We usually gathered at my grandparents' house because they had a small house behind their main house. My mother, grandmother, all the women would be in the main house, cooking and talking. Then the men would all hang out in the back house, but my grandfather would be welcome in both houses, because it was all his home.
My favorite thing about the holiday, when I was a kid, was getting to eat with my hands. They would make all the good Southern-style comfort food. And it's the kind of food that you're meant to eat with your hands.
Holidays are just like all the other days of the year to me, the thing that makes them special or important is really the family being gathered. With everyone being spread out across the country now, we don't get together often. But anytime I get to see the family it feels like a holiday for me.
This year I am very thankful for my health and my life. I was hit by a car last January, and I was pretty badly injured. I was stuck in the hospital for eight days straight and then I had physical therapy to work through. I essentially had to relearn how to walk, and I am deeply grateful for the progress I've made and having my mobility back after months of work. A lot of times I hear people talk about some of the more superficial things they are thankful for this time of year, and it's good to be thankful, period. But I am reflecting on how valuable and precious life can be this Thanksgiving season.
Lee Holmes
Thanksgiving is my favorite holiday. Picture it – 5 o'clock in the morning. The house is buzzing with activity. We are getting ready to make the long drive over to my uncle's house. I cannot wait to see my cousins. It has been a while since I have seen them. We have so much fun running around and playing tricks on each other. The rest of the cousins are sneaking into the kitchen to take food my mom and aunties are cooking up. I like the stuffing and the corn the best. What I really like about Thanksgiving is when we all sit around and listen to the elders talk about the past.
Happy Thanksgiving!
Linda Moody
I have been so very blessed this year. I am thankful for so much. But above all, I am thankful for my customers. They are so supportive and kind. When I moved into a new apartment in Evanston, they were so generous and helpful. They bought extra magazines, they gave me all sorts of home furnishings. I really couldn't have made it without them. So when I think about things I'm grateful for, they are at the top of my list.
I have all the kids over for Thanksgiving – my two kids and all five grandkids. We go back and forth each year between having it at my house and having it at my daughter's house. But my daughter and I always cook together. We cook up all the food and then sit back and relax for the rest of the day, while the grandkids play and have fun. One year, a while back, I attempted to make a whole turkey for the first time. I was certain it was ready to eat; it was golden, crispy and hot on the outside. When we cut into it, we found it was still raw inside! We figured out that year that we have to keep it cooking longer than we think we should. It's a real challenge to cook a turkey well. But I've got it down now!
I hope you all have the happiest of Thanksgivings this year, and a special thank you to all the customers who make me smile every week. You are such blessings!
Steven Riggs
Thanksgiving is my favorite holiday. Turkey, dressing, macaroni and cheese, and greens are my favorite holiday foods. But lemon meringue pie, caramel cake, and 7-Up cake are some of my favorite desserts. This is the Thanksgiving meal that my aunt (who has passed) used to make every year for the family who stayed in the city of Chicago. Some of the best cooking I've ever had. My aunt and my uncle were the best two cooks in the family. My mother is not really a cook, she's a seamstress; she can tailor just about any piece of clothing a person has. She made it so, during my childhood, my aunt and my uncle provided all the good meals for me and my mother made all of the good clothes for me. But I challenge you with this: this Thanksgiving season, just sit down and reflect about things that you can be thankful for this year. Thank and praise your God for this year and the years to come because He is a provider and a caregiver.
Connie Robertson
Well, my first memories of Thanksgiving started when I was almost 5, when we lived in Houston, TX, which is where I was born. We went to a grandparent's house for a big meal each year up until I turned 8. In the summer of my 8th year, we moved to Detroit, MI before school started again. However, on that Thanksgiving we could not afford much food but somehow we wound up with a "rat-coon" (raccoon) baked as the meat for Thanksgiving, with dressing. The "rat-coon" was very greasy – it made me very sick so I never gave eating "rat-coon" another chance, ever, the rest of my life. I don't even know how we got it; we were living in the middle of the city! But one of the things I remember that was very exciting to me, my brother and sisters (I was the oldest of 10) was that each year, while the Thanksgiving meal was cooking, we would watch the Thanksgiving Day Parade because we loved all the floats. We were especially excited about the parade because that's the way Santa Claus would come to town. Going to get the Christmas tree on Thanksgiving Day became a regular tradition that I continued when I grew up. We would go into the woods somewhere and chop down our own tree, always on Thanksgiving Day. We would always get the biggest tree that would touch the ceiling, so there was almost no room for the angel on top.
Tony Sanders
I love how, at thanksgiving, you always get together with all the people you love to spend time with. I look forward to seeing the whole family, my uncles and my nieces/nephews especially. We all gather at mom's house and we eat and drink the day away, and don't forget the drink! We play cards, dominos, checkers, all of that. We usually grill out, even if it's cold. We cook ribs, pork chops, hamburgers, chicken and more. We really make a whole day of it, neighbors come through (especially when they are smelling the good food on the grill) and we relax and kick back all day long.
The party continues into some of the relatives' houses nearby and we visit with them throughout the day too. I have my own place this year, and so I really want to have some close friends and family over to my apartment. This is the first holiday season that I've been settled in this apartment, and it has a porch that's perfect for hanging out, grilling and whatnot. I plan on being a relaxing environment that people can come through after being at mom's house. Because you have to be on your best behavior in Mom's house – it's her house, her rules. I am really thankful for my home this year, especially as the winter comes in, and it gets colder out. I am so grateful to have my own space, my privacy, and my independence. That's what I'm thankful for this year.