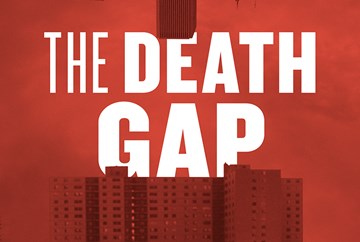 By: Suzanne Hanney
June 15, 2017
When David A. Ansell, M.D. co-hosted a fundraiser for Barack Obama's U.S. Senate campaign in 2003, he asked the future president about national health care reform. Obama gave Ansell the outline of the future Affordable Care Act (ACA).
Obama favored a single-payer system, but said "it will never get passed in the United States." Health insurance companies held so much political power – 250,000 employees across the U.S. and a huge lobbying apparatus -- that opposing them would be political suicide.
Ansell says in his new book, "The Death Gap: How Inequality Kills" (University of Chicago Press) that, "The ACA fails two critical parameters of health justice: it is neither universal nor equitable." While 20 million people gained coverage, there are still 30 million uninsured, including half of black America living in 19 states that refused Medicaid expansion.
"Rather than treating access to health insurance as a universal right…the ACA established the mandate as a core component of health care coverage, perpetuating the complex system of multiple payers, limited access, variability in quality of care, high costs, and large rich-poor life expectancy gaps."
Just the same, Republican calls for appeal would take the U.S. "back to square one, and bad will revert to worse." Newly insured people won't allow their coverage to be taken away, so the ACA remains a placeholder as advocates work toward their vision of single-payer coverage, Ansell said at a May 18 book promotion event sponsored by the Metropolitan Planning Council (MPC).
Ansell is senior vice president and associate provost for community health equity at Rush University Medical Center. He came to Chicago as a new doctor in 1978, and he practiced internal medicine at John H. Stroger Jr. Hospital of Cook County and at Mount Sinai Hospital in Lawndale.
All three hospitals are along Ogden Avenue, he said, "but I was a different doctor" at each of them, largely because of the disparity in resources. Mount Sinai's patients were uninsured (20%) and on Medicaid (60%), so that the hospital often had only a few days cash on hand, with little money for infrastructure improvements.
Capital shortages and limited access to health care contribute to the "death gap," which Ansell illustrated on a map of Chicago pinpointing life expectancies: 85 years old for residents of the Loop, but only 72 for North Lawndale; 85 for Hyde Park, but only 69 for Washington Park. This is "structural violence," Ansell told the MPC group: " 'structural' because it is based in our society and 'violence' because people die."
Breast cancer treatment exemplified structural violence, because in the 1990s, new treatments caused the death rate to plummet for white women – but not for black. Ansell described a black woman whose cancer had been missed on an earlier mammogram because the radiologist was not a specialist. Only one hospital in a high-mortality black neighborhood had been certified by the American College of Surgeons' Commission on Cancer, but there were 14 such hospitals in white neighborhoods.
Starting in 2007, the Metropolitan Chicago Breast Cancer Task Force identified hospitals with undertrained mammography technicians and arranged free continuing education. They met with hospital CEOs to share data and make recommendations for improvement. Community health workers and nurses they hired also navigated women to treatment at top hospitals (see StreetWise October 24-30, 2016, Vol 23 No. 43). By 2013, Chicago's black-white cancer gap had narrowed by 35 percent – the only metro area in the US where that happened.
Ansell also describes Windora, his long-term patient with diabetes and high blood pressure who couldn't afford food, insurance and clothing for her children on her $1,000 monthly pension so that she rationed her medication. She suffered a stroke that put her in a wheelchair and robbed her of speech.
Sarai was yet another patient, an undocumented and insured immigrant whose mother had taken her to Stroger, the region's only public hospital. She died while waiting for an organ transplant evaluation appointment at a large private hospital.
Ansell has helplessly watched too many patients like Windora and Sarai.
He writes in "The Death Gap," "For those who counter that single payer is too expensive or politically unfeasible, we persist because the American ideal of "life and liberty" cannot be achieved without an equitable and universal health care system."