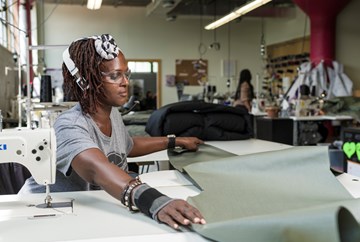 By: Kimberly Wong
July 31, 2017
Some students might believe that school projects are only good for a grade, but Empowerment Plan founder and CEO Veronika Scott knew that they could be something more. Scott was a student at The College for Creative Studies in Detroit when her professor assigned her class a project to fill a real need in the community. Noticing the homelessness that pervaded the city, Scott, who was only 20 years old at the time, began to visit a homeless shelter to try to figure out how she could help people who were homeless.
"Picture a really, horribly cold day," Scott said in a TED talk in 2011. "You're inside your house and you've made the sprint from your house to your car. I want you now to take away the car. I want you to take away the house, your neighbors' houses, your friends, your family, your back-up plan, and everywhere you would go if all that was gone. What are you left with? Where would you go and what would you do if you were in that situation?"
Armed with these questions, Scott visited the homeless shelter three times a week for five months. Hearing the ideas of the people living in the shelter showed her what she needed to do—she had to make a coat. She learned to sew from her mother, and even after the project was over, she continued to work on this coat that she hoped would change the lives of as many of the homeless as possible.
The water-resistant coat she was designing would be able to be transformed into a sleeping bag at night or into an over-the-shoulder bag on warmer days. As Scott was in the process of perfecting the design for her coat, she was approached by a homeless woman who told her emphatically that what she really needed wasn't a coat, but a job.
Taking this feedback to heart, Scott partnered with a shelter and hired two homeless women to start making coats that would come to be known as EMPWR coats. Scott paid the women to learn industrial sewing and manufacturing and brought local designers on to the project. Just like that, the Empowerment Plan was born. Not only was Scott producing coats that doubled as sleeping bags for the homeless, but she was empowering the homeless community by giving them a way to earn some much needed income.
The Empowerment Plan has been running for almost seven years and has 35 employees. All of the employees were hired while homeless and have since secured permanent housing with their families. Jessica West, a seamstress team leader at the Empowerment Plan, is just one example of the way the Empowerment Plan has changed lives. West was sleeping in her car with her children before they moved into a homeless shelter. She discovered the Empowerment Plan while living in the shelter and has been working with them for two years. She and her children currently live in a comfortable home fully furnished by non-profit organization Humble Design.
Like West, all of the Empowerment Plan's seamstresses are given the opportunity to work with Humble Design to have furnished, personalized homes. Humble Design is only one of the many organizations the Empowerment Plan works with to improve the lives of their employees. Some of the other organizations that provide Empowerment Plan employees with resources include Pro-Literacy Detroit, Level One Bank, COTS, and 2-Way Communications LLC. These companies give Empowerment Plan employees additional training during their work hours such as GED courses, financial literacy classes, and professional development seminars. These classes provide opportunities to both those who want to make sewing their career and to those who don't. Employees who don't want to pursue careers as seamstresses use their seamstress job as a stepping stone to get the jobs they really want, and are greatly aided by the GED classes and other professional training. Usually, Empowerment Plan employees work at the organization from one to three years, but this is by no means a set timeline. Above all, the Empowerment Plan is focused on the individual growth of its employees.
The employees at the Empowerment Plan are paid through the sponsorship of EMPWR coats—and since the coats also go toward helping the homeless community, it's a win-win situation. Sponsoring an EMPWR coat costs $100, which covers the cost of materials, the seamstresses' wages, and overhead. EMPWR coats are mainly sponsored by individuals, corporations, and non-profit organizations. The Red Cross has even sponsored EMPWR coats for disaster relief.
The organization has gained particular attention in Chicago thanks to the efforts of musician and philanthropist Chance the Rapper, who grew up in the West Chatham neighborhood. From December 2015 to January 2016, Chance partnered with the Empowerment Plan on a project called Warmest Winter 2016 with the goal of raising $100,000 to provide 1,000 EMPWR coats to homeless Chicagoans. Donating or sponsoring a coat through Warmest Winter 2016 gave participants the chance to win a meet-and-greet with Chance as well as Chicago Bulls and Chicago White Sox tickets. The project raised over $117,000 and sponsored 1,175 coats.
The Empowerment Plan has sold more than 20,000 coats across 49 U.S. states, 10 Canadian provinces, Australia, and some African countries. While the organization currently relies on donations, it is working to become self-sustaining. A new retail line of coats with functions similar to the EMPWR coat but with its own style is estimated to launch online toward the end of this year. Purchases of these coats will sponsor a coat for someone in need.
As the company expands its products, it also aims to expand its manpower. The Empowerment Plan will increase its number of employees from 35 to at least 60. With this expansion, the company is also moving from its office at Ponyride, a former abandoned building-turned business incubator in southwest Detroit's Corktown neighborhood, to a new building in September.
Since its beginnings, the Empowerment Plan's reputation has grown through coverage by media outlets like Forbes, the New York Times, Huffington Post, NPR, the TODAY Show, and CNN. It has won many awards over the years, from the 2011 IDEA Gold Award to the 2016 Acknowledgement of Commitment to Action. In 2015, Scott was recognized as one of Forbes's 30 Under 30 in the Social Entrepreneurs category.
From the widespread recognition and accolades—and most importantly, the thousands of homeless people who have been helped by the Empowerment Plan—it's safe to say that Scott has shown the world what a great impact a school project can actually make. To find out more about the Empowerment Plan or to learn how to sponsor a coat, visit www.empowermentplan.org.