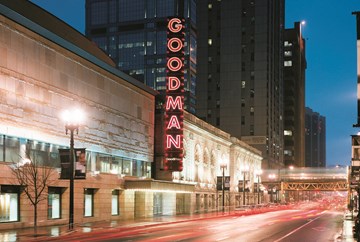 By: Mattie Alexander
April 23, 2018
Mike's life was going great in 2008 but a year later, "it turned into disaster. It can and does happen that fast.
"It's April 2009. I lost my mother. She was a great influence on me. She was my rock. Two months later, I lost my job. I had been working there for 29 years. Almost three decades of my life. I loved working there and losing my job was a shock."
The two losses so close together started the downward spiral, Mike says in "The Homeless Monologues," which will be produced by Lincoln Park Community Services (LPCS) April 30 at the Goodman Theatre.
"Then I lost my condo and I hit rock bottom," Mike says in the script. "I was at another shelter before coming here in May of 2013. I did make it out of here once but that didn't work out. There's no shame in coming back. It happens a lot in our community…the homeless community."
"The Homeless Monologues" are based on interviews with those who found interim housing and supportive services at LPCS and will be performed by 15 professional actors. For the second year, the performance will focus on showing audiences the realities of thousands of Chicagoans who are homeless. Some bring to life the daily trials of life without a home, while others reveal the diversity of the circumstances leading to homelessness, challenging the notion that homelessness is only the result of poor decision making.
"A couple of years ago, I had an idea to put on a show that helped show the true face of homelessness," said Laura Salter, LPCS associate board member. "We profiled individual guests from the shelter, both current guests and guests who have graduated, to give people the opportunity to hear those stories in a first person narrative through a performance by actors."
Last year's world premiere sold out 120 seats in the Alice Room of the Goodman. This year, the show will upgrade to the Goodman's 375-seat Owen Theatre, and expand to a longer performance.
"I knew this was something the Goodman had to be a part of," said Demi Smith, Goodman house manager and special events overseer, "simply for the fact that part of our mission statement is to give voice, educate and reach out to different communities. LPCS is giving a voice to their guests, as well as opening up and inviting those people into a very safe place, which is what the Goodman strives to be for anybody who comes through the doors." 
Salter's two roommates helped inspire the unique fundraiser. She and the two actors sat in their shared kitchen, brainstorming fresh ideas. When she brought "The Homeless Monologue" to the table, they were optimistic, but with a share of doubt.
"At the time, we all thought, 'That's a great idea!,' but we didn't really think it would happen," said Laura Resinger, one of Salter's roommates. "Then all of a sudden, Laura started organizing it."
Resinger went on to portray Cathy, a woman whose battle with drug addiction led her into homelessness, in last year's production. This year, she returns to the stage as a woman named Janet.
"You'd think it would be simple to get a new pair of glasses, right?" Janet says in her monologue. "You get an exam, get the prescription, pick out a pair, place the order, pick them up…done, right? But now I need bifocals or progressives. Then there's this special protective coating. Plus, I really like these frames….they're rose gold…really pretty. Did I say I really like them?
"Oh my goodness…the glasses cost $500. FIVE HUNDRED!!!! But I really want them……hmmmm."
The monologue goes on to explain how Janet saved $50 a month to meet her $500 goal. It took her just under a year to get the glasses, but she finally did.
"This year I have a very fun story," Resinger beamed. "It's a funny and uplifting story, because she finally gets what she wants!"
Some monologues explore tones similar to Janet's, creating an evening not only of heartbreaking theatre, but of joy and laughter.
"I think many of the actors have been surprised to find joy, humor and irreverence sewn throughout these stories," said James Fleming, director of "The Homeless Monologues." "Of course, there are stories and moments which are upsetting, but I admire and celebrate the life, resilience and love that is at the core of so many of these stories."
"I think a lot of people I have come across think there are only two reasons for homelessness: drugs or alcohol," Salter said. "It is really interesting to work more in depth with guests and graduates to hear their stories of how they found themselves homeless and how LPCS has helped them break that cycle. Some have a lot to do with medical expenses. People that had jobs and did pretty well. They had savings, but then had a major medical situation and realized that their health insurance didn't cover as much as they thought. They had to work into their savings, and that medical problem meant that they had a disability so they were unable to work."
One of those guests is Howard Moore, who is now giving back to LPCS as the project's head writer.
"I became involved with LPCS when I lived there as what they call a 'guest,'" Moore explained. "I was homeless for a couple of years and lived there for about 1.5 years. I moved out in February 2015. I became involved as a writer, first through my blog."
Moore's blog, "I've Got the Hippy Shakes," on Chicagonow.com covers everything from topics about Parkinson's Disease and homelessness to lighter topics like the music industry. In January 2015, he shared his own story.
"Mine started with a death of a friend," Moore explained in his blog. "One night we were out to dinner. Two hours after dropping me off, he was dead of a heart attack. It was devastating. I still can't figure out why. About a week later, my step-daughter died after a long illness. It was expected but it hit me hard. In the following few weeks, two more people I knew died of heart attacks."
Moore continued, "At the time I was working at a job I hated. The money was good but I had a knot in my stomach every time I went to the office. I quit the hated job. It felt great. Gave up the money. Gave up the insurance. Gave up the security. I started looking for another job. Couldn't find anything I really wanted to do but that was okay....no urgency....yet. And then I got sick....Parkinson's doesn't happen overnight. It takes a long time to get a correct diagnosis. But in the meantime, you're still feeling ill. More than the tremors and the bad balance, I was very tired. I could work part-time but I was never sure what hours I could work. I never knew when I would need a nap. Employers really don't like you sleeping on the job. Go figure. Now you've got no job, illness and you're starting to run out of money. You know this is going to have a bad ending."
Now Moore is using his gift in writing to help others share their stories. He uses recorded interviews to craft monologues that embody both the person and their story. "I loved the process of deciding which ones could be funny, which ones could break your heart and occasionally finding one or two that could do both.
"A few of things I hope the audience learns:
a. Not everyone's homeless story is the same. People end up being homeless in a variety of different ways.
b. That there isn't a typical homeless person. You can't tell who is and who isn't homeless just by looking at them.
c. Finally, that all the stories from LPCS don't end in success. Yes, they do have a high success rate in placing people into housing but there are people that end up back on the street, return to the shelter, remain addicts and sadly, die."
Moore writes about one of those deaths in a monologue about himself and a friend, Don.
"It's December 2014. About a week before Christmas. I've lived here for more than a year. Don't tell anyone but it's really 18 months. I'm leaving here in about a month but I can't think about that now. Half the people here have the flu. I don't want to join them. This guy here…Don started it.
"It's January 2015. No sign of Don. I asked some of the staff about him. They don't know. No one knows. I think it's time for a road trip. We're at Stroger Hospital with a get-well card and a word-search puzzle book. I've been on better road trips. There's Don. He's unconscious and 10 doctors and nurses are working on him. They're keeping him as comfortable as possible. Cancer. Pancreatic Cancer.
"It's January 2015. About a week later. Dinner is over. Let's get the announcements over. Oh no! Don died last night. I look around and everyone seems okay."
"Our hope is that people will hear what we are doing through the stories and will want to be engaged in it and become one of our active volunteers that help us run this program," Salter said. "A large portion of our services are run by our volunteers. There are over 1000 people that are actively engaged in helping run sessions. There are so many ways to get involved whether that be signing up to cook a dinner with family and friends, or running a financial literacy class."
Proceeds from the show will directly serve guests and graduates of LPCS and will help extend its facilities. LPCS recently purchased a new property at 1521 N. Sedgwick, where they will build a facility that will nearly triple its existing space. The new facility will have 37 percent more capacity for interim housing and 20 new permanent supportive housing units. It will also accommodate program meetings, larger dining facilities and kitchen, space for confidential case management, drop-in services for community clients and signage for increased visibility.
"I've found myself become emotional watching rehearsals," said Fleming, the projects director, "because I recognize just how close we all are to it. I can't think of another project that portrays homelessness with  as much humanity as these monologues, and it's because of the connection that is forged between performers and residents."
Doors open at 6:30 p.m. and The Homeless Monologues begin at 7 p.m.
Tickets are $15 at bit.ly/thehomelessmonologues and will include light snacks and drinks.
Audience members can sponsor tickets for guests and graduates of LPCS or other members of the homeless community, or make financial donations to LPCS.