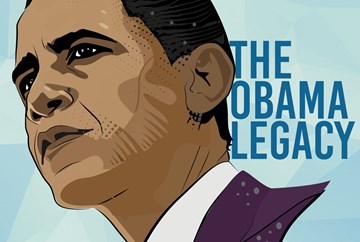 By: Compiled by Suzanne Hanney
January 30, 2017
Eight years ago January 20, more than 1.5 million people stood in the freezing cold on the National Mall – between the west front of the U.S. Capitol and the Washington Monument – to see President Obama take the Oath of Office.
Some were euphoric about the first African-American U.S. president, others called him the "universal man" because of his Kansas/Kenya-born parents and his upbringing in Hawaii and Indonesia. "The biggest moment was the swearing-in," said Star Larson of University Park, who was on a bus trip of more than 560 Chicago-area people organized by U.S. Rep. Danny K. Davis (D-Chicago). "It's what I had come for: the excitement, the anticipation of what's to come."
As Obama wraps up his historic presidency, StreetWise asked experts in immigration, health care, climate change, LBGTQ rights, and labor to describe his legacy.
ON IMMIGRATION
by Laurence Benito, Chief Executive Officer of the Illinois Coalition for Immigrant and Refugee Rights
Immigrants and their allies had high hopes when President Obama took office in 2009. The Illinois Coalition for Immigrant and Refugee Rights (ICIRR) was among many organizations that expected him and the Democrat-controlled Congress to swiftly pass immigration reform and provide a path to citizenship for 11 million undocumented immigrants. Eight years later, as Obama leaves office, he leaves behind an infrastructure that has deported 2.5 million immigrants, with some positive measures that his successor can quickly undo.
Hundreds of thousands of immigrant leaders converged on Washington DC in March 2010 to urge Congress and Obama to move on immigration reform.  Instead, the more limited DREAM Act (to offer undocumented youths lawful status) fell short in the Senate later that year. After Obama won reelection in 2012 with more than 70% of Latino and Asian American voters, a bipartisan majority in the Senate passed a reform bill in June 2013. The GOP-led House, however, stalled, with hopes dashed when then-Majority Leader Eric Cantor lost his June 2014 primary to an opponent who raised immigration as an issue. 
While legislation failed, the Obama Administration took several steps to benefit immigrants. After the failure of the DREAM Act, immigrant youths and their allies persuaded the Administration to create DACA (Deferred Action for Childhood Arrivals), which provided undocumented youths with temporary protection against deportation and permission to work and travel. More than 744,000 youths have benefited from DACA, continuing with their education, pursuing careers, paying taxes, and moving forward with their lives. In November 2014 Obama attempted to broaden DACA and create a similar program, DAPA (Deferred Action for Parents of Americans and Lawful Permanent Residents), steps that would have covered as many as 5 million immigrants.  However, a lone federal judge issued an injunction blocking further implementation. That injunction was upheld by an appellate court and left in place by a divided Supreme Court. DACA itself is now one of the executive actions that the new regime could quickly undo. 
All the while, the Administration mounted a surge in deportations, peaking in fiscal year 2013 at an all-time high of 435,498.  In all, the Obama Administration has deported more than 2.5 million individuals. The federal government now spends $18 billion each year on immigration enforcement, including $11 billion on the border alone. With more than 21,000 agents, the Border Patrol is our country's largest law enforcement agency. Immigration and Customs Enforcement (ICE), which deports immigrants already in the US, employs 20,000 agents and other staff. ICE now uses programs like "Secure Communities" and its replacement "Priority Enforcement Program" to identify immigrants in the criminal justice system for deportation. In addition, ICE detains more than 41,000 immigrants on any given night; more than two-thirds are housed by for-profit companies that make money by jailing (and often abusing) detainees. These detainees include children and parents who fled gang violence in Central America, and who are now being warehoused in large "family detention" facilities. Another 25,000 immigrants are held in Bureau of Prisons facilities after being charged or convicted of unlawful entry or unlawful reentry—the top two most prosecuted offenses in the federal justice system. This entire machinery is about to be handed off to a candidate who ran a campaign based on hostility and fearmongering against immigrants, and who vowed to quickly deport millions of immigrants, to build a wall on the southern border, to bar Muslims from entering the country, and to repeal DACA.
As we face the prospect of harmful policies under the new administration, ICIRR will continue to push on the federal, state, and local level for positive changes that respect the contributions of immigrants and seek to better integrate them into their new home.
ON HEALTHCARE
by Graham Bowman, Youth Futures Health Attorney, Chicago Coalition for the Homeless
Today, most people I meet who are experiencing homelessness have a medical card. They are among the close to one million Illinoisans who gained health insurance through the Affordable Care Act over the past three years. That's over eight percent of the state's population.
Four and a half years ago, I was standing at the foot of the Supreme Court in Washington, D.C. cheering my law student heart out. The Court had just announced its decision to uphold President Obama's crowning achievement, the Affordable Care Act, and in doing so it had just unlocked the doors to doctors' offices all across the country for society's most vulnerable. However, the decision foreshadowed controversy. The Supreme Court threw out the requirement that states expand their Medicaid programs to cover their poorest citizens and instead made doing so optional. Despite our cheers, 50 battles erupted simultaneously in state legislatures across the country over whether to issue medical cards to people whose only sources of health care were places like Cook County Hospital's emergency room, or nowhere at all.
The battle in Illinois was won in the spring of 2013 when our state thankfully decided to begin issuing those new medical cards. Over the past three years, at the Chicago Coalition for the Homeless, I watched the promise of the Affordable Care Act begin to unfold in large and small ways.
Since that day it has been my pleasure to work with the vibrant community of young people across the city who experience homelessness and to do what I can to help them navigate America's broken health care system. Immediately after the Medicaid program was expanded to all low-income adults between the ages of 18 and 64, there was a massive surge in people signing up; people waited months for their applications to be processed. Many of the young people I worked with were denied after never receiving follow up paperwork because they no longer stayed at the shelter or friend's apartment where it was sent. Sometimes, youth were unnecessarily required to provide the Social Security numbers of temporary houseguests or family members who were long gone. We spent countless hours at shelters across the city working through these issues and using what we learned to train other groups assisting with enrollment and helping the state refine its enrollment process. 
The Affordable Care Act is revolutionizing the way our social safety net operates. The phrase "social determinants of health" has become a popular way to describe the relationship between housing and health. Shelters are able to redirect resources away from providing minimal health care on their own towards forging partnerships with large health care providers in innovative ways. Now that the majority of homeless youth are insured, health care providers are able to experiment with providing care within or near shelters. Such a model is extremely useful for sensitive services like mental health and sexual health treatment, which are incredibly difficult to engage youth in outside of settings where they feel comfortable.
At least one hospital system in Chicago is starting to simply house people. In 2016, the University of Illinois Health and Hospital System invested $250,000 to help house many of their homeless patients who are chronically visiting the emergency room for a variety of conditions that are exacerbated by homelessness, such as substance abuse or diabetes.
The Affordable Care Act is a lot of things, but above all I see it as a first step towards forcing the health care system to recognize the simple fact that staying healthy and happy while living in poverty in America is really hard. You can't do it if you can't afford a doctor and it's even harder when you don't have a place to stay.  The fight to open those doors started well before the Supreme Court's decision that day and will continue long after the next administration has come and gone. The Affordable Care Act taught a generation of Americans that access to quality health care is a basic human right. They won't give this right up without a fight.
ON CLIMATE CHANGE
by Pam Richart, co-director of the Eco-Justice Collaborative, a non-profit that uses education, advocacy and action to address urgent environmental issues, while integrating their work with ongoing struggles for social and economic justice
"As the leader of the world's largest economy and the second largest (greenhouse gas) emitter … the United States of America not only recognizes our role in creating this problem, we embrace our responsibility to do something about it."

- Barack Obama, 2015 Paris Climate Summit
Records for temperature increases, intense storms and floods, wildfires, and drought once again were set in 2016.  Although global carbon emissions rose to an alarmingly high 404 ppm during Barack Obama's eight years in office, the President cut planet-heating emissions across much of the U.S. economy, from cars to coal plants. Today, the U.S. leads the world in reducing carbon emissions through initiatives such as:   
• Groundbreaking fuel efficiency standards that will nearly double the fuel economy of cars and light trucks by 2025.  These will cut carbon dioxide pollution by over 6 billion metric tons, which is what the Amazon rainforest absorbs in three years.
• Advancements in clean energy that have tripled wind power and increased solar power 30 times, creating new jobs and displacing carbon pollution from coal plants. By January 2015, the solar industry was creating jobs nearly five times faster than the rest of U.S. economy. 
• Rejecting Keystone XL Pipeline, which would have shipped tar sands crude to refineries on the Gulf Coast where it could easily be exported, thereby increasing global carbon pollution. The President is the first world leader to stop a large-scale project because of its effect on climate.
• Playing a key role in in bringing 190 countries together at the Paris Climate Summit to adopt the most ambitious climate change agreement in history. For the first time, the world as a whole has agreed to limit warming to no more than 2°C above pre-industrial levels by the end of this century, signaling a turning point to a low-carbon economy.
• Creating the Clean Power Plan, a centerpiece of the President's efforts to slash greenhouse-gas emissions.  The Plan establishes the first-ever national carbon pollution standards for coal-fired power plants - the largest source of carbon pollution in our country. But electric utilities, labor unions, business groups, and coal miners have joined a 27-state coalition that is challenging the Plan. The good news is that the clean energy economy is growing so fast it is displacing coal - with, or without, this plan.
A Legacy Mixed with Fossil Fuels
While President Obama was taking critical steps towards curbing greenhouse gas emissions both at home and abroad, he also was supporting fossil fuels.  Even though the U.S. is burning less coal, during his administration coal exports climbed to record highs; domestic oil production  increased; and the President financed three times as many foreign oil projects as President George W. Bush.
"Under my administration, America is producing more oil than at any time in the last eight years. We've opened up new areas for exploration. We've quadrupled the number of operating rigs to a record high. We've added enough new oil and gas pipeline to circle the Earth and then some."

- Barack Obama, April 12, 2012
Yet just days before the end of his presidency, Obama blocked oil and gas drilling in some parts of the Atlantic Ocean and almost the entire American-controlled region of the Arctic Ocean, keeping oil and gas in this region in the ground.
The criticism that President Obama should have moved more aggressively on climate rather than support an "all of the above" energy policy is legitimate. But it remains clear that Barack Obama made significant strides toward cutting harmful greenhouse gas emissions through his carbon-cutting initiatives, while also helping to lay the framework and foundation for a global effort that combats climate change.
The torch now has been passed to a new administration. We'll have to wait and see what happens next.
ON LGBTQ RIGHTS
by the Center on Halsted, Chicagoland's LGBTQ Community Center
On the eve of saying farewell to President Obama, it is easy to forget the progress the LGBTQ community has made these past eight years given continued violence and persecution, both locally and around the globe. Even more, there is fear that things for many of us will only get worse. Let us not forget though, that these past eight years have been momentous for LGBTQ individuals and that President Obama was instrumental in paving the way and creating a culture for many LGBTQ advances.
In reviewing President Obama's contributions to LGBTQ progress, there is no doubt that he has been the most openly welcoming President to the community our country has seen. Many contribute his tactic of waging a "silent revolution" for the LGBTQ community, making small, yet impactful, incremental changes to policy and public opinion to create change.
Let's review some of President Obama's most important accomplishments for LGBTQ progress. Shortly after his inauguration, President Obama signed The Hate Crimes Prevention Act into law in October 2009. This added federal-level hate crime protections for crimes based on gender, sexual orientation, gender identity, or disability. Under the law, people who commit hate crimes anywhere in the country can face a federal charge, even if their state has no hate crime law.
In 2010, President Obama signed the Don't Ask Don't Tell Repeal Act, permitting gay, lesbian and bisexual people to serve openly in the military for the first time, and repealing a piece of legislation long seen as institutionalizing homophobia and hindering community advancement.
The institution of the Affordable Care Act, or Obamacare, also provided new protections for LGBTQ people, allowing many gay and lesbian families the chance to receive family insurance plans for the first time, under a provision recognizing same-sex unions. The Act also made it easier for people living with HIV/AIDS to get coverage through the Pre-Existing Condition Insurance Plans.
With President Obama's Supreme Court picks in Elena Kagan and Sonia Sotomayor, legal victories were possible, such as ruling unconstitutional the Defense of Marriage Act, which defined marriage for federal purposes as the union of one man and one woman.
President Obama also supported equality through executive orders prohibiting discrimination on the basis of sexual identity and gender identity by all federal contractors during his unwavering support for the proposed Employment Non-Discrimination Act and Equality Act, which was blocked by the Republican Congress. His administration also consistently fielded amicus briefs against bans on same-sex marriage, providing invaluable support for equality activists' challenges to their state governments. As the issue of marriage equality reached the Supreme Court, Obama's Attorney General Eric Holder filed a brief arguing for the Court to rule that same-sex marriage is a constitutional right.
The victories led by President Obama on behalf of the LGBTQ community are just a sample of the broad support the President has shown in his commitment for equality and equity for all. Given an uncertain and fearful future, it is these advancements that will energize us as a community to stand together and push forward against hate and bigotry.
ON LABOR UNIONS
by Dr. Victor G. Devinatz, Distinguished Professor of Management, specializing in labor relations, and  Hobart and Marian Gardner Hinderliter Endowed Professor (2014-2015) at Illinois State University
The US trade union movement, which devoted $200 million and mobilized several hundred thousand members in support of the 2008 presidential campaign of Barack Obama as well as the campaigns of Congressional Democrats the same year, had high expectations for the first US president who has ever been a community organizer. Saul Alinsky, a Chicago community organizer from the late 1930s to the early 1970s, who began his career as a labor organizer with the Congress of Industrial Organizations (CIO), realized the intricate connection between union and community organizing. Trade union leaders hoped that Obama would make the same association and that he would back US labor in efforts to improve the lives of working and middle-class Americans. While labor attained positive benefits from Obama regarding his Executive Orders (EO) and his Department of Labor and National Labor Relations Board (NLRB) appointments, the unions experienced bitter disappointments regarding his failure to enact the Employee Free Choice Act (EFCA) as well as his vigorous backing of the Trans-Pacific Partnership (TPP), which labor argued would lead to more than 300,000 lost jobs in manufacturing alone. While Obama provided much rhetorical support for labor, his positive actions marginally helped labor although he never was a vigorous proponent and failed to halt the unions' downward trajectory in density. Labor continued to battle assaults, particularly at the state level, with Obama largely on the sidelines, beginning in late 2010.
Labor's first major disappointment with Obama occurred over EFCA, the unions' key political item. EFCA's purpose was to minimize employer opposition during organizing drives through trade unions being allowed to obtain a simple majority of signed authorization cards, which would automatically result in employer recognition. EFCA also encouraged the negotiation of first contracts through mandatory arbitration. Rahm Emanuel, Obama's White House chief of staff at the time, did not allow EFCA to be voted on until after the Affordable Care Act's (ACA) passage.  When ACA was finally passed in 2010, the Democrats no longer possessed the required 60 Senate votes to guarantee EFCA's enactment. Moreover, unions were upset that the ACA subjected union health plans to additional taxes.    
Obama's EOs, which apply to federal government contractors and subcontractors, aid workers and unions but do little to alter the balance of power in union-employer relationships. For example, an EO issued early in 2009 requires federal contractors to post notices apprising employees of their rights to unionize and to collective bargain under the 1935 National Labor Relations Act (NLRA). Additionally, a September 2015 EO requires that federal contractors grant their employees seven paid sick days a year beginning in 2017.        
A similar analysis can be applied to Obama's Secretary of Labor appointments.  Obama's first Secretary of Labor, Hilda Solis (2009-2013), among other things, penalized companies for safety infractions, extended unemployment benefits to 34 million persons, provided educational opportunities and job training for 40 million Americans while prioritizing wage theft as a major Labor Department initiative that resulted in the recovery of hundreds of millions of dollars in illegally withheld wages. Obama's second Labor Secretary, Tom Perez (2013-2016) continued to advance labor's agenda through issuing the Home Care Rule, which mandated that home care workers for elderly persons or those with disabilities earn at least the minimum wage and receive over-time pay.        
With Obama's NLRB appointments, the Board issued a number of narrow 3-2 rulings that benefited unions. A December 2014 NLRB ruling streamlined union certification election procedures resulting in timelier elections. Beginning in April 2015 and referred to by employers as "ambush" elections, the first six months of data concerning these speeded-up elections indicate that the 65 percent union victory rate is quite similar to the union success rate of 63.3 percent from the NLRB's 2004 to 2013 fiscal years. And an August 2015 NLRB decision concerning joint employers allows employees who organize at a franchise to negotiate a labor contract with the parent company. This means that McDonald's employees who unionize at one franchise could collectively bargain with the McDonald's Corporation. This ruling energized the Fight for 15 movement, which has sought to improve fast-food workers' wages and working conditions since early 2012.  Another August 2015 Board ruling permits employees to have a union representative present during drug test administrations.         
While Obama's treatment of labor has been preferable to that of his predecessor George W. Bush, US labor should not depend on any US president to be its savior. The trade unions must, of course, remain politically active and try to elect sympathetic candidates to office. However, to succeed they must aggressively organize new members while educating and internally organizing current members. The success of three major strikes in 1934 conducted in Toledo, Minneapolis and San Francisco led to the NLRA's passage while the victorious sit-down strikes of 1936-1937 resulted in the Supreme Court upholding the constitutionality of the NLRA. Successful concerted union activities will do more to advance US labor than the actions of the most sympathetic US president.