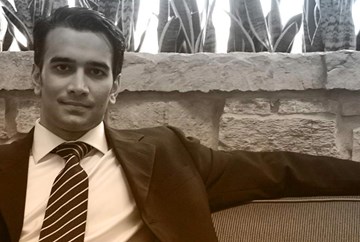 By: Suzanne Hanney
May 4, 2018
International response to Myanmar military atrocities "absolutely" fueled the genocide that has led up to 800,000 Rohingya people – 90 percent of this minority Muslim population -- to flee over the border to Bangladesh since August, says Azeem Ibrahim.
The Myanmar military started with a "dry run" of massacres and the expelling of tens of thousands starting in October 2016. Tepid world reaction was "a green light to the military in Myanmar that you can do what you want and get away with it," said Ibrahim, author of "The Rohingyas: Inside Myanmar's Genocide" (Hurst Publishers, London and Oxford University Press, New York) in a telephone interview.
The military learned three lessons from their exercises against the Rohingya that have emboldened them for successive attacks on remaining minorities in the majority Buddhist nation, Ibrahim said.
First, Aung San Suu Kyi, the civilian leader of Myanmar since 2015, "became a shield for all international criticism against the military." Suu Kyi spent 15 years under intermittent house arrest and won the Nobel Peace Prize in 1991 for her efforts to bring democracy to the military-ruled country formerly known as Burma.
Second, the military, which had been disdained by the general populace, became very popular after the atrocities began. "They came to be seen as the defender of Buddhist values against these 'invading Bengali Muslims,' " Ibrahim added.
And finally, Myanmar's armed forces learned that despite evidence of burnt villages, their military leader received a VIP invitation last May to meet with ambassadors in Austria and Germany. Senior Gen. Ming Aung Hlaing was given demonstrations of reconnaissance planes and aeronautical systems by a German manufacturer just ahead of the expiration of a German arms embargo, according to ABC News via state-controlled Myanmar media.
Meanwhile, in Washington, D.C., the U.S. Holocaust Museum revoked a humanitarian award it had presented to Suu Kyi and in November, the Burma Human Rights and Freedom Act of 2018 (SB2060) was introduced to the U.S. Senate. The bill, which has 20 supporters in the 100-member U.S. Senate, promised to impose travel bans and to withhold U.S. cooperation with Burmese military until the violence ends; to support humanitarian and reconciliation assistance for refugees and to ensure the right of returnees.
Neither the award revocation nor the legislation was a strong enough sign of disapproval, Ibrahim said.
"Much of that doesn't matter. Aung San Suu Kyi has always been a politician, I don't believe she's changed. She doesn't need those awards. She's where she wants to be: she's in power in her country. She's decided the Rohingya issue is not worth alienating her base. They're not popular in the country."
Last June, Ibrahim wrote in the Huffington Post that it might take "UN peacekeeping missions on the ground and proper humanitarian investigations" to prevent Rohingya genocide. Suu Kyi had been in power 14 months, yet she refused to allow a human rights investigation by former UN Secretary Gen. Kofi Annan because it would "increase tensions" in Myanmar. She also repeated the fiction that the Rohingya are Bengalis who came from India under British rule, not native-born Burmese.
But in fact, Ibrahim went to the Indian National Archives in New Delhi and dug up a census taken in 1824, at the beginning of the British colonial period, which found that 1 in 3 Burmese were Rohingya. Animosity toward them increased during WWII; the Rohingya backed the British but the Buddhist majority bet on the Japanese, reasoning that they would win the war and grant independence more quickly. 
Since gaining independence from Britain in 1948, nation building in Burma has meant friction against almost every ethnic minority, Ibrahim said. "I believe the Rohingya were selected for the main brunt of persecution because they are the largest minority, they look different, with a different skin color, different language and different religion." 
On April 11, the UNHCR and Bangladesh had  agreed to voluntary return of refugees, with Myanmar's UN ambassador saying the nation would sign on by month's end, according to Reuters. However, last month, Reuters reported that Myanmar had only been able to verify 374 Rohingya from among 8,032 for repatriation, because Bangladesh had not provided proper paperwork.
"The probabilities of any Rohingya being repatriated is next to zero," Ibraham said. "Myanmar authorities have waited half a century to get rid of these people and now they have succeeded. It's not the first time this has happened: they've been expelled in 1992, 1993, 2012, 2013. Mass exodus is a regular occurrence.
"What exactly will the Rohingya go back to?" he continued. "Their villages have been burned down. Their land and livestock has already been distributed to [local] Rakhine Buddhists."
Bangladesh, however, is one of the world's poorest nations, so now the concern is how to feed the refugees and shelter them from monsoons – at a cost of about $1 billion a year. There might be adequate resources in the short term, Ibrahim says, but "what about next year and the year after that? The international community has already got donor fatigue and the Bangladesh government will be left holding the can."