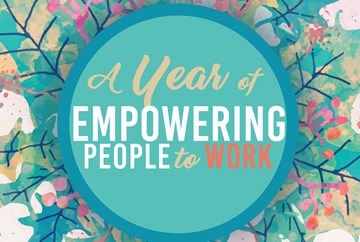 By: Dave Hamilton
January 5, 2017
January
Pope Exclusive
The International Network of Street Papers (INSP) landed a major exclusive when Pope Francis agreed to an exclusive interview with Straatnieuws, the street paper in Utrecht, the Netherlands. The Pope sat down with editor Frank Dries and vendor Marc (along with two other journalists) for over an hour and spoke about working, housing, and social justice. These three topics are very in line with the mission of StreetWise and we were proud to be able to bring this interview to the Chicagoland area.
Magazine sales up
Despite the frigid January weather, StreetWise Magazine sold 17,500 copies in the month of January, exceeding sales expectations for the month. This is a true testament to our vendors, who are so devoted to taking control of their lives.
February
#VendorWeek
INSP celebrates vendors every year during its #VendorWeek campaign, usually during the first full week of February. Often this is one of the coldest times of the year, and holding the campaign during this time draws attention to the hardships vendors face to receive a hand up and not a hand out. This year, not only did we celebrate with an issue devoted to vendor profiles from around the world, but staff, volunteers, and interns also took a stab at selling the paper on February 3. Each staff member had a vendor mentor, and took to downtown Chicago to try selling the paper. Managing Director of Programs, Sarah Brown earned the most money for her vendor, $12 for an hour of work.
March
First Slice's 10-Year Anniversary
North Side restaurant and caterer First Slice has been a StreetWise partner for many years. First Slice is a unique business because it prepares food for the needy in the same way it prepares food for customers. Their donated food isn't leftovers, but freshly prepared, and it is served daily in our StreetWise Café. To celebrate the 10-year anniversary of this inspiring business, WGN-TV's Dan Ponce visited StreetWise to get a first hand account of how the food is used and to get some reviews. Dan interviewed vendors Diane and John, and our cashier Ron in the segment that aired on March 4.
D'Agostino's Pizza Party
On March 10, Southport staple D'Agostino's Pizza hosted the StreetWise Pizza Party. 20% of all sales from the evening were donated to StreetWise. Customers, donors, board members, staff, and vendors descended on the location for dinner, raising over $1,500, just by enjoying a delicious meal.
Beyoncé Takeover
Following her epic Super Bowl performance of "Formation" (and just weeks prior to her surprise album "Lemonade"), Beyoncé brought the issues of the #BlackLivesMatter movement to the forefront of society. StreetWise decided to take a look at the life and career of Beyoncé and analyze how she moved from girl group, to pop diva, to social activist and outspoken feminist. The cover art of the Beyoncé issue was generously donated by Nathan Ryan of DivergentAngles, and was also used as a poster that was distributed throughout Chicago by staff, interns, and volunteers, increasing the visibility of StreetWise and the feature. In April, It was announced that the March 20 cover was nominated for "Cover of the Year" at the INSP Awards. For more of Nathan's work, visit www.etsy.com/shop/DivergentAngles.
Vendors A.Allen & John Hagan become staff members
Beginning as StreetWise vendors themselves, Allen & John have risen through the ranks to staff positions. Their responsibilities include training new magazine vendors in customer service skills, consistency, professionalism, and time & money management. This is so vendors can keep their businesses selling magazines going, buying the product at a wholesale rate & selling it at a profit, ensuring funds to meet their basic needs.
April
Todd Meo celebrates 1 month of employment
Todd Meo becomes the first graduate of the Transitional Jobs Program (now STEP - StreetWise Transitional Employment Program) to reach 30 days of employment! Todd began working at Target right after finishing the program in March.
Vince Collaso Graduates
In 2015, vendor Vince Collaso was a special guest on the daytime television show WIndy City LIVE. The producers and staff were enamored with Vince's infectious personality and devotion to selling StreetWise. While he was a guest on the show, Vince was given with a brand new laptop and a free course at the Digital Professional Institute to help further his dream of becoming a professional web designer. In April, Vince completed his course in Digital Marketing, and is now working freelance jobs.
May
3rd Annual COOL Party
The StreetWise Associate's Board threw a highly successful party, with all proceeds going directly to StreetWise. The event was held at 1st Ward Events/Chop Shop in Wicker Park and featured local painters and graffiti artists including Amuse 126, Stuk, Joe Flores, Steven Lexby, and more, with two artists painting canvases during the party that were auctioned at the end of the show. The event started with live jazz, followed by popular band Dream Version. A star of Chicago's Hip-Hop scene, Malcolm London made an inspiring appearance to close the evening. London has been creating quite a sensation on the music scene as Chicago's social conscious rappers move to the forefront of the music charts. He was even featured in Billboard Magazine's exploration of Chicago (Billboard vol. 128 / No.30). Overall, the night was filled with excitement and raised over $15,000 for the organization.
June
A Year of EatWise
In June we celebrated the anniversary of our popular EatWise column with a special cover story. EatWise restaurant reviews allow our vendors to have a greater voice and share their experiences with their customers, in addition to giving them the chance to explore the community in which they sell the magazine. The column is supported by the band Phish's WaterWheel Foundation, so StreetWise can reimburse vendors $10 for their restaurant visits.
INSP Awards Nominations
In addition to being nominated for "Best Design" and "Best Cover" (Beyoncé issue), StreetWise's STEP program was also nominated in the "Best Project" category. The category is designed to highlight programs that happen outside of street paper publishing. STEP is aimed at assisting hard-to-employ job seekers in gaining sustainable employment in the formal labor market. INSP's Laura Kelly was so intrigued by the program, that she wrote a full article about the program to share with street papers worldwide in September.
StreetWise Editor Suzanne Hanney travels to Greece for INSP Summit
INSP holds an annual summit that brings together street papers from around the world to address issues of homelessness and employment. In addition to social issues, the conference also tackles editorial and contextual issues that many street papers face.
July
2nd Annual Vote for Your Favorite Vendor Competition launches
With such a great response in 2015, we couldn't help but try again. We asked customers to visit www.streetwise.org/vote to cast a ballot for their favorite vendor. The customer voting competition decides who will be honored at our annual gala, because it proves that the vendor is making a real connection with customers. In addition to being honored at the gala, the favorite vendor receives a special badge, a cash prize, and becomes a cover model in October. This year, a total of 13,667 votes was received.
August
StreetWise Partners with Kind Traveler and the James Hotel
Kind Traveler is a new social enterprise that caters to travelers who want to do good when they travel. Whenever a hotel is booked through kindtraveler.com, customers are invited to donate to a charity that is associated with that hotel. They also recieve major discounts on their stay. The posh James Hotel (55 E. Ontario St.) has chosen StreetWise to be its charitable partner.
Remembering Penny Gearhart
On August 3, there was a drive-by shooting on the 4500 block of Sheridan in Uptown. Penny Gearhart, an active StreetWise participant, was caught in the crossfire and killed on site. You may remember Penny as a vendor in Uptown or on restaurant row on Randolph. She regularly visited the offices to join our writers group and help out with whatever was needed. She was caring and compassionate and had a larger-than-life personality. She was a loving mother and grandmother and her sudden and tragic loss was felt throughout the StreetWise community. Her loss spurred coverage by almost all Chicago media outlets.
Remembering Dave Urban
On March 30, longtime vendor Dave Urban passed away causing grief for the Roscoe Village community, where Urban sold StreetWise on Roscoe & Seeley, in front of Starbucks. Community members rallied together, crowdfunding to create a memorial for their fallen friend. Their efforts raised more money than was necessary to create a plaque in memory of Urban. On August 14, Urban was memorialized by the Roscoe Village community with a ceremony and a plaque that was placed permanently at the spot where he sold StreetWise. The event was covered by CBS.
Remembering Melinda Rogers
Melinda Lee Rogers held Badge #200 as one of the original StreetWise vendors, recruited by founder Judd Lofchie when she was panhandling downtown in August 1992. She raised two daughters while selling the magazine near the Board of Trade; both are now college graduates. Rogers completed high school, 2 1/2 years at DeVry Institute and nurse's aide training before she developed health issues. She was a three-time cancer survivor and had endured diabetes, asthma, coronary heart disease and a stroke. She was also a StreetWise Quality Assurance Team member.
September
Vendor Diane Wilkins gets a new apartment
After almost two years of being unable to qualify for stable housing, Vendor Diane Wilkins finally secured an apartment on the South Side.
October
Louis Hale named Favorite Vendor
Louis Hale campaigned heavily to gain customer votes to become the 2016 Vendor of the year. He even stopped by WCIU-TV's U & Me in the Morning to highlight his campaign and give viewers a glimpse into the life of a StreetWise vendor. On October 3, he appeared on the cover of StreetWise magazine, and at the 2016 Gala on October 6, he proposed to his girlfriend, Jhan Knoble, on stage in front of over 300 guests. She said " Unequivocally, yes."
The 'A Hand Up' StreetWise 2016 Fundraising Gala
StreetWise Gala speakers brought out the issue of poverty in very personal ways. Cook County Democratic State's Attorney candidate Kim Foxx spoke about growing up in Chicago's Cabrini Green. Keynote Speaker Eugene Monroe, former offensive lineman for the Jacksonville Jaguars, told his story of growing up in the Newark projects. Catalyst Award recipient Ray Gillette, who has been a StreetWise board member since 2001, told his story of coming to StreetWise because of the business model, but staying because of the inspiring vendors. The event raised over $250,000 for the organization and was featured on the chicagoist.com and Splash Magazine.
The CITYPAK project distributes at StreetWise
CITYPAK was founded by Ron Kaplan, who wanted to make life on the streets a little easier. His goal was to design a high-quality backpack for the homeless with built-in features like a rain poncho and ankle strap for sleeping in. This year the organization released the newest incarnation of the backpacks and used StreetWise to distribute them first to its participants. WGN-TV's Ana Belaval visited the StreetWise offices to capture the CITYPAK crew distributing the bags, and to interview many participants for the "Around Town" segment of the WGN Morning News.
Vendor Scott Elders gains fame as a chef
Scott has been a vendor in Wicker Park area for the past seven years. He began volunteering at  Franciscan Outreach in the soup kitchen as a chef. This caught the attention of DNAinfo reporter Alisa Hauser, who wrote a profile about Scott and his work with both organizations. The article led to the donation of a brand new grill from a customer to the Franciscan Outreach Shelter. Scott was then asked to be a guest chef at the "Helpings of Hope" fundraiser for Franciscan.
November
StreetWise's First Photo Essay
Photographer Suzette Bross had noticed more and more tents inside Lake Shore Drive viaducts in the Uptown neighborhood. Suzette and editor-in-chief Suzanne Hanney set out to tell the story of the residents living in these "tent cities." The result is a glimpse into the lives of people who may be down on their luck and are striving to create a sense of community to help each other survive.
The NEW streetwise.org
The lovely folks at Marcel Digital aided StreetWise by creating the new streetwise.org website. The look is modern and easy to use. It features all of the articles published in the magazine as well as vendor bios, information on the organization, and ways to get involved. The site also has a new "Find a Vendor" feature, which lets site visitors find the closest vendor according to ZIP code.
StreetWise Thanksgiving Luncheon
StreetWise held its annual Thanksgiving luncheon on November 22, from 11 a.m. - 2 p.m. The event is a special treat for vendors and community members, as they are all waited on by StreetWise staff. This year's event was catered by the House of Blues and held in the main dining room of Inspiration Corporation. This year, we served over 100 meals, and quite a few second helpings.
Vendor Robert Qualls attends the World Series
Lifetime Cubs fan and longtime StreetWise Vendor Robert Qualls got the treat of a lifetime when a regular customer gave him a ticket to the World Series. His seat was only 10 rows behind home plate, and he got to watch with the likes of Jon Hamm, Bill Murray, and Derrick Lee. For more coverage on Robert's day at the World Series, pick up next week's issue (StreetWise vol 24 / No. 52)!   
Remembering Brenda McKinstry
Brenda McKinstry was a member of the StreetWise Writers' Group. She even contributed first-person narrative and obtained photos for her own edition, "A Day in the Life of a StreetWise Vendor" (June 16-22, 2014) Vol. 22 No. 25 about selling the magazine in Lincoln Park and Lakeview, her customers and their dogs. "Today I have somewhere to go where people expect me to be and seem happy to see me. This is priceless to me and makes me want to show up and do better simply because people have believed in me," she wrote.
December
Coat Drive
Hosted by the StreetWise Associate Board, the annual coat drive was held at Headquarters Beercade- River North (213 Institute Place) on December 5. Guests were encouraged to bring in new or gently used outerwear, gloves, scarves, or hats to donate to StreetWise vendors as the cold weather approaches. In exchange, guests were treated to drastically reduced cocktails and unlimited video game playing.
2nd Annual Give A Shi*t Pop-Up Shop
Put on by Scott Marvel of the Daily Planet, Ltd. and hosted at the Bridgehouse & Chicago River Museum (376 N. Michigan Ave.) for the second year in a row, the Give A Shi*t Pop-up store offers T-shirts hand-screened with original designs by 12 local designers. 100% of the proceeds from T-shirt sales go directly to StreetWise and its vendors.
StreetWise Holiday Party
The StreetWise Holiday Party is a chance for all of our vendors, STEP participants and neighbors to get together and celebrate the holiday season with great food, sweets, prizes and a raffle.