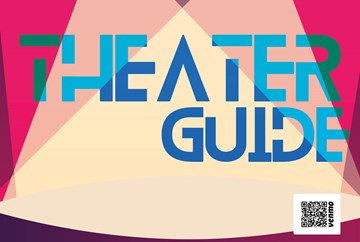 By: Suzanne Hanney
September 3, 2018
About Face Theatre
About Face Theatre creates exceptional, innovative, and adventurous theatre and educational programming that advances the national dialogue on sexual and gender identity. The company is in residence at Theater Wit, 1229 W. Belmont Ave. aboutfacetheatre.com
Nov. 1 - Dec. 8,  "This Bitter Earth," a Chicago premiere: Jesse, an introspective black playwright, finds his choices called into question when his boyfriend Neil, a white Black Lives Matter activist, accuses him of political apathy.
Jan. 10 – Feb. 16, 2019, "Dada Woof Papa Hot," a Chicago premiere: sexy comedy introduces two gay couples and their circle of friends who have ventured into the world of modern-day parenting.
Summer 2019 "20/20," a world premiere: About Face Youth Theatre celebrates its 20th anniversary with a citywide multigenerational performance and civic dialogue project to gather lessons from the past and envision a better future.
Adventure Stage Chicago
Adventure Stage Chicago (ASC), a program of the Northwestern Settlement, presents works specifically for a pre-teen and teen audience: heroic stories about young people in order to inspire heroism in their own lives. ASC's 15th season explores the challenges of hunger, both literal and metaphysical. Tickets at adventurestage.org or 773.342.4141.
Oct. 19-Nov. 24, Oliver Emanuel's adaptation of The "Adventures of Robin Hood" at the Vittum Theater, 1012 N. Noble St. The play offers a cast of three playing all the roles: the Sheriff of Nottingham vs. Robin and his Merry Men, the haves against the have-nots.
April 26-May 18, 2019, "Fast Food Chain" a brother and sister wrestle with poverty and food insecurity in Chicago, then discover a garden in the unlikeliest place. The African folktale showcases the power of community and storytelling in combatting social issues. World Premiere.
AstonRep Theatre Company
AstonRep Theatre Company is committed to creating exciting, intimate theatrical experiences, to challenge audiences and spark discussion where the show is not the end of the experience, just the beginning.
Oct. 18 - Nov. 18 "The Lonesome West:" two brothers living alone in their father's house after his recent death fight violently over the most mundane topics; only young Father Welsh is willing to attempt a reconciliation. At the Raven Theatre, 6157 N. Clark St.
Sat, Dec. 1 10th Annual Writers Series Five to seven new plays or works in development will be read by professional actors, followed by focused talk-backs. Titles TBA. At Vagabond School of the Arts, 4001 N. Ravenswood Ave. 
May 16 - June 16, 2019 "The Crowd You're In With:" a backyard barbeque is the perfect setting for life's big questions: Does the band need a new tune? Is this the right time to have a baby?
Black Button Eyes Productions
Black Button Eyes Productions brings premieres and seldom-seen works containing elements of fantasy in which the magical and surreal invade reality. 
Through September 15,
"Nightmares and Nightcaps: The Stories of John Collier" British expatriate Collier wrote humorous stories about the bizarre – love, loss and the mysterious -- for The New Yorker, and sardonic screenplays in Hollywood throughout the first half of the 20th century. World premiere at the Athenaeum Theatre, 2936 N. Southport Ave.
Jan. 11 - Feb. 16, 2019, "Evil Dead: The Musical," affectionate musical parody of Sam Raimi's classic "Evil Dead" films features fresh-faced college kids in a cabin in the woods over spring break. At Pride Arts Center, 4139 N. Broadway.
Black Ensemble Theater
Black Ensemble Theater has a mission to eradicate racism and its damaging effects upon society. It uses theater arts and education to bring races together in a community that embraces similarities and fosters dialogue, understanding and acceptance. In November 2011 it celebrated the grand opening of its first permanent home at 4450 N. Clark St. in Uptown.
Previews Sept. 29 & 30, Oct. 5 & 6, running Oct. 7 - Nov. 4, "A Revolution in Rhyme: From Gil Scott-Heron to Jay-Z," shows how hip-hop music changed the music industry.
Previews Dec. 8, 9, 14, 15, running Dec. 16 - Jan. 27, 2019. "Women of Soul" takes a look at the struggles and triumphs of Chaka Khan, Sade, Tina Turner, Diana Ross, Teena Marie and Whitney Houston.
Broadway in Chicago
Broadway in Chicago features six-time 2017 Tony and 2018 Grammy Award-winning Best Musical "Dear Evan Hansen," the pre-Broadway premiere of the new comedy musical "Tootsie" and the Tony Award-winning Best Musical Revival of "Hello, Dolly" starring the legendary Betty Buckley. Tickets at broadwayinchicago.com or 312.977.1717.
Sept. 11 - Oct. 14, "Tootsie" at Cadillac Palace Theatre, 151 W. Randolph St. An actor can't find work until a stunt lands him the role of a lifetime.
Oct. 2 - 21, "Roald Dahl's Charlie and the Chocolate Factory" at the Oriental Theatre, 24 W. Randolph St. features songs from the original film and a new score from the writers of "Hairspray."
Oct. 23 - Nov. 17, "Hello, Dolly," at the Oriental Theatre. Critics said this "gorgeous" new production "is making people crazy happy."
Nov. 13 - Dec. 8, "Miss Saigon," at the Cadillac Palace Theatre. Forced to work in a bar during the last days of the Vietnam War, Kim falls in love with an American G.I.
Nov. 20 - Dec. 2, "The Book of Mormon" at the Oriental Theatre. Mismatched pair of missionaries is sent halfway across the world to spread the Good Word.
Dec. 4 - 16, "The Play That Goes Wrong" at the Oriental Theatre. What would happen if Sherlock Holmes and Monty Python had an illegitimate Broadway baby?
Dec. 18 - Jan. 6, 2019, "Fiddler on the Roof" at the Cadillac Palace Theatre. The heartwarming story of fathers and daughters; husbands and wives; life, love and laughter.
Feb. 12 - March 10, 2019, "Dear Evan Hansen" at the Oriental Theatre. Hansen is about to get the one thing he's always wanted: a chance to finally fit in.
Chicago Children's Theatre
Chicago Children's Theatre offers professional children's programming and has transformed the former 12th District Police station at 100 S. Racine Ave. into its first permanent home. In addition to providing live shows, it offers year round education.
Oct. 9 - Nov. 11, "Leo Lionni's 'Frederick:'" a musical based on the Caldecott Award-winning book about an artistic mouse who daydreams his summer away but still has something stored up to help his companions survive the long, cold winter.
Dec. 8 - 24, "The Beatrix Pottery Holiday Tea Party," in which children age 2 to 6 can dress up and enjoy a spot of hot cocoa with friends from the English Lake District, including Peter Rabbit. Afterward, they can pull levers and turn cranks on the stage and then meet the cast in the lobby.
Jan. 22 - March 3, 2019, "X-Marks the Spot," presented in low light with sounds and voices, touchable and scented props, is not only theatre for the blind community but a chance for children and families to gain insight into the world of a person who is blind or who has low vision.
Feb. 9 - March 10, 2019, "The World Inside Me," for pre-K youth to participate in interactive vignettes that engage the senses and celebrate the human body up to age 5. A world premiere with New York's Spellbound Theatre.
March 26 - April 28, 2019, "The Watsons Go to Birmingham -1963" When Kenny's older brother gets into too much trouble in Michigan, the family journeys to Grandma Sands' to straighten him out. They find more than they bargained for upon arrival.
Spring 2019, "Red Kite Green Mountain," an interactive, immersive theatrical production for young people with autism and sensory sensitivities age 6 - 21 and their families. The seventh installment of CCT's Red Kite Adventure series, it is inspired by flora and fauna of the Green Mountain state of Vermont.
Chicago International Puppet Theater Festival
Chicago International Puppet Theater Festival, Jan. 17 - 27, 2019 at venues large and small around Chicago, will showcase puppet styles from around the world. Inanimate objects remind us of our shared human experience. The festival is a mission-driven program of the Chicago-based Blair Thomas & Co., founded in 2002. www.ChicagoPuppetFestival.org 
Chicago Shakespeare Theater
Chicago Shakespeare Theater is the cultural anchor of Navy Pier on the downtown lakefront. 
www.chicagoshakes.com
Sept. 12 - 22, "Bigmouth" mixes orations from Socrates, Muhammad Ali, General Patton and Osama bin Laden to show that the tricks of rhetoric never change.
Sept. 20 - Nov. 4, "Nell Gwynn:" in 17th century London, a young orange seller becomes the king's mistress—and the nation's sweetheart.
Oct. 23 - Nov. 4, "Circolombia Acelere." Jaw-dropping, high-energy spectacle from graduates of Colombia's national circus school.
Oct. 23 - Nov. 4, "Fight Night." Five candidates, one winner. Hand-held voting technology puts the power in your hands to show the fine line between democracy and tyranny of the majority.
Nov. 20 - Dec. 30, "Q Brothers Christmas Carol." Based on the Dickens classic, with hip-hop, reggae, dancehall, dubstep and rock ballads.
Dec. 6 - Jan. 27, 2019, "A Midsummer Night's Dream." A revival of Shakespeare's classic.
Jan. 22 - Feb. 3, 2019, "Us/Them." Two children trapped inside the Beslan school besieged by Chechen separatists in 2004 show how young people cope.
Jan. 23 - 27, 2019, "L'Apres Midi d'un Foehn." Chicago Shakespeare partners with the Chicago International Puppet Theater Festival to co-present France's Compagnie NonNova, transforming flimsy plastic bags into something magical.
Feb. 16 - March 16, 2019, "Macbeth:" a 75-minute abridged version of Shakespeare's classic tragedy, for families and students.
Feb. 19 - March 10, 2019, "An Inspector Calls." National Theatre of Great Britain's thriller about a peaceful dinner party shattered when an inspector arrives to investigate a young woman's death.
March 6 - 31, "Two Pints." Two blokes in a pub discuss love, loss and vegetarianism in Booker Prize-winning Irish novelist Roddy Doyle's dialogue.   
 Collaboraction
Collaboraction will present its third annual "Peacebook," a free, collaborative city-wide festival of theatre, dance, music, visual art and spoken word, all focused on cultivating peace in Chicago. Its 24 "chapters" are world premieres, each seven minutes or less, that unite over 200 artists. Themes range from the complexity of the immigrant experience, to a boy's encounter with police while playing with a toy gun at his mother's apartment, to women banding together on the subway against a "manspreader," to the racial discrimination and exploitation facing temp workers of color. 
Sept. 7 & 8, Peacebook launches at LaFollette Park, 1333 N. Laramie Ave. in Austin. The Friday performance starts at 6 p.m. Saturday begins with a free community meal at 11:30 a.m., followed by a pre-show panel with neighborhood leaders. Dr. Marcus Robinson, managing director of Collaboraction, will lead a community dialogue after each performance.
Sept. 14 & 15, Peacebook will travel to Kelvyn Park, 4438 W. Wrightwood Ave. There will be a 6 p.m. show Friday. On Saturday, there will be a free community meal at 11:30 a.m. followed by a pre-show peace panel and performance by Laura Biagi and the show at 1 p.m.
Sept. 21 & 22, Englewood's Hamilton Park, 513 W. 72nd St., is the setting. There will be a 6 p.m. meal Friday and a free community meal at 11:30 a.m. Saturday, followed by a pre-show peace panel and a performance by Stanford Bailey and Step Alive at 1 p.m.
"Peacebook" is free but reservations are recommended. Book online at collaboraction.org/peacebook2018, email boxoffice@collaboraction.org or call 312.226.963
The Court Theatre
The Court Theatre is professional theatre of the University of Chicago, dedicated to innovation, inquiry, intellectual engagement and community service.
Through Sept. 30, "Radio Golf," by August Wilson. Real estate developer Harmond Wilks is determined to become the first black mayor of Pittsburgh, on a mission to revive his blighted childhood neighborhood.
Nov. 1 - Dec. 2, "Frankenstein." Gothic classic combines stories of Mary Shelley, Victor Frankenstein and his Monster to expose how the forces of family, community and education shape personhood, or destroy it by their absence.
Jan. 17 - Feb. 17, 2019, "Photograph 51." British chemist Rosalind Franklin provided the key to the double helix DNA discovery: an ambitious female scientist whose accomplishments were forgotten.
March 14 - April 14, 2019, " For Colored Girls" [who have considered suicide when the rainbow is enuf]. A sisterhood of seven women tell the challenges and oppressions faced daily by women of color.
May 9 - June 9, 2019, "The Adventures of Augie March." Adapted from the novel by Saul Bellow: March is a product of the Great Depression, striving to grow up and away from home.
Destinos
Destinos, the Chicago International Latino Theater Festival, returns for the second year Sept. 20-Nov. 4 at a time when cross-cultural understanding has never been more important. It is a signature program of the Chicago Latino Theater Alliance (CLATA), founded in 2016 as a nonprofit 501 (c)(3) by the National Museum of Mexican Art, International Latino Cultural Center and Puerto Rican Arts Alliance, with generous support from the John D. and Catherine T. MacArthur Foundation.
Chicago plays include "American Jornalero"/"American Day Laborer," a drama about a collison between immigrant day laborers and white power vigilantes, Oct. 18 - 21 at the Victory Gardens; "Musas"/"Muses," an imaginary encounter between Mexican painter Frida Kahlo and American poet Sylvia Plath Sept. 20 - 23 at Steppenwolf; "Not for Sale," talking about gentrification west of Western Avenue in Humboldt Park, Sept. 21 - Oct. 21 at Urban Theater company. Among the international offerings is "Mendoza," an adaptation of Shakespeare's Macbeth reimagined against the 1910 backdrop of the Mexican Revolution, Oct. 2 - 7 at the Goodman and "LaPrietty Guoman"/"Pretty Woman," a cabaret-style narration by an exuberant, brown indigenous transgender woman who is a fan of the film "Pretty Woman," October 5 - 6 at the National Museum of Mexican Art.
For more information, visit clata.org or call 312.631.3112.
Erasing the Distance
Erasing the Distance, a nonprofit, collects true stories from people who have been impacted by mental health issues and sculpts them into theatrical works for professional actors followed by moderated, interactive dialogue that addresses themes in the plays to disarm stigma.
DocFest2018, its festival of new works, takes place September 6 - 16, the first two weekends of September:
"Learning 101" examines the role trauma plays in classrooms, with stories of Chicago Public Schools educators and students.
"Over the Moon:" how fertility/infertility, illness, motherhood - the female reproductive system - effect mental health.
Firebrand Theatre
Firebrand Theatre is a musical theatre company committed to employing and empowering women by expanding their opportunities on and off the stage. It is a 501 (c)(3) Equity theatre.
Sept. 22 - Oct. 28, "Caroline, or Change," presented in partnership with TimeLine Theatre Company, is set in Louisiana in 1963. Caroline Thibodeaux is a mother of four and maid to the southern Jewish Gellman family. She struggles with big and small changes and the grieving young boy in the house she cleans. With score by Jeanine Tesori, book and lyrics by Tony Kushner. At the Den Theatre's Heath Main Stage, 1331 N. Milwaukee Ave.
May 2019, "Queen of the Mist," based on the true story of Anna Edson Taylor, who in 1901 set out to be the first woman to shoot Niagara Falls in a barrel of her own design, navigating both the falls and a fickle public with a ravenous appetite for sensationalism.  At the Den Theatre's Janet Bookspan Theatre, 1331 N. Milwaukee Ave.
First Folio Theatre
"The Madness of Edgar Allan Poe: A Love Story," Oct. 3 - Nov. 4 at First Folio Theatre. A sellout in five productions since 2006, Poe and the ghost of his wife Virginia guide the audience from the garrets to dungeons of Mayslake Hall, deep into the poet's madness.
www.firstfolio.org
Goodman Theatre
Goodman Theatre, 170 N. Dearborn St., is a premiere non-profit organization whose artistic priorities include new play development, large scale musical theatre works and reimagined classics. Committed to Quality, Diversity and Community, the Goodman is proactive about inclusion and develops education and community engagement programs that support arts as education. The Goodman's Alice Rapoport Center for Education and Engagement [StreetWise Vol 24, No.16] is the home for such programming, most offered free of charge; 85 percent of youth participants have come from underserved communities since its 2016 opening.
Sept. 15-Oct. 21, Goodman Artistic Director Robert Falls will direct "We're Only Alive for a Short Amount of Time." Obie Award-winning David Cale wrote and performs this memoir of growing up in an English town and escaping his parents' fraught marriage by singing in his bedroom and tending birds in a hospital he built in a garden shed -- until a tragedy changes everything.
Sept. 19-Oct. 7, the 15th annual "New Stages Festival" is a free celebration of new plays by some of the nation's finest established and emerging playwrights. Audiences experience a first look at seven new works, including three fully staged developmental productions: "There's Always the Hudson," (a couple who met in group therapy set a far-off deadline to be happier – or else); "Felons and Families" (a recent divorcee plans a trip to Europe – until her application for full citizenship is flagged) and "Graveyard Shift," (a couple who relocate to Texas experience how dangerous power can be when met with bias)
Staged readings the last weekend include "The Wizards," (a black and brown genderqueer couple relocate from NYC to Chicago after a hate crime and discover a Ouija board); "Between Covers," ( a mildly successful author joins the faculty at an MFA writing program and finds his colleagues are all driven by fear); "Birthday Candles" (a self-described rebel examines her choice of marriage and family – simultaneous ecstasy and misery) and "Cressida on Top" (Women love a man in uniform, but what happens when women are in uniform, too?).
www.goodmantheatre.org
or 312.443.3800
Greenhouse Theater
"Nick the Greek: a One-Woman Show," 8 p.m. Sat., Sept. 15 at the Greenhouse Theater, 2257 N. Lincoln Ave. www.greenhousetheater.org/nickthegreek-tickets
Nick was born near the Greek village of Kalamata, survived World War II, married and had three children. He came to America illegally, got one job as a dishwasher and then another, struggled to get a green card. Eventually he opened a tailor shop in Los Angeles and reunited with his family.
Angeliki Giannakopoulos, founder of the Greek American Theater Company of Los Angeles, wrote, produced and plays all the roles in her father's true story.
Hell in a Handbag Productions
Hell in a Handbag Productions, a 501 (c)(3) not for profit, preserves, explores and celebrates works ingrained in popular culture via parody, music and homage. Its season will be staged at Mary's Attic, 5400 N. Clark St., and Stage 773, 1225 W. Belmont Ave.
www.handbagproductions.org
Sept. 20 - Oct. 28 "The Artificial Jungle" is part "Double Indemnity," part "The Postman Always Rings Twice," a throwback to classic film noir. Chester Nurdiger is a mild-mannered fellow who lives in the back of the pet shop he runs with his overprotective mother and his sultry, bored wife.
Through Sept. 7, "The Golden Girls: The Lost Episodes, Vol 2" The lovely women from the TV sitcom return with new stories of friendship, love and cheesecake.
Oct. 6 - Nov. 3, "The Golden Girls: Bea Afraid The Halloween Edition," featuring David Cerda as Dorothy, Adrian Hadlock as Sophia, Ed Jones as Rose and Grant Drager as Blanche.
Holiday production TBA.
Her Story Theater
Her Story Theater's mission is to shine bright lights in dark places: women and children in need of social justice and community support.
Through Sept. 30, it will offer a world premiere of the fourth play in its Chicago Sex Trafficking Cycle: "Monger – The Awakening of J.B. Benton." A criminal defense attorney with a secret life finds his world shattered as he deals with his sensitive 16-year-old son's legal crisis on the day he takes a deposition from the mother of a murdered teen. The play uncovers a nationwide, online, anonymous brotherhood of men. The characters and plot are fictional, but inspired by real-life Chicago events and actual posts from online conversations among men.
Performances are at the Greenhouse Theater, 2257 N. Lincoln Ave. Tickets at herstorytheater.org Group rates are available, as are post-show discussions with experts. A percentage of proceeds benefit service organizations working with sexually exploited women and girls. The Oppenheimer Family Foundation has provided ongoing support.
Interrobang Theatre Project
Interrobang Theatre Project takes its name from the combination of a question mark and an exclamation point, joining the Latin for "question" (interro) with a proofreading term for "exclamation" (bang). The company aims to pose worthwhile and exciting questions that challenge understanding of who we are and the world in which we live. Its regular season is at the Rivendell Theatre, 5779 N. Ridge Ave. www.interrobangtheatreproject.org
This season, Interrobang explores "identity/crisis," with three plays featuring characters wrestling inner demons and fighting for their place in an unforgiving world.
Sept. 7 - Oct. 6, "The Goat, or Who is Sylvia?" Martin is an accomplished architect with a loving wife and a devoted son but an explosive revelation threatens to destroy everything he has built. Edward Albee's play shocked theatregoers when it first premiered.
Sept. 24 - Nov. 12 "White Rabbit Red Rabbit," What happens when you put an artist on stage and hand them Nassim Soleimanpour's script, which they have never read or rehearsed before? The solo show creates an intimate exchange between actor and audience. Mondays at 8 p.m. at the Den Theatre, 1331 N. Milwaukee Ave.
Jan. 5 - Feb. 2, 2019, "I Call My Brothers," (Chicago premiere). A car bomb rocks peaceful Stockholm and leaves Arab-Swedish Amor on guard. Balancing paranoia and humor, he runs errands, grapples with anxieties, and tries to avoid suspicion.
April 5 - May 4, 2019 "Utility" (Midwest premiere) Amber juggles two jobs, her marriage is in turmoil, she struggles to plan her 8-year-old daughter's birthday party – and feels increasingly invisible.
Lyric Opera of Chicago
"LaBoheme" – Oct. 6 - 20 & Jan 10 - 25, 2019. Young adults navigate love while struggling to make ends meet in 19th century Paris. Puccini's opera inspired "Rent."
"Idomeneo" – Oct. 13 - Nov. 2. Returning to Crete after the Trojan Wars, King Idomeneo is caught between his promise to the gods and his duties as a father in Mozart's family drama. Janai Brugger will play Trojan Princess Ilia, which she performed at DePaul University.
"Siegfried," Nov. 3 - 16. The fearless hero, orphaned descendant of the gods, slays a dragon to win the ring of power and awakens Brünnhilde, his first true love, from an enchanted sleep. Wagner's Ring cycle continues.
"Il Trovatore," Nov. 17 - Dec. 9. A mother's fateful mistake has deadly consequences in Verdi's passionate blood-and-thunder melodrama. Hear the famous "Anvil Chorus!"
Anna Netrebko in Recital, Sun, Dec. 2 at Lyric Opera House. When this international superstar sang Mimi in La Boheme at Lyric, the Chicago Tribune's  John von Rhein hailed "the velvety richness and beauty of her sound, the sensitivity of her phrasing, and the earthy sensuality she radiates on stage."
"Cendrillon," Dec. 5 - Jan. 20, 2019. Massenet's visually whimsical version of the Cinderella fairytale, in which a mistreated girl overcomes the odds to find her Prince Charming – with a little help from her fairy godmother.
"Elektra," Feb. 2 - 22, 2019. Elektra's mother murders her father, King Agamemnon, leaving her hell-bent on revenge in R. Strauss's rivetingly intense opera, based on the ancient Greek tragedy.
"La Traviata," Feb. 16 - March 22, 2019. In high-society Paris, the courtesan Violetta lives purely for pleasure. All that changes when she meets Alfredo, but their bliss is short-lived.
Renee Fleming's 25th anniversary concert & gala, Sat., March 23, 2019. The superstar who has made unparalleled contributions to the opera genre will be joined by guest artists.
"Ariodante," March 2 - 17, 2019. The king of Scotland's daughter loves Ariodante but a villainous rival will stop at nothing to get his way. Brilliant vocal and dramatic pyrotechnics guaranteed from Handel, composer of "Messiah."
"An American Dream," March 15 & 17, 2019. Chamber opera explores the common ground between a Japanese-American woman and a German-Jewish woman living in the United States during World War II.
"West Side Story," May 3 - June 2, 2019. Tony and Maria are two teens from opposing gangs who fall in love in this jazzy, dance-driven spin on "Romeo and Juliet" set on the backstreets of New York. Stephen Sondheim's lyrics plus Leonard Bernstein's music sizzle, snap and roar.
Marriott Theatre
"Sweet Charity," Sept. 5-Oct. 28 at Marriott Theatre, is the dance-filled, musical comedy that explores the turbulent love life of Charity Hope Valentine, a hopelessly romantic but comically unfortunate dance hall hostess in New York City, with mid-60s score by Cy Coleman
("Little Me," "Barnum") lyrics by Dorothy Fields ("Annie Get Your Gun") and book by Neil Simon.
marriotttheatre.com
New American Folk Theatre
New American Folk Theatre is dedicated to folk theatre, music, education and stories that shine new light on the American tale. It creates art that often dives into a mix of magical realism, southern gothic, pop culture and the irreverent, to help society learn and grow.
Sept. 1 - 29 at the Den Theatre, 1331 N. Milwaukee Ave., it will present "SCRAPS," the story of the Patchwork Girl of Oz, years after her celebrated adventures in the L. Frank Baum books. The play explores racial and gender identity and the myriad people in the patchwork that is the U.S. Tickets at
www.newamericanfolktheatre.org or 773.697.3830.
New Colony
The New Colony develops New Art and New Artists in order to educate and build New Audiences eager to have a voice in the storytelling. It resides in the upstairs mainstage of the Den Theatre in Wicker Park.
Oct. 3 - Nov. 4, "Fun Harmless War Machine" is a world premiere; by day Tom works a dead end job and can't get a date. By night, he is a master gamer, sucked into the Order of the Sword, an online, alt-right community.
March 27 - May 5, 2019, "Small World:" three cast members are trapped inside the Small World ride at Disney World in this world premiere. The music won't stop, there's a body in the moat and one of them is impaled under a smiling animatronic.
July 11 - 21, 2019, The Uncharted Festival showcases bold new works from Chicago playwrights developed, incubated and curated by The New Colony. The fest aims to demystify the creative process for audiences.    
Phoenix Rising Productions
Phoenix Rising Productions has a mission to highlight rich Midwestern culture and artistry by supporting local playwrights and underrepresented groups. The new company arose from a Kickstarter campaign, from the ashes of companies that mistreated artists.
Through Sept. 9 at Stage 773, it will present "The Fires of Nero: The Rise of a Dictator," a cautionary tale for our times. Nero (37-68 AD) gained power with everyone he killed. There was no one to stop him.
www.stage773.com/show/firesofnero
Private Peaceful
Oct. 17 - Nov. 11 (the 100th anniversary of the end of World War I) "Private Peaceful," from Michael Morpurgo, author of the hit, "War Horse:" Tommo Peaceful grows up in rural England and enlists in the Great War. It's acclaimed by The Guardian, and The Sunday Herald. www. privatepeacefulusa.com
The Prop Thtr
The Prop Thtr aims to create and inspire new plays and time-based works of art. Working with established and emerging artists, it incubates new works as a founding core member of the National New Play Network. It is located at 3502 N. Elston (near Kedzie and Addison in Avondale). Subscriptions at www.propthtr.org
Oct. 25 - Nov. 25 "Neverland," adapted from J.M. Barrie's "Peter Pan," chronicles the last days of Peter's utopia when Wendy, an Avondale girl from a different decade, disrupts his rivalry with Captain Hook and forces Neverland's figures to face what they have become.
Jan. 12 - Feb. 23, 2019, "Rhinofest," celebrating its 30th year as the longest-running new works storefront festival in Chicago, brings experimental work in theater and performance from Chicago companies and national artists.
March 8 – April 7, 2019 "Behold, A Pale Horse," inspired by Peter S. Beagle's "The Last Unicorn," takes audiences on the journey of the last creature of her kind, mistaken for a mare and transformed into a human by a bumbling magician.
March 15 - April 6, 2019 "2 Unfortunate to Travel," Jack Wilton, a forgotten hero from the 16th century, transforms his life story into a late-night show.
Raven Theatre
Raven Theatre tells stories of today and the past that connect us to our cultural landscape. The company is located at 6157 N. Clark St. www.raventheatre.com or 773.338.2177.
Oct. 4 - Nov. 18 "Crumbs from the Table of Joy:" two sisters move to New York with their father in 1950 amid an atmosphere of communist rebellion and equal rights.
Feb 7 - March 24, 2019 "How I Learned to Drive:" in rural Maryland of the 1950s, a woman navigates her 1956 Chevy through her tangled adolescence and troubled family relationships.
March 21 - May 5, 2019 "Yen:" two teen brothers on their own in contemporary London live alone in their filthy flat; they watch porn, play video games and wait for an occasional visit from their mother – until a strange neighbor girl barges through the door. Chicago premiere.
May 2 – June 16, 2019 "The Undeniable Sound of Right Now:" grungy old Hank's Bar is unchanged amid the changing culture of Chicago in 1992. Chicago premiere.
(Re)Discover Theatre
(re)discover theatre is redefining theatre for emerging audiences by blending a variety of artistic forms, embracing the visceral energy of live performance, and inviting audiences to be an integral part of the theatrical experience. Shows will be held at the Preston Bradley Center, 941 W. Lawrence Ave.
www.rediscovertheatre.com
Oct. 7 - Nov. 4 "The Innocents" Inspired by a concert held in the Paris Catacombs in 1897, "Les Innocents"/"The Innocents" is an immersive queer thriller for every soul. Prowl the catacombs like ghosts and follow Gui, a composer on a quest for love as they conjure spirits, confront death, and create light. In the Empire of the Dead, chaos reigns and the hungry survive.
The Royal George Theatre
The Royal George Theatre,
1641 N. Halsted St.
Starting Sept. 13, "Waistwatchers The Musical," a light-hearted look at women dealing with their relationship to food, friendship and fitness (do you work out only to sip Pinot Grigio and eat chocolate?) waistwatchersthe musical.com
Oct. 17 - Nov. 11 (the 100th anniversary of the end of World War I) "Private Peaceful," from Michael Morpurgo, author of the hit, "War Horse:" Tommo Peaceful grows up in rural England and enlists in the Great War. It's acclaimed by The Guardian, The Sunday Herald and The Irish Mail.
Starting Nov. 15, "The Woman in Black:" American premiere of West End production with director Robin Herford's original staging.
St. Sebastian Players
St. Sebastian Players began producing theatre in 1982 at its original home, the church at Halsted Street and Wellington Avenue on the North Side. When that parish closed, SSP relocated to its current home, St. Bonaventure at 1625 W. Diversey (Marshfield just west of Ashland). For information and tickets, call 773.404.7922 or visit saintsebastianplayers.org
Oct. 26 - Nov. 18, "The Mystery of Edwin  Drood" is a hilarious whodunit based on Charles Dickens' final, unfinished novel, presented as a show-within-a-show. The audience gets to choose the identity of the murderer, potentially changing the ending of each performance.
Feb. 15 - March 10, 2019, "Little Stones," a world premiere and SSP's third work by company member Leigh Johnson. This romantic drama combines notions of reincarnation and fate as a young director and actress rehearse different plays in adjacent classrooms of St. Bonaventure School in autumn 2018. Is it mutual attraction or two old Chicago souls whose lives were cut short 100 years earlier?
April 26 - May 19, 2019, "Love, Loss and What I Wore," by Delia Ephron and Nora Ephron offers monologues and ensemble pieces about women, clothes and important subjects: mothers, prom dresses, buying first bras, hating purses and why women only wear black. 
Shattered Globe Theatre
Shattered Globe Theatre has a mission is to create an intimate, visceral theater experience that challenges the perspective of audience and artist alike through passionate storytelling, inspired by the diversity of Chicago. Its home is Theater Wit, 1229 W. Belmont Ave. www.shatteredglobe.org; phone 773.975.8150.
Sept. 6 - Oct. 20, "Crime and Punishment:" Raskolnikov plays a dangerous cat-and-mouse game with a mercurial magistrate in Fyodor Dostoyevsky's psychological thriller.
Jan. 11 – March 9, 2019 "The Realistic Joneses:" sitting in their bucolic backyard, the four Joneses reason that talking will make them feel better but fear that actual communication may elude them. Chicago premiere.
April 11 - May 25, 2019 "Hannah and Martin:" the tumultuous love affair between Jewish political theorist Hannah Arendt and philosopher Martin Heidegger faces a crisis when she learns he has assisted the Nazi Party.
Silk Road Rising
Silk Road Rising tells stories through Asian American and Middle Eastern American lenses to advance a polycultural worldview. At 77 W. Washington St.
silkroadrising.org
Oct. 6 & 7, "A Great Migration" by Preston Choi, staged reading co-produced with A-Squared Theatre.
Nov. 29 - Dec. 9,"Christmas Mubarak," Concert co-produced with the theatre's hosts, First Methodist Church at the historic Chicago Temple, looks at the story of Mary and Jesus as told in the Quran.
Jan. 11 - 20, 2019, "Not in My Backyard: Municipal Planning and Prejudice:" screening of our new video play, "Obstacle Course" and a talk from creator Jamil Khoury on how biases affect public policy.
March 12 - 31, 2019, "Detour Guide:" Karim Nagi takes you on alternative tour of Arab World and Diaspora. Using percussion, verse and an urban remix soundscape, he describes revolution, recreation, immigration, profiling, identity, food, dance, music and more.
Steppenwolf Theatre
Sept. 20-Nov. 11 "Downstate:" four sex offenders sharing a group home negotiate their place in a neighborhood that doesn't want them and a society that won't forgive them. A co-commission and co-production with the National Theatre of Great Britain.
Nov .15-Jan. 13, 2019 "Familiar:" The daughter in a tight-knit Zimbabwean-American family prepares for marriage until pre-wedding stress explodes into a full-on family feud.
Dec. 13 - Jan. 27, 2019 "LaRuta:" Mexican woman live, work and disappear along a Ciudad Juarez bus route in this story of resilience in the wake of loss.
Jan. 31 - March 17, 2019 "A Doll's House, Part 2:" A 19th century mother reappears after a 15-year escape from traditional society with an awkward favor to ask the family she abandoned.
April 18-June 9, 2019 "The Children:" Retired nuclear scientists in an isolated seaside cottage in the east of England are startled by a visit from a former colleague, who proposes a chilling plan.
May 23 - July 14, 2019 "Wig out!" Looking behind the sequined curtain at a troupe of legendary drag queens and the dazzling world of the African American drag ball culture.
July 5 - Aug. 25, 2019, "True West:" Sam Shepard's story about two estranged brothers is reimagined through the eyes of a new generation of artists, with a little help from old friends.
Strawdog Theatre Company
Strawdog Theatre Company is committed to ensemble acting and immersive design. It develops new works, reimagines the classics, melds music with theatre, asks provocative questions and delivers the unexpected to audiences. The company celebrates its first full season at 1802 W. Berenice Ave.
www.strawdog.org
"Now more than ever, the world needs bravery," said Co-Artistic Director Anderson Lawfer. "Strawdog's new season, including three world premieres, explores what it means to be brave."
Oct. 4 - 31, "Masque Macabre," inspired by the works of Edgar Allan Poe and set in Prospero's underground masquerade ball on the eve of the end of the world. Guests will sign a nondisclosure agreement. World premiere.
Nov. 15 - Dec. 29, "The Revolutionists" tells about four women who made history during the French Revolution. What is art's ability to make meaningful change? Is violence is ever the right course of action?
Dec. 1 - Jan., 5, 2019, "Hershel and the Hanukkah Goblins," tells story of Hershel's successive battles over the eight days of Hanukkah in classic children's story. World premiere.
May 10 - June 22, 2019, "Take Me," based on a true story of a woman who feels hopeless when her husband lapses into a coma and who finds direction from voices she believes are aliens, who instruct her to go to Roswell, NM to build an amusement park in their honor.
Timeline Theatre
Timeline Theatre has a mission to present stories inspired by history that connect with today's social and political issues. This fall, it is also partnering with Firebrand Theatre on a musical.
Through Nov. 4 at 615 W. Wellington Ave., "A Shayna Maidel," is a drama about two sisters trying to reconnect; Rose Weiss and her father escaped Poland for America just before the Holocaust but Luisa and her mother endured WWII in Europe.
Oct. 25 - Dec. 9, "Master Class," by Terrance McNally won the Tony for best play in 1996. As legendary opera diva Maria Callas conducts a master class, she escapes into recollections of her rise as one of opera's biggest underdogs. At Stage 773, 1225 W. Belmont Ave.
Jan. 17 - March 17, 2009, "Cardboard Piano:" in northern Uganda, the daughter of American missionaries and a local teen girl prepare to exchange vows in a makeshift wedding, but the war around them encroaches. Chicago premiere at 615 W. Wellington Ave.
May 2 - June 29, 2019, "Too Heavy for Your Pocket:" Bowzie Brandon gets a scholarship to attend college and improve his life, but when the opportunity to become a Freedom Rider during the Civil Rights Movement arises, he leaves his obligations as husband to join the fight against racism. Chicago premiere at 615 W. Wellington Ave.
Theater Unspeakable
Oct. 17 - Nov. 11 "The American Revolution," by Theater Unspeakable at the Greenhouse Theater Center, 2257 N. Lincoln Ave., is a whirlwind, tongue-in-cheek retelling of the American fight for independence with a dash of derring-do in the manner of "Hamilton."
Windy City Playhouse
Windy City Playhouse offers high-quality entertainment with a welcoming full-service bar amid a fireplace and luxurious seating – designed to foster conversations before and afterward. Windy City Playhouse commits itself to audience-first programming and to presenting contemporary, diverse and humorous plays. 773.891.8985 or
windycityplayhouse.com
Through Dec. 9, "Southern Gothic:" Audiences step into a full-scale Georgia home of the 1960s for Suzanne Wellington's 40th birthday in this immersive hit. As the evening progresses, the celebration among the four couples leads to disaster as relationships are heavily tested. 
Previews beginning Jan. 9, 2019, "Noises Off:" Play-within-a-play as a ragtag touring company rehearses – or attempts to perform – the bawdy farce, "Nothing On." Between mistaken props, forgotten lines, inner-cast discord and awful acting, will they succeed?
Previews beginning May 1, 2019, "The Recommendation:" Chicago premiere directed by Goodman Theatre's Resident Artistic Associate Henry Godinez adapted for Playhouse's innovative staging. New college freshman tests his new roommate in a world dictated by privilege, connection and class. Audiences will literally "walk a mile" in their shoes.