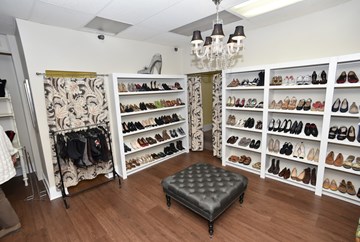 By: Suzanne Hanney, from prepared materials
June 28, 2016
The Junior League of Evanston - North Shore's Thrift House at 920 Chicago Ave. in Evanston has a new look and has unveiled a new retail job program.
"We think shoppers will love our new look that will feel like a high-end boutique, but with unbeatable thrift store prices," said Anna Pappas of Northbrook, president of the Junior League of Evanston-North Shore (JLE-NS). "And we hope our newly redesigned store will help us raise even more money to help us continue to support the Evanston and North Shore community."
The brightly redesigned store has pale taupe walls and seating, curtains in taupe-and-black paisley print and accessories such as purses color-coded on its new shelving. Regular store hours are 10 a.m. to 5 pm. Saturdays and 11 a.m. to 5 p.m. weekdays (6 p.m. Thursdays).
In addition to the revamped layout and décor, the Junior League has created a program for women seeking job experience in retail.
"For the last seven years, we have been donating work-appropriate clothing and offering job readiness sessions to low-income women through our Fitting Futures program, and we thought what better way to help these women really get ready for the workforce than by giving them real work experience?" Pappas said.
Since 2009, the Fitting Futures program has provided more than 370 women with more than 2,000 items of clothing and accessories for job interviews. The Thrift House itself was founded in 1940 as a fundraiser for Junior League programs and continues to be the non-profit's major source of revenue: about $25,000 a year.
Throughout its 75-year history, Thrift House has also provided clothes to other non-profits such as Connections for the Homeless and the Vineyard Christian Church of Evanston's Clothes Closet. It has provided clothing vouchers to clients of Mary Lou's Place, a domestic violence shelter; Have Dreams, a non-profit for children and adults with autism; and to low-income pregnant women through the Junior League's own Baby Steps program.
Thrift House accepts new or gently used clothing, shoes, jewelry, accessories, small furniture, home décor, housewares and books. Donations are accepted at the store during regular business hours or 9 a.m. to 1 p.m. Mondays through Thursdays at the Junior League's office: 620 Lincoln Ave., Suite 209, in Winnetka.
In its 90-year history, JLE-NS has contributed more than $3.2 million to Chicago's North Shore. It fosters job readiness and positive family development through the Thrift House and The Designer Kitchens of the North Shore Kitchen Tour. Membership is open to any woman with an interest in and commitment to voluntarism. For more information, please visit www.jle-ns.org or call 847.441.0995.