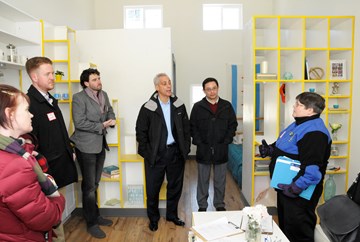 By: Suzanne Hanney | Photo by Hal Baim/Windy City Times
July 2, 2018
Tiny Homes could speed construction of affordable housing across Chicago, says one potential developer in the wake of Mayor Rahm Emanuel's plan to explore their viability.
The day after a street cleaning and a press conference at the Lower Wacker Drive triangle, the Chicago Department of Planning and Development (DPD) issued a request for information (RFI) about sites, possible changes to the City's zoning ordinance and target populations such as homeless people and seniors.
"In general our goal is to show they're lower cost, can be built quicker and can be configured in so many ways they can fit across the city," said Tracy Baim. Baim is co-chair of the Pride Action Tank board of directors, which has a proposal with LaCasa Norte for Chicago Cottages on six City-owned lots in West Englewood. Their target occupants would be students in training programs or community college, such as nearby Kennedy-King.
Over the last decade, the cost of building a unit of affordable housing has reached nearly $400,000, if you factor in hallways and elevators in a multistory building, Baim said. But a Tiny Home might cost just 25 percent of that price and be built in six to nine months, rather than five years.
Pride Action Tank hosted a Tiny Homes summit two years ago with people from government, nonprofits, and advocates from six cities who were already working on them. Also on site at the University of Illinois-Chicago was the winning model from a design competition sponsored by Pride Action Tank and the Chicago Chapter of the American Institute of Architects. Emanuel later toured this model and became interested in the concept, Baim said.
Baim said that Pride Action Tank also showed the model to youth from The Night Ministry and brought people from the Wilson and Lawrence Tent Cities to get their input. "What we saw in their eyes was a dignity to this type of housing versus the warehousing they had experienced or shelters, where there is no privacy. They have their own mail slots and they are not sharing plumbing with other people."
Brien Cron, founder and president of the nonprofit Chicago Tiny House Inc., has a proposal for a 1700-square-foot, City-owned lot in the vicinity of Armitage and California Avenues. Chicago Tiny House Inc. would build an outreach center and four 303-square-foot homes for veterans, in compliance with the Americans with Disabilities Act.
"It's a brand-new concept for Chicago," Cron said. "They're trying to use current building codes to allow buildings that can stand at 303 square feet but still keep them a Tiny House. Everybody is going to have a different answer as to what a Tiny Home should look like. That's why the mayor is calling for potential developers to come in and get a centralized law."
City officials say Tiny House proposals should cost under $2 million. Funding would come from the City's fee on house sharing companies like Airbnb and the Affordable Housing Opportunity Fund, which receives fees paid by developers in lieu of on-site units.