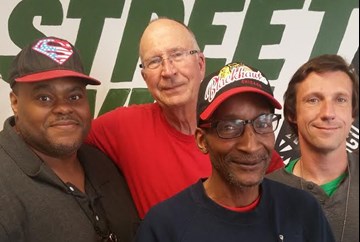 By: Staff
May 14, 2018
Donald: TNT is my favorite basketball coverage. They not only do a great a job of color commentary, but they do a good job of analysis. They will always give you something to remember. They have the best commentators and I always find their information useful and well delivered.
Russell: I love TNT too. They've got Ernie [Johnson], Kevin Smith, Shaq [O'Neal], and last, but not least, Charles Barkley. How can you not love that team? They're the best! They've shown examples of how to play to defense or offense. They're entertaining. ESPN was okay when they had Sage Steele, but they got rid of her. I just watch ESPN once the game comes on and that's it.
John: I wouldn't watch the ESPN pregame team if they were in my own backyard. I am definitely also a TNT guy. They've got Charles Barkley. He's larger than life and he always tells it like it is. He'll call out teams for playing dumb basketball. Kenny Smith does a great job using the telestrator. He does a great job illustrating what's going on. I'm starting to warm up Shaq. I wasn't sure they needed him at first, but I'm coming around on him. Ernie is a wonderful host. He is the one that delegates and lets the other guys be themselves. The announcing team is great too. I love Kevin Harlan. That guy's a beast! On ESPN, I'd rather watch paint dry than listen to Mike Breen. And Jeff Van Gundy is such a whiner.
Donald: The bottom line is, I like analysis and TNT is where it's at. I love when they use the telestrator to make it simple and understandable. They do a great job of breaking down the game.
Russell: TNT is the best, hands down. They just make things fun and interesting. I'm always laughing watching them. TNT is the bomb!
John: TNT is great entertainment. Like their Gone Fishin' segment every year is hilarious. I'm surprised Kenny Smith has not been mentioned for a head coaching job. He might not want it, but he sounds like a coach the way he illustrates and analyzes plays.