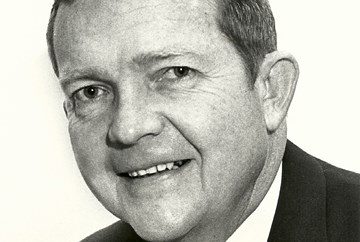 By: Cara Chicago
October 28, 2019
Cara Chicago is sad to announce the death of Cara founder and StreetWise supporter, Thomas Owens, who passed away on Sunday morning, September 29.
Tom was an innovator – in business, philanthropy, faith, and family. He was an IBM executive for 20 years and the founder of XL/Datacomp, which provided products and services for the IBM midrange computer line, eventually reaching annual revenues of $500 million. Tom retired from his business in 1991 but his legacy was just beginning.
Tom would often quip that he entered the philanthropic sector because he was worried his wife, Mary, wouldn't want him invading her kitchen all day in his retirement. But in truth, Tom was a firm believer in the biblical proverb, "To whom much is given, much is expected." Tom and Mary founded The Owens Foundation in 1985 to use their financial resources to aid those less fortunate. Through their strong Catholic faith and dedication to philanthropy, Tom and Mary were friends with Mother Teresa of Calcutta, often accompanying her on Missionary of Charity projects to help the impoverished in Arizona and Mexico. When Tom saw the same problems in his own backyard, he was compelled to call on his network and resources to help him combat poverty in Chicago.
In 1991, he founded Cara out of the back of his car, driving from shelter to shelter, connecting women with business contacts and colleagues he had made in the hopes of finding them quality employment. Early on in Cara's existence, Tom observed that, while they were seeing success in securing job placements, they weren't seeing success in retention of the job – with an employee often losing the job and becoming more demoralized than before. With that in mind, Tom's revolutionary foresight brought a shift in Cara's job training to include a holistic focus on personal and professional development to create the best possible employment candidate. Today, nearly 30 years later, Cara has evolved into a world-class job training and placement program, with more than 6,500 individuals placed into more than 10,000 jobs thanks to the expert guidance and stewardship of Tom.
"Our heart hangs heavy today. We have lost not just a hero, but a father and a friend in the most palpable sense of both words. Tom lived his life in epic and profound service to others and he was always buoyed by the belief that our greatest days are before us, if only we can lean on the power of a friend," says Maria Kim, President and CEO of Cara. "Tom gave us the greatest gift of all: the power to believe – in ourselves, in each other, in our city, and in our future. He did this as only Tom could, with that John Wayne presence, his boyish mischievous grin, and the brilliance and tenacity that is and always will be Tom Owens."
Tom was inducted into Leo High School's Hall of Fame and was a life trustee for the Catholic Theological Union Board of Trustees. He was the co-chairman at The Emergency Fund (now merged with All Chicago) for 10 years, and received many awards and honors, including being named one of the 20 Most Inspiring Chicagoans in 2018 by StreetWise.
"Tom lives on in our mission in every individual who comes through our doors, in every time we ring the bell when someone gets a job, in every morning when we shout out 'Make it a great day!' Those are his words and they are our forever call to action," continued Kim. "We miss him so profoundly and extend our love and greatest condolences to his adoring family."