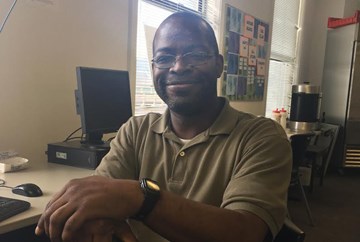 By: Caris Bing
March 7, 2017
I found StreetWise, or better yet, StreetWise found me, at a time when my primary focus was getting back to work and school. My experience with the StreetWise Transitional Employment Program (STEP) has been overwhelmingly positive. For me, STEP is more than just finding a job. In addition to helping me with my resume and assisting me in locating employment opportunities, the program has been great with helping me research and find resources for my health care needs so I can get back on my feet, pursue my passions, and be successful.
Computers are my first love. I attended college for computer technology and multi-media web design. I'm passionate about anything tech related, so exploring opportunities where I could expand my knowledge on the topic is what brought me to MicroTrain computer training school. I chose MicroTrain so I could learn at my own pace and develop my computer skills. With this education, I hope to bring these skills with me to the workforce. Coupled with the STEP program, the certifications I get through MicroTrain get me that much closer to my goal of landing a steady job in which I can share my skills with other people.
To those who don't know me, I am just your average everyday dude who likes the simpler things in life. I try to avoid unnecessary complication at all costs. If I had the opportunity, I would teach simple computer skills in a way that the average person could understand. I can break down the complex into its simplest forms to help people grasp the concepts so they have the tools to succeed as well. Ultimately, knowledge and spreading education is my passion these days. I want to know as much as I can about as many different possible subjects so I can share the truth with others. I refuse to be ignorant.
I satisfy my hunger for knowledge and fulfill my dedication to helping others stay informed through blogging. My blog is aimed at combating ignorance and spreading awareness about social and political issues so that people become enlightened. Even when discussing such loaded topics, I strive to stand by my motto, the simpler the better. For me, it is extremely important to write about the state of affairs in Chicago, and the nation at large, and pass along this information in an accessible way to keep my community educated and knowledgeable. This will be essential throughout these next four years. We must not only be aware of, but also engage with the surrounding issues in order to effect change and uplift our people.
I like to engage in conversation and talk about the issues that affect society. The STEP program is equipping me with resources so I can secure employment and continue to enlighten my community in a meaningful way. Sharing knowledge with other people who may not have access to the resources to stay informed is essential in order to strengthen our communities. Regardless of the complexities of the situation at hand, just remember—keep it simple.