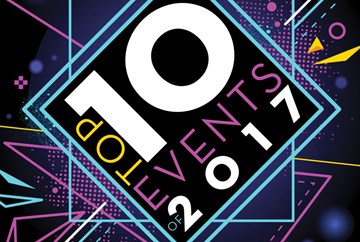 By: Suzanne Hanney
December 25, 2017
10. Lyric Opera's Chicago Voices take the stage
(September 5-10)
Lyric Unlimited, the educational/community engagement arm of Chicago's major opera company, brought three mini-operas – untold stories about Chicago life -- to the Harris Theater in Millennium Park on September 10.
The Community Created Performances (CCPs) were significant because Lyric Opera of Chicago officials have acknowledged the need to make their 300-year-old European art form relevant to diverse audiences. By bringing untold stories to the opera genre, they initiated a gracious, creative model for this process – which both mainstream and grassroots cultural groups can copy.
The CCPs started with postings at every Chicago Public Library branch, then four public meetings, semi-finalist selection by librarians and a city-wide online vote for the three finalists:
• Blu Rhythm Collective, which used music and dance to tell a story inspired by the fatal shooting of Kevin Ambrose, a 19-year-old Columbia College student, on the CTA Green Line platform at 47th Street. Ambrose died on the way to Cook County Hospital, eight miles away, which inspired the push for the Level 1 Trauma Center now at the University of Chicago, which is about a mile from the shooting site.
• Kuumba Lynx, which uses hip hop to reimagine a more just world and which has represented Chicago in the National Poetry Slam. The ensemble of 14- to 21-year-olds created a play-within-a-play in which a leading actor couldn't go onstage because police arrested her brother while he was waiting for her in her mother's car.
• YOLO Boomers, a group age 55 to 85 who say, "You Only Live Once." Based at the North Center Satellite Senior Center, 4040 N. Oakley, they showed how they live their senior years with resilience amid illness, closing a family business, even speed dating.
9. Take a Stand Center Opens at the Illinois Holocaust Museum
(October 30-November 4)
The Illinois Holocaust Museum & Education Center in Skokie has found a way to help survivors tell their stories in perpetuity – even after they are gone. Its new multi-million-dollar Take a Stand Center, which opened October 29, is the first in the world to combine high-definition holographic interview recordings and voice recognition technology.
Museum officials cooperated with the University of Southern California Shoah Foundation in developing "New Dimensions in Technology," which tested 2D versions of 3D hologram technology for over two years. The Museum's speakers bureau of Holocaust survivors is the world's largest and 13 individuals - including seven from the Chicago area - were chosen to tell their stories via hologram based on the variety of ordeals they experienced during World War II. Some survived camps, others were in hiding (even as children alone), still others assumed false identities. Most of them wandered homeless across Europe after the war.
The 13 survivors recorded their deeply moving personal stories and answers to roughly 20,000 questions so that they can have one-on-one "conversations" with audience members in the Museum's intimate Abe & Ida Cooper Survivor Stories Experience.
The new permanent exhibit also looks forward by showcasing 40 courageous "Upstanders." These are people such as Nelson Mandela, Susan B. Anthony, Jane Addams and others who stood up for humanity. Life-size story portals allow visitors to interact with digital stories of each Upstander, so that they can put themselves in their shoes and come away inspired to create change in the world.
8. Chicagoans assist in hurricane relief
Ten PAWS Chicago volunteers realized they were part of something bigger when they traveled to Houston September 1-3 to rescue 43 of the sickest dogs and cats from its municipal shelter to make room for others displaced by Hurricane Harvey. Once inside the state of Texas, other motorists pulled up alongside their PAWS-labeled van and honked their horns in approval. People at gas stations offered them spontaneous donations and restaurant patrons bought them dinner.
The volunteers were at the municipal shelter on the first day it opened for hurricane victims to relinquish their pets. Mark Lukas told StreetWise that when they saw people who barely had enough to care for themselves, whose possessions were crammed into their cars, they learned to be less judgmental.
Soon afterward, PAWS responded to Hurricane Irma by meeting volunteers from a Gainesville, FL shelter to pick up 40 kittens, and to bring them back to the PAWS medical center in Little Village. Representatives of Houston's municipal shelter later drove halfway to Chicago with more pets; PAWS Chicago representatives met them and continued on to the Medical Center in Little Village.
On September 20, Category 5 Hurricane Maria hit Puerto Rico and knocked out the power grid, cellphone towers and the banking system.
Chicago Mayor Rahm Emanuel sent firefighters, paramedics and engineers as well as defibrillators and communications equipment; U.S. Rep. Luis Gutierrez (D-Chicago) and Rainbow PUSH also sent aid. Chicago Boricua Resistance said delays in getting relief supplies - food, water and fuel - to the island were costing lives. In addition, Chicago Boricua officials said, the storm damage on top of Puerto Rico's $75 billion debt left it open to financiers who would seek to buy infrastructure cheaply and privatize it.
7. Debate heats up over Full Circle's Jefferson Park Development
(February 27 - March 5)
A mixed-income development with 100 units of housing just two blocks from the Jefferson Park transit center on the CTA Blue Line raised passions both "pro" and "con."
Full Circle Communities in February announced a seven-story, L-shaped building at 5150 N. Northwest Highway with 80 percent affordable units and the remainder market rate. The 100 units would include studios, one, two, and three bedroom apartments at $300 to $1900 a month. Each would have a balcony and condo-quality finishes.
"It will mean the world to countless families to see mixed-income housing created in such an opportunity-rich area on the Northwest Side," said Leah Levinger, executive director of the Chicago Housing Initiative. Of the 100 units, 60 would be available to households earning up to 60 percent of Area Median Income (AMI) or $46,140 for a family of four. Among these would be 20 units for veterans and families in the Chicago Housing Authority's "Moving to Work" program. Another 20 units would be affordable to people earning 30 percent of AMI, such as disabled renters and veterans.
However, the proposed building would be just one block from a neighborhood of single-family homes, and its density sparked face-to-face clashes at a February 9 information meeting and in City Council hearings before the building's approval. Neighborhood residents also balked at its CHA connections, which led to charges of racism by advocates.
Full Circle had sought a mix of financing for the project, including private grants and city aid, according to DNAinfo. In late September, it did not score high enough in the Illinois Housing Development Authority's rating system to win tax credits. Full Circle President Joshua Wilmoth said that was "disappointing," but said the development was "still under consideration for financing through a number of sources."
6. Debate continues on Keeping the Promise ordinance for CHA
The proposed "Keeping the Promise" ordinance that would require City Council oversight of the Chicago Housing Authority sat there with the support of 25 aldermen – half the City Council -- as of September 8. Advocates urged its speedy passage, given "an upsurge in overtly racist counter-organizing." The latter was a reference to a mixed-income development in Jefferson Park, which neighborhood residents unfavorably compared to public housing in social media.
In an early May City Hall press conference, seven North and Northwest Side aldermen, supporters of the ordinance who are also concerned about continued segregation in Chicago, promised to bring at least 50 units of CHA housing to their wards. They included Alds. Joe Moreno (1st ward), Chris Taliaferro (29th) Deborah Mell (33rd), Carlos Ramirez-Rosa (35th), John Arena (45th), Ameya Pawar (47th) and Harry Osterman (48th).
The proposed ordinance also would require 1 in 5 future CHA units to be built in low-poverty neighborhoods. Moreno, lead sponsor, said "We must take intentional action to bring our city forward from its dark past and become the city we aspire to be, one that values inclusion, equity, compassion, tolerance and diversity, not just in word but in action and in law."
Joining the aldermen was the Metropolitan Planning Council's Kendra Freeman. She cited MPC's recent "Cost of Segregation" report, which said that if Chicago reduced its segregation to the national median, the metro region would have 30 percent fewer homicides and 83,000 more college graduates.
Earlier in May, advocates delivered a letter to Ald. Joe Moore (49th ward), chairman of the City Council Housing Committee, to call a vote on the ordinance. Mayor Rahm Emanuel opposes it.
The Chicago Housing Initiative (CHI), which is comprised of 11 community-based organizations across the city, including Access Living, the Metropolitan Tenants Organization, ONE Northside, Pilsen Alliance and Southside Together Organizing for Power, began organizing for the ordinance more than three years ago. The reason was more than $430 million left unspent by CHA between 2009 and 2013 and an average of 4,600 units vacant each of those years.
Opponents of the ordinance say that it would add another layer of regulation for the CHA. They also attribute CHA's inaction to its inability to get private money for mixed-income housing after the real estate market collapsed in the recession.
5. Street Paper Exclusive Interview with Pope Francis
(May 15 - 21)
How do you judge whether a beggar is deserving of your charity? Pope Francis had a direct answer when the Milan street paper Scarp de' Tenis (Tennis Shoes) did an exclusive interview with him.
"It is always right to give help," the pope said, in words that were quoted by the worldwide Catholic News Service and the New York Times editorial page.
The pope was unconcerned about whether panhandlers might use the money for a glass of wine. "If a glass of wine is his only happiness in life, so be it. Ask yourself instead what you do when you're alone. What secret 'happiness' do you pursue?"
The New York Times was touched by the Pope's addendum: "What matters  more is looking in their eyes and touching their hands. Throwing money at someone without looking at them is not a Christian gesture."
"The reason is to preserve dignity, to see another person not as a pathology or a social condition, but as a human, with a life whose value is equal to your own," The Times said.
StreetWise also quoted Francis also about the need to holistically welcome immigrants and refugees by helping them with language, with jobs and education. The Times noted that Francis' remarks on refugees and immigrants were "a global version of his panhandler remarks – a rebuke aimed directly at the rich nations of Europe and at the United States."
4. Making Good Food Accessible for Everyone
(November 13-19)
Chicago municipal government departments and agencies will purchase more "good food" – locally grown, healthy, humanely raised, environmentally sustainable and workforce-fair – thanks to a resolution passed by the Chicago City Council October 11.
The Good Food Purchasing Policy (GFPP) is intended to leverage the $300 million spent annually by city agencies and departments to strengthen local food production. Chicago Public Schools, for example, served 27 million breakfasts and 43 million lunches last year, while the Department of Family and Support Services has programs to feed seniors.
Advocates say the GFPP will handle many issues simultaneously by creating a new market for people of color with jobs that pay a living wage. There will also be pathways into urban agriculture for new farmers and into food-related businesses for others.
The Little Village Environmental Justice Organization (LVEJO), for example, is considering using a 4.5-acre site at 3301 S. Kedzie formerly occupied by Torco Fuel Products for a composting co-op. Workers would collect food scraps from restaurants in the neighborhood to create compost for neighborhood and school gardens, thus healing the land and creating opportunity.
3. Despite Atty. Gen. memo, GAPA pushes for police reform
(April 17-23)
The Grassroots Alliance for Police Accountability (GAPA), which is comprised of community organizations in 30+ wards, said in June that its constituents' Number One issue is a lack of trust between residents and police, which was why they opposed Mayor Rahm Emanuel's decision to enter an out-of-court agreement with President Trump's Justice Department instead of a consent decree by a federal judge.
"If city leaders really want to build trust, then they should help bring in an independent judge to make sure we get it right," said Mecole Jordan, GAPA coordinator.
On January 13, at the tail end of the Obama administration, the Justice Department itself had said that "notwithstanding the City's recent efforts" to address problems in the Chicago Police Department, it was unlikely to do so without a consent decree or independent monitoring. But in April, a memo by Atty. Gen Jeff Sessions, a Trump appointee, was made public that said "individual deeds of bad actors should not impugn" the work of police officers "in keeping American communities safe."
After the public outrage at Laquan McDonald's shooting, Mayor Emanuel appointed a Police Accountability Task Force, which in turn led to the formation of GAPA, whose members include the Community Renewal Society, ONE Northside, Southsiders Organized for Unity and Liberation (SOUL), Target Area Development Corporation and others. Seed funding for GAPA came from the Woods Fund Chicago in partnership with the Chicago Community Trust, the Joyce Foundation, the John D. and Catherine T. MacArthur Foundation, the McCormick Foundation, and the Polk Foundation. Supporters also included BPI and the Jewish Council on Urban Affairs.
At yearend, GAPA officials said that Chicago City Council members were close to proposing an ordinance for best practices for a police oversight commission, after months of meeting with community groups.
2. After two years, advocates have mixed emotions about the override of the state budget
(July 31 - August 6)
The state of Illinois had gone more than two years without a budget when the Democrat-controlled Illinois General Assembly overrode Republican Gov. Bruce Rauner's veto July 6 to approve a $36 billion budget, down $3 billion from the previous one.
"It's not the budget we marched for, but it does stop the bleeding." ONE Northside's Hannah Gelder wrote in an email to members. The "austerity budget" cut funding for state agencies by 5 percent across the board and for universities by 10 percent. "The social service organizations that laid off workers and cut services for children, the poor, people with disabilities and the elderly may avoid layoffs, but most won't be able to restore services that have already been cut."
ONE Northside said the income tax hike (from 3.75 percent to 4.95 percent) was necessary because "this is a revenue crisis and we need to raise taxes to fund our state services." The corporate income tax rate also rose from 5.25 percent to 7 percent.
The Illinois Coalition of Immigrant and Refugee Rights (ICIRR) likewise called the override budget "not perfect, but an important step for our state." ICIRR Executive Director Lawrence Benito said that long-term fixes were necessary to address the state's $15 billion backlog of bills. ICIRR's 59 members who receive state funds were damaged in the previous two years, some irrevocably, as they closed down some services and reduced others.
Meanwhile, Illinois Policy Vice President Michael Lucci said the new budget "does nothing to rein in cost drivers – such as pensions and unaffordable government workers compensation and benefits – that have saddled Illinois with so much debt."
1. Uptown Tent Cities
Uptown Tent Cities is the year's top StreetWise story, from April coverage about residents "out in the cold," to marches on city hall in June support of housing them, to their final eviction September 18 to accommodate renovation of the 1930s-era viaducts at Wilson and Lawrence Avenues over Lake Shore Drive.
City officials said in September that they had found permanent housing for 53 of the 75 original members of the Tent City and that 23 subsequent settlers had been placed in bridge units. They urged remaining Tent City members to take one of 11 interim housing spots at Cornerstone Community Outreach and North Side Housing, both in Uptown, and another 45 at Pacific Garden Mission, southwest of the Loop. Tom Gordon, the "mayor" of the Tent City, said that after their dispersal, he was trying to find the remaining 15 to 25 people by phone and word of mouth.
The September 18 eviction came after a federal court ruled against residents remaining during repair of the viaducts. Although one lane in each direction will remain open during construction, when they reopen next spring there will be one bike lane and one walking lane in each direction, which will leave little room for tents.
"We believe they are putting the bike lanes under the viaducts to permanently evict this community," said Megan Groves, director of development and communications at the Uptown People's Law Center (UPLC).