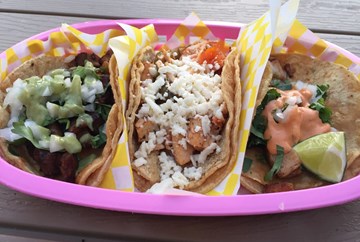 By: Jasmine Stewart
November 7, 2016
Recently Willie Bray was able to go out and indulge his taste buds with some authentic Mexican cuisine. Trendy Taco, a new up and coming Wilmette restaurant, offers a range of foods including tacos, burritos, tortas, and tamales.
Willie sells magazines a little north of the restaurant's Wilmette Avenue location, 1195 Wilmette Ave., and one day he passed by it on his way home, curious as to how good their tacos could be. Willie says he chose to eat there he because believes taco restaurants are the perfect place to grab a great lunch at a fair price.
When Willie entered the restaurant, he was immediately taken aback by the ambiance of the room. He described the environment as "pleasant;" the place was spotless with a smell of crispy steak and tortillas floating in the air. The walls were painted with colorful chameleons, and there was a hand-carved "L"-shaped table with low stools, which made it easier to sit comfortably while eating. Willie said it was quiet aside from the soft music playing in the background, and the dim lighting gave the restaurant a relaxing atmosphere.
Willie received amazing customer service from the employees and was able to place his order with ease. "I didn't know what I was going to get ahead of time," Willie said. "I didn't know what they had. I had never been in the place before." Willie enjoys many varieties of Mexican food, but his go-to is typically a beef or chicken taco. Because Willie was eating somewhere new, he didn't want to not play it safe by getting his usual tacos; he decided to get the chicken burrito, instead. He said it was great!
The burrito's tortilla was warmed to a perfect crisp and the vegetables inside tasted fresh. Burritos like the one Willie ordered come with homemade salsa and a side of sour cream that gives the burrito that extra kick. With so many flavors to pick from, the tender and juicy chicken was the most appealing to Willie. He said that the chicken in the burritos he usually eats is cut into chunks, but at Trendy Taco, they do things differently. "The chicken was sliced different," Willie said. "It was slightly small but not thin. It was different, but different in a good way."

Though his meal was tasty, Willie felt his experience was not perfect. His only complaint was that Trendy Taco's prices felt a bit stiff compared to some of the other Mexican restaurants he's been to over the years. Willie, who has always been price-conscious and financially cautious, said he would have felt better about the prices if the portion sizes had been larger to fit the bill. He cut the new restaurant some slack, though, and got that delicious chicken burrito anyway.
In the end, the taste of that thinly sliced chicken and the kindness of the wait staff outweighed Willie's concerns about prices. He said he enjoyed his visit to Trendy Taco, and he suggests his customers check out the restaurant whenever they are in the mood for authentic Mexican. The restaurant's comfortable environment and impeccable customer service makes breaking taco routines a bit easier, and while Willie recommends the chicken or steak burrito, he encourages his customers to step out of their comfort zones and try one of the many other delectable items that they have on Trendy Taco's menu.