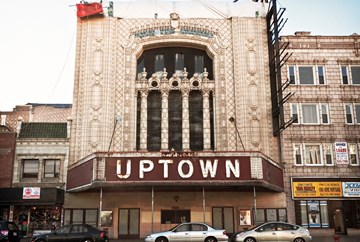 By: Suzanne Hanney
August 6, 2018
The Uptown Theatre at 4816 N. Broadway, largely vacant since 1981, is getting a $75 million renovation, which city officials said fulfills a commitment Mayor Rahm Emanuel made during his first term.
Jam Productions, owners of the building, promised in late June to restore the Spanish Baroque Revival building as a modern entertainment venue. In addition to new elevators, mechanical, electrical, plumbing and life safety systems, the project will increase seating capacity from 4,100 to 5,800 people. Exterior marquees, masonry and terra cotta will also be improved.
Jam owner Jerry Mickelson said the project would spur development in the surrounding Uptown Entertainment District and create jobs in commercial, retail and entertainment venues. The area around Lawrence Avenue and Broadway includes not only the Uptown, but also the Riviera Theater, the Aragon Ballroom, Green Mill jazz lounge and the Uptown Underground cabaret. Ald. James Cappleman (46th ward) said he had worked with the nonprofit Uptown United to attract businesses with a similar entertainment focus, "all done with the goal of giving investors the necessary confidence to proceed with the theater's restoration."
City officials said the $75 million project will be funded with $14 million through the  State of Illinois PACE (Property Assessed Clean Energy) Act, which allows building owners to pay for energy-related improvements over time through special assessments on the property. Another $13 million will come from Tax Increment Financing (TIF). Other funding includes:
• $30 million in equity and conventional financing
• $10 million in Build Illinois bond funding
• $8.7 million federal tax credits
• $3 million in Adopt-A-Landmark funds
Meanwhile, the community group ONE Northside compared the Uptown Theatre restoration with the mayor's affordable housing plan and asked, "who gets a bright future in Rahm Emanuel's Uptown?"
ONE Northside instead called on the City to fund preservation of Single Room Occupancy hotels.
"SRO buildings are some of the last remaining affordable housing on the North Side," ONE Northside officials said in prepared material. "The units are small, but for people on fixed incomes, seniors, individuals living with chronic illnesses or mental health issues, and people working low-wage jobs, this is often the only option available in the neighborhoods where they've lived for decades."
ONE Northside worked on the SRO ordinance passed in 2014 with Emanuel and Alds. Walter Burnett Jr. (27th) and Ameya Pawar (47th) that required a six-month waiting period during sale of an SRO. During that period before the building went onto the open market, the owner was required to negotiate with a buyer to keep the building affordable. However, nonprofit developers could only afford to buy these buildings with city investment, the advocacy organization said.
Two SROs in Uptown, the Lorali and the Darlington, are currently for sale. Meanwhile, residents of the Wilson Men's Hotel are fighting for relocation after sale to a private developer. The Lorali has attracted the interest of affordable housing developers but the owner needed City funding, ONE Northside officials said. 
"When we heard that $75 million is being invested in the renewal of a theatre, we questioned why the Mayor's Office won't do more for SROs and affordable housing."
ONE Northside on July 23 hosted a press conference in which it called for $500 million: $25 million a year for the next 20 years to preserve 4,000 remaining at-risk SRO units.
Just the day before the Uptown Theatre announcement, the City had announced a pilot program, Preservation of Existing Affordable Rental (PEAR), which provides City assistance for multi-family buildings in exchange for 30-year covenants. At least 1 in 5 of the total renovated units has to remain affordable to families at 80 percent of the median income ($67,700 for a four-person household).
Using PEAR, the Chicago Metropolitan Housing Development Corp. (CMHDC) had rehabbed foreclosed apartment buildings in Lincoln Square, Albany Park, Belmont Cragin, West Ridge and Austin. CMHDC used a $2 million, zero-interest loan that came from the City's Affordable Housing Opportunity fund to refinance existing debt.
The mayor also announced a $30 million fund for developers of existing multi-family buildings in high-cost and gentrifying areas. The fund would be managed by Community Investment Corporation and buildings must remain affordable for the next 15 years. PEAR would be used following acquisition.
According to the Chicago Sun-Times, the $30 million was comprised of $5 million in City money and $25 million in foundation and private investments; the goal was to generate 300 affordable units in strong markets.