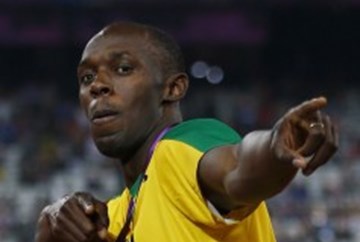 By: Amy Mackinnon / INSP / www.insp.ngo
August 8, 2016
On Aug. 5, 2012, two billion people around the world were united in one activity: watching sport. Their focus was a packed stadium in the east end of London where shortly before 8 p.m. some 80,000 people fell silent as tension mounted ahead of the most prestigious race in athletics. The glittering occasion was the Olympic men's 100m final and one quarter of the world's population was fixated on one man: Usain Bolt.
"On your marks"
This was it. Bolt pushed his feet back into the starting blocks, paused briefly, and crossed himself as he cast his eyes up to the sky. He stole one final look at the finish line and settled for the race.
"Set"
Years of training had gone into preparing for the next 10 seconds. The calming advice of Bolt's coach ran through his mind…
'run through the line'…
'relax your shoulders'…
The tension was palpable, the collective moment of anticipation around the world broken by the crack of the start-gun, and 9.63 seemingly effortless seconds later, Bolt stormed across the finish line to retain his Olympic gold medal. In doing so, the man from Jamaica achieved legendary status.
Bolt had been unflappable. When a bottle was thrown from the crowd as the runners settled on the blocks, others were distracted but Bolt was as cool as the proverbial cucumber.
"I was aware of something but I didn't know exactly what it was. I was just focused on the gun and the race," the 29-year-old Jamaican told INSP. Being the fastest human ever makes him proud, he added.
"It's a good feeling. I can look around when I am on a plane or in a city and think I am faster than everyone there."
Bolt's record is unprecedented. He won three gold medals and broke three world records at the 2008 Beijing Olympic Games in China. He became the first man in Olympic history to win both the 100m and 200m races in world record times, and was part of Jamaica's relay team that smashed the world record for 4x100m race. In 2012, he created history at the London Olympic Games again by defending all three titles.
He is perhaps best known for his awesome 100m sprints and his trademark celebration dubbed, "lightning bolt." He appears untouchable. He has comfortably held his world record time of 9.58 seconds – set at the Berlin World Championships – since 2009, and it would be fair to say he is probably the most famous athlete in the world.
"I like helping children and giving them a chance in life. I am fortunate in that my sponsors work with me on programs to help improve the lives of kids in Jamaica."
Bolt was born in Jamaica on the Aug. 21, 1986. His parents ran the local grocery store in a small town called Sherwood Content, and from an early age he spent his time playing cricket and football. In his early teens, he picked up various awards for running but says it wasn't until he won the 200 meters at the 2002 World Junior Championships at age 15 that he realized he could make a career out of running. At that point, he 'd grown to 6 feet 5 inches tall and physically stood out among his peers. His time of 20.61 made him the youngest world-junior gold medalist ever. In 2002, he received the IAAF Rising Star Award and a year later he won gold at the 2003 World Youth Championships.
Bolt's build is perhaps not what you would expect of a sprinter. He was born with scoliosis, a condition that warps the spine, leaving one leg slightly shorter than the other, and his imposing frame adds weight – requiring all the more power to maintain his lead on the competition.
His height also affects his lane choice in the 200m and relays. He prefers to run in either the outside or the middle: "I don't like the inner lane as I am tall and need a wider turn."
Bolt follows a demanding training schedule. He rises at 6.30 a.m. and trains morning, noon and night every day. He works on his strength, speed and reactions – Bolt reacts to the starter gun in 0.146 seconds.
"I do a combination of different types of training depending on the time of year. It actually involves weights in the morning, running training in the afternoon and core strength exercises at night."
So what inspires him to make sacrifices and keep going?
"I want to create a legacy and be remembered as one of the greatest athletes of all time," he says modestly, as if he's not already achieved that goal.
Surprisingly, on the odd occasion, his diet has not been as rigorous as his training schedule. Bringing a whole new meaning to the term 'fast food,' Bolt confesses his gold medal victory at the 100m final in Beijing, China was, in fact, fueled by chicken nuggets.
"In Beijing I ate a lot of chicken nuggets, but in London there was more selection so I had fruit and bread."
Following his 100m win at the London Olympics, Bolt reportedly celebrated in his room at the athlete's village with three members of the Swedish women's handball team, posting photos on Twitter. But with the 200m final just days away, Bolt said he took things easy and saved the real celebrations until a party held after the closing ceremony.
In spite of being the fastest man on earth, Bolt says that "every day" people challenge him to a race. Most famous, perhaps, was his encounter with Britain's Prince Harry during his visit to Jamaica when Britain's royal indulged in a little tongue-in-cheek "cheating" by sprinting down a track in Kingston leaving Bolt in his wake, laughing.
Both a sportsman and good sport, Bolt is a natural showman. At the London Olympics he did laps of the arena, playing to the crowd and cameras – even playing photographer at one point. After his victory in the 100m, Bolt reached into the crowd of jockeying press photographers and borrowed a camera from Swedish sports photographer, Jimmy Wixtrom of Aftonbladet, one of Scandinavia's biggest papers. He then snapped shots of an ecstatic press pack, crowd and fellow Jamaican sprinter, Johan Blake.
Wixtrom later published Bolt's photos, saying they were, "pretty good."
"I like to put on a show for the fans who come to watch," says Bolt whose signature "lightning bolt" pose has made him a world icon.
"It (the lightning Bolt) comes from a dance that was popular in Jamaica in 2008," he explains. "I adapted it slightly and I saw that people liked it so I kept doing it. It's now my signature pose called 'to di world'."
The Jamaican's speed, charisma and the fact that he is instantly recognizable the world over make him an advertisers' dream. Indeed, in 2010 he set a different kind of record when he extended a contract with Puma – reportedly worth £20 million ($26.45 million U.S.) – to make it the biggest sponsorship deal in the history of athletics. The deal included the launch of the "Bolt Collection" – a range of clothes, shoes and accessories featuring a silhouette of the athlete's signature pose. At present, he has 11 sponsorship deals that range from sports drinks to headphones to telecoms.
Having dominated the sprinting world for eight years now, Bolt says he's considered diversifying into other sports and adds he'd like to play soccer professionally at some level when he retires from athletics.
Aside from sport, he has other passions, including a charity he set up in his own name to help children in Jamaica. The main aim of the Usain Bolt Foundation, he says, is to give something back to the community where he grew up, a country where levels of child poverty run at 15 percent.
"The Usain Bolt Foundation is dedicated to helping children to enhance their lives through educational and cultural development and help them fulfil their dreams," he explains.
"I like helping children and giving them a chance in life. I am fortunate in that my sponsors work with me on programs to help improve the lives of kids in Jamaica."
In April, Bolt officially handed over a new sports facility to the people of Sherwood Content in Trelawny. The space was built at a cost of JA$4 million ($31,750 U.S.) and is expected to benefit some 1,500 local people.
In his address at the handover ceremony, Bolt said: "I will continue trying to do as much as possible for the community to make it better, to make it positive and to make it just wonderful for all the people and better for the kids because they are the future and any way we can help them out educational-wise and physical-wise, we want to do it. It has been a long time coming, and I know they really appreciate it. For me, it is always a joy to come home. It is so peaceful, relaxing, no stress. For me, it is a wonderful feeling to see that a variety of sports will be played in the community."
He says Jamaica's economic problems cause him concern, particularly the rising number of street children: the latest 2002 National Survey of Street Children estimated Jamaica may have around 6,500.
"I am not comfortable with the large number of street children I see on the road [in Jamaica]," he says adding that he admires the work of the street paper movement.
"I fully support endeavors that stop marginalization among our people. I applaud you on your work and hope that you can make a difference to people's lives when they find themselves in a difficult situation."
For more information on the Usain Bolt Foundation visit: http://usainbolt.com/foundation/
Amy Mackinnon / INSP / www.insp.ngo