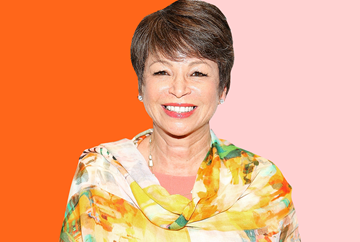 By: Gus Riley
May 6, 2019
"Daddy would not have liked this," Barbara Bowman remembers whispering to her husband on the day the newly developed Robert Taylor Homes was dedicated in 1962. Wedged between the Dan Ryan Expressway and South State Street in Bronzeville, the public housing project was named for Robert Rochon Taylor, the first African American chairman of the Chicago Housing Authority, and staunch supporter of racially integrated housing. So why then, a 6-year-old Valerie Jarrett wondered, would Mayor Richard J. Daley find it suitable to name an ill-conceived and structurally discriminatory housing project after her grandfather?
In a conversation with Susan Sher on the evening of April 5, Jarrett recalled her grandfather's legacy at the CHA. "His goal was to create mixed-income housing, and to use public housing as kind of a way station where you go temporarily and then have social services and job training and all kinds of resources available so that you can return to upward mobility… that vision was not a vision that the City Council of Chicago thought much of at the time." In a talk and book-signing hosted by the indie-minded bookshop Women & Children First at Wilson Abbey in Chicago's Uptown neighborhood, Jarrett reflected on that day in 1962: "It was the exact opposite of his vision."
In her new memoir, "Finding My Voice: My Journey to the West Wing and the Path Forward," Jarrett conjures an almost animated map of the world, starting with her birth and early childhood in Shiraz, Iran—to which her family moved when her father found difficulty navigating the racially prejudiced medical industry in the US—and traversing the almost 7,000 miles to the South Side of Chicago. She sees this path of hers as a strength and it even becomes a point of connection when she meets the young optimistic fiancée of her employee and friend Michelle Robinson for dinner years later. But in the '60s, Jarrett had yet to become the woman who would serve as one of the closest aides to President Barack Obama. In the '60s, Jarrett was a passive student of Chicago who was still searching for her voice.
Initially planned to house 11,000 inhabitants, the Robert Taylor Homes' population peaked in 1966 when occupancy rose to 27,400. Chicago's neglect of these drab, concrete high-rises was evident in the poorly enforced building codes, the littered streets, and the absence of commercial and civic amenities. As Jarrett writes: "… the failure of the Robert Taylor Homes—and the fact that that disgrace was so personal, since it carried my family's name—loomed large in my mind as the towers did on the horizon, and I grew determined to help fix those mistakes however I could."
But Jarrett's passion for public service wasn't always so obvious, even to her. Much of the beginning of her story presents a struggling, soul-searching journey. Before leaving the private sector, Jarrett found herself in a miserable but high-paying job, essentially raising her newborn daughter alone, and asking herself what was next. It was the simple advice of her friend and mentor Elvin Charity when Valerie was weighing a career in City Hall—"You'll never regret it, I promise you"—that stuck with her throughout the next stages of her life.
And Jarrett made good on her promise as well. As Commissioner of the Chicago Department of Planning and Development, Jarrett pushed for redevelopment in the North Kenwood community and noted, "… my only regret was that my grandfather Robert Taylor hadn't lived to see what I was doing."
Jarrett brought this spirit with her to what she describes as "the fight of our lives" in the Obama Administration's push for the Affordable Care Act. In Chicago, Jarrett encountered "plenty of political theater," but no amount of land deal squabbles could have prepared her for Republican resistance to HR 3962 (the ACA). The playbook had changed and in town halls throughout the country, Republican legislators started using phrases like "death panels" and stoking fear of a Big Brother-type government meddling with Medicare. Jarrett points out the hypocrisy: "But of course, Medicare is the government, and what we were trying to do was expand coverage."  Jarrett's eyes lit up when Sher turned conversation to the feeling within the White House when the bill passed: "… that's why you're there. It's all about the service. It's not about party, it's not about the acolytes and elections…" Jarrett and Susan Sher have been close friends since their days in Chicago's City Hall, and it was Sher who had recommended that Jarrett hire Michelle Obama (then Michelle Robinson) as an assistant in the Daley cabinet.  Sher and Jarrett reminisced about their shared experience maintaining a professional life while raising young children, and the emotional toil it takes, but the conversation was pleasant, insightful, and very fun. There are, of course, plenty of charming Obama stories one can tell when they happen to be the longest serving senior advisor to the President. But Jarrett is also very cognizant of today's political landscape. When the conversation turned to the 2016 presidential race, Jarrett admitted surprise. "I was trying to figure out what happened here, because I didn't actually see it coming." She went on to point out that, "there are lots of reasons I'm sure, but the one that I focused in on most is the fact that 43 percent of eligible Americans didn't vote. And that's a problem no matter who wins the election."
The conversation ended in optimism (Jarrett is a expert on buoyancy). Before the crowd lined up to get their memoirs signed, Jarrett made a plea for conversation and coming together. "You can have a bold idea and maybe it's not doable, but it makes people think of another idea and creating that curiosity, that intellectual and emotional curiosity, I think is healthy, and it's something we can all do."