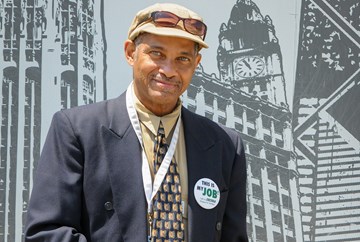 By: A. Allen
May 4, 2018
We would like to extend our condolences to the family, friends, and customers of Clifton Turner of Evanston who passed in late 2017. He was a valued StreetWise vendor. It is also with a heavy heart that we announce that StreetWise vendor Andre Dawson has also passed. His location was Rush and Oak, and Division and Dearborn before that. Both vendors will be missed and we will cherish our memories of them. We also would like to wish Felicia Williams a speedy recovery, she suffered from frostbite that was discovered on December 31. Her StreetWise location was Glenlake and Broadway.
At this point we will encourage our vendors to take care of themselves, to eat well, exercise, and get plenty of rest. We wish you to be very safe in all that you do. We are family and we care about all vendors! We want to be there for one another.
The family of StreetWise is much bigger than you and your customer. The length and width expands to all. Your immediate family and friends know your involvement. The staff and interns of StreetWise are there for your support. The Board and Associates Board are behind the scenes and are seeking ways to make things better for vendors and staff. Volunteers give their services free because they care. Individual contributors and organizations donate finances and products, such as food, toiletries, and clothing to help with personal and corporate needs.
We're not just a local paper, but part of the International Network of Street Papers. Our global network is made of 100 street papers in 34 countries and published in 24 languages, which ensures the voices of struggling minorities are heard on a local, national, and international platform. Each year, 21,000 vendors worldwide earn an income by selling street papers. Yes, it is more than just us. It is a family affair. So let's be mindful and consider the big picture. It's a family affair; let us act like it. Come to the all-vendor meeting, current events, advance orientation, and utilize the family resources. Show up for the family and give back to the family. Appreciate your StreetWise family. Recognize your family. Charity begins at home—the family.
If you are a customer, please continue to support our vendors, build relationships with them, and get to know him or her. If you don't have a vendor, please find one to support and encourage. It means so much to us to all stick together!
Vendor Announcements
• StreetWise is not a personal thing, it's a family thing. Let the world know it works: Recruit. Recruit. Recruit! Pick up fliers at the desk for recruitment
• Reminder: New Vendor Orientation is every Tuesday and Thursday at 10 a.m.
• Writers Group (now called Vendor Voice) is collecting writing pieces about Mothers for an upcoming Mother's Day issue. Please get them to the interns by April 20.
• Advanced Orientation will be starting soon, to be announced. Check the Vendor Bulletin Board for further details in the coming weeks.
• Please be advised, Current Events group is held every Tuesday at 11am. 5 free magazines (during your next magazine purchase) for those who come participate.
• VENMO is active!
Now your customers can pay with their mobile phones. All StreetWise vendors can accept payment through the @StreetWise venmo account. Please stop by the office if you would like to know more.
• Every Monday at noon, there is an AA Mechanical Big Book Study, open to anyone, at the StreetWise office.
• The next All Vendor Meeting is on May 16 at 1 p.m.