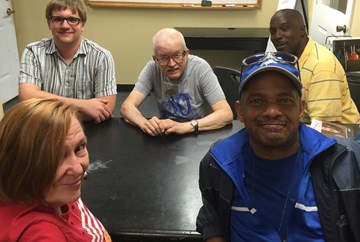 By: Staff
October 17, 2016
A Allen
I can truly appreciate the beautification the murals in the city of Chicago provide. I find them to be a creative and unique expression of an individual or collective body of artists. These art works are gifts that are expressed with permission or without permission of property owner or city. These expressions of creative people may be offensive to some but could also carry a positive message to others. I guess it's according to how you see it! Beauty is in the eye of the beholder. Either way you look at it, seeing murals is a way to expand your awareness. If a person is open, they could very well get another perspective on art or the message the artist is trying to portray. Overall, I think art is good for the city whether it be music, writing or murals. I am open and welcoming to beautification of the city of Chicago. Bring it on.
John Hicks
I think beautification is very important because it moves one's spirit in a positive way. A mural's meaning should be clearly understood by kids and adults and keep people in a positive mood. Public art can relieve stress and create hope for people in a community, especially during a time of crime overload.
John Lucas
Art's relationship to life can influence us. An art form should inspire one to feel beauty and feel better than the negatives that spread the terror of life through us. A mural has to absorb and take in relationships in our lives and create and develop the feelings, much like a flower blossoming.
Amos Mills
A mural should reflect positive images back to the community to reduce crime and graffiti. Art can turn around a negative idea into a positive one. The community could work together to create more murals and more pride in their neighborhoods. Community created murals can keep  kids occupied and interested in art and culture instead of being in gangs and getting into trouble.
Diane Wilkins
Some murals are very beautiful. The Chinatown Centennial mural on Archer just west of Clark, down the street from the Red Line, is beautiful and realistic. It's an dragon that is very long with big white teeth. There are some murals that are very sad because they represent the death of young people killed by rival gang members and police. Some murals beautify Chicago and tourists really enjoy visiting them, taking pictures and getting ideas to take home. The dragon really caught my attention. Parents were picking their kids up so they could touch the teeth and feel the body of the dragon. I wanted to touch it myself, but I'm not tall enough. It really looks real!