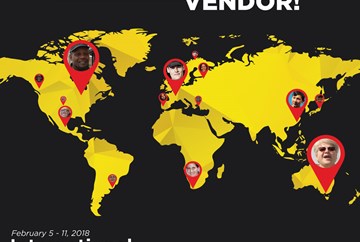 By: Staff
February 5, 2018
February 5 - 11, 2018 is the International Network of Street Papers' (INSP) #VendorWeek, intended to pay tribute to street paper vendors' hard work, and to challenge the perceptions of poverty and homelessness.
For this special edition, we have compiled a selection of vendor stories from around the globe. While many have faced homelessness, many have embraced hope and have taken "a hand up, not a handout" to regain control of their destiny.
STEVEN
StreetWise Magazine, Chicago
USA
"I knew that when I got out of jail I was going to need food, clothes and transportation," Steven explained. "It was the fastest legal way I knew to earn an honest income. The last year that I was incarcerated, StreetWise was number one on my priority list."
As Steven continues to work toward his goals, he depends on the little joys in life to make the long hours of selling enjoyable.
"A good day would be a lot of smiles and a lot of tips," Steven says with a laugh. "I have had some great days. I was just thinking about Cyrus, a newborn baby that my mom made a hat and blanket for. His mother is a regular customer, and she had a high-risk pregnancy. I prayed for her for the nine months of her pregnancy. There was a gap where I didn't see her when the baby was born. Seeing Cyrus for the first time, my youngest StreetWise customer, was a wonderful day."
Unfortunately, not every interaction is a happy one for Steven. "A bad day is probably either aggressive panhandlers or losing something or somebody stealing something from me," Steven said.
Steven's typical selling spots include Roscoe Village, Lincoln Square and North Center.
"Roscoe Village is really family-oriented," Steven said. "Every morning, whole families walk to school. That's why it's called a village. Lincoln Square, I mean there are some brilliant people there. Smart people. Informed people. North Center is just extremely understanding and compassionate."
In addition to working those three areas, Steven also is the first StreetWise vendor to have started his own subscription service for his franchise.
When asked what he likes about StreetWise, Steven simply said, "It gives back to the community."
"Ninety cents goes back to the magazine," he explains, "and it's more than just a magazine. We have a soup kitchen, supportive services and it's all open to the community. Every time I buy a magazine, I give back to the community - the StreetWise community and the community as a whole because anybody can get services here. For potential vendors, homeless, unemployed, disabled, elderly, single, families, I try to keep it alive for them."
Steven is a persistent seller. He is constantly learning and innovating so he can be the best vendor for his customers. But the biggest lesson he has learned has less to do with his sales, and more to do with his community.
"Social responsibility is one of the big things I have learned from StreetWise," he said. "It's about caring about your neighborhood, community and city by picking up trash, shopping at small businesses, helping old ladies across the street and so on."
In closing, Steven only said to "Keep the support coming because StreetWise helps the unemployed to become self-employed!"
LORETTA
Street Roots, Portland
USA
Compassion is a basic value for Loretta H. "We've had people live with us for months when they were in a difficult situation," Loretta says. "That was a value growing up and in our family."
Having exercised compassion throughout her life, now that Loretta is facing struggles herself, she is finding that some of that compassion is returning to her through the support of her friends, her sister and Street Roots.
For 25 years, Loretta and her husband, Andy, lived a comfortable life in Los Angeles. "We are both from middle-class families," Loretta tells me. "My husband is an aerospace engineer, retired. I have my degree in nursing. I was a registered nurse, but I haven't done that in decades. But then, 10 years ago, my husband got cancer. We did a lot of alternative medicine, which was not covered by insurance. We put thousands of dollars into alternative medicine, and he's alive."
The couple moved to Redding, California, to be near a treatment center and paid Andy's medical bills with credit cards. The credit cards were paid out of their retirement plans. "We lost a lot of money," Loretta admits.
After going through bankruptcy, Loretta and Andy found a job co-managing a business in Vancouver, Washington. The 96-hour workweeks became too stressful, however, and they went back to Redding. They were taken in by friends and Loretta's sister but left both places, not wanting to overstay their welcome.
"We decided that we would travel to figure out where we would go, but neither of us thought it would be for nine months," Loretta says. "I say we were homeless. My husband says we were 'on the road.'"
The couple spent their time travelling up and down the Interstate 5 corridor from Mexico to Canada. Most nights were spent at rest stops, and they slept in their Toyota van, which also carried their remaining possessions.
"It was very obvious, on looking in the van, that there was more going on than just driving," Loretta remembers, with a laugh. "It's been a good van. I call her Esperanza – it means 'hope.'"
Loretta and Andy practice both Christian and Jewish rituals. While on the road, they made a special effort to observe Shabbat on Friday evenings, the beginning of Judaism's day of rest.
"It's a way of keeping faith that things will get better," Loretta tells me. "That we're not 'under' our circumstances, no matter what. The way I see it, I'm a spiritual being, I have a soul, and I live in a body. And [that body] is well on the inside – no matter what's going on on the outside."
CAMAXTLI
Mi Valdor, Mexico City
Mexico
My arrival in the homeless shelter was unforeseen. I was living in Cuernavaca, looking after my mum and working; my siblings always helped me. But I realized I didn't want to rely too much on my family. I had devoted myself to them and didn't fully live my own life.
Then, four years ago, I came with my mum and sister to Mexico City to celebrate the festivals. My mum returned home but, as fate would have it, I couldn't go. Now I'm living my life by hook or by crook, but I'm definitely living it. In the shelter I've learned to value myself as a human being, and to motivate myself.
Through the magazine Mi Valedor I've learned more, like how to live with a lot of people. It's not easy because I'm very shy, but little by little I'm getting rid of that. I'm also lucky to be breaking my sales records. I remember once I sold 15 magazines in half an hour. In the workshops I've been able to acquire new skills, like knitting; I thought that knitting was done with hooks, but no! You can knit with your fingers!
Saving money has been good for me. Before, I was selling the magazine and doing well, but I spent this money on parties. I never thought about saving… Here we never think about tomorrow. But you must have discipline – like the Japanese!
In the future I'd like to be emotionally stable, and physically too, because I've had problems with my kidneys and heart. I would like to have a house, a car and my own business that I could share with my friends. I hope that it could happen very soon, but it's going to take time. Mi Valedor has put me on the right track for this, because it teaches me to better appreciate myself and other people.
I used to be one of those people who didn't think much of the people on the street. I've learned a lot from my colleagues here, because before I was living in a community that was too rigid. The people on the street have really suffered: the cold, and from time to time people come up to them to hit them or even kill them.
I would say that buying Mi Valedor helps everyone involved; the help's mutual, and this isn't just any old magazine.
NATHANIAL
Denver Voice, Denver
USA
Nathanial Trotter is an artist, inventor, and entrepreneur. A warm, friendly person, he loves the Broncos, Denver, and the people who live there. He believes he has been blessed by God with "a personality to get along with people," an attribute he uses daily to sell papers.
Born in Chicago, Nathanial grew up in Gary, Indiana. Gary is the home of Michael Jackson, a fact he relays with pride. One of nine siblings comprised of six sons and three daughters, Nathanial loved growing up with a big family. He speaks of them fondly, saying, "It was beautiful having a nice family." Nathanial remains close to his surviving siblings; one brother and his parents have gone on to heaven.
While Nathanial looks upon his childhood home life with gratitude, Gary itself represents a violent place for him. In fact, when Nathanial was younger, the city had a billboard stating, "Gary: The number one murder capital in America." Once, Nathanial had a gun pulled on him, but when the assailant saw his face he recognized Nathanial. "Because of my friendship with so many people he put [the gun] back up."
That's really what defines Nathanial: everyone is his friend. He talks about the "beautiful people of Denver" as if they are each someone he knows, loves, and remembers. He finds that people open up to him easily, wanting to share about their families, their hardships, and their hopes. He enjoys seeing the same people time and again and watching their kids grow up before his eyes.
Nathanial found the Denver VOICE when Sam's Club closed all its demonstration departments across the country, leaving him jobless. His brother-in-law suggested he consider working as a vendor. After another man told him how easy it was to get set up, Nathanial went to the office, completed the orientation, and got straight to work on the 16th Street Mall.
When he was first starting out, things were hard. Some people would say cruel things or ignore him. Undeterred, Nathanial persevered and has been selling papers for more than four years. People still ignore him sometimes, but he doesn't let it get to him. Nathanial has sold his art and poetry on the street before, so he knows the keys to being successful.
"You got to be patient," said Nathanial. "You've got to be… loud enough for them to hear you or they're gonna pass you by anyway."
Selling the paper provides steady income for Nathanial, while also allowing the freedom and flexibility he craves. He enjoys being his own boss. "Here, if you don't want to go to work, you don't have to go to work. You can take a break when you want to. You can go home when you want to." That flexibility allows Nathanial to continue inventing and creating art.
Nathanial's inventions include the sparkling basketball net and sparkling shoes, both of which he presented on the "Why Didn't I Think of That?" program that aired in the early 90s. Using a similar concept to that of "Shark Tank," this program flew Nathanial to L.A. to present his inventions, a point of pride for Nathanial. He continues to invent and is currently working on a couple projects that he isn't quite ready to discuss. When asked where his ideas come from, Nathanial will say that every good thing comes from God and that God has supplied him with visions and ideas. In addition to his inventions, Nathanial also creates Broncos fan art, which he hopes to have hung along Colfax.
If you walk the stretch from Glenarm Street to Stout Street along the 16th Street Mall, you'll probably see Nathanial. You'll recognize him because he'll be one of the vendors sharing a smile and some time with strangers-turned-friends. He'll be out there selling papers and making friends.
CONNIE
StreetWise, Chicago
USA
Connie is one of the warmest, happiest people you could ever hope to meet. She is known for her charming personality and sunny disposition. She is always a welcome presence in the StreetWise offices, chatting with everyone and making friends left and right. She first walked through its doors in August 2016. She and her son were tired of living in a nearby shelter and decided to learn more about the street paper they had heard about.
While she's only been with StreetWise for a little over a year, she has been selling street papers in other cities for quite a while.  "The most success I ever had selling papers was definitely in Nashville, TN. The street paper there is called The Contributor. I did incredibly well down there. I had such a great location, right near the entrance to a big shopping center."
Regarding the differences between selling papers in different cities she said, "I am not sure what it is about Chicago, but it's definitely a struggle to sell papers here especially compared to Nashville. People are just moving so fast, I guess, to get out of the cold. People just go right by, they don't even look sometimes."
Connie talked about the process of trying to secure housing in Chicago. "I went everywhere, I put my name in everywhere. But it was really when I got connected here with Sarah (social worker) that housing finally came through." The supportive services that StreetWise offers were instrumental in getting Connie the apartment she has now, and vending has helped her establish the income to pay the rent each month.
Her strategy for boosting sales, like that of so many other vendors, is her consistency. She said, "The best way to get your sales up is to be there all the time so people get to know you." And with her willingness to talk and laugh with everyone she meets, Connie is a joy to get to know. She also enjoys using her passion for crafts and art to put the cover of that week's magazine on display with a coordinated poster board. She said that usually draws people in to take a look.
What is her favorite thing about Chicago? Without hesitation, she said, "All the opportunities! There is so much to do here. I am a singer. And that's something I can pursue here, that I couldn't pursue in some of the other cities that I've lived in." Real estate and house flipping opportunities, she said, are what drew her to Chicago in the first place. 
She can be found at her location on the corner of Roosevelt and Canal by Starbucks and Whole Foods.
LUIS
HECHO EN BS. AS., Buenos Aries
Argentina
I sold Hecho en Bs. As. from 2004, October 2004, until February 2007. I stopped working with the magazine at that point because I got a job in a bar in Recoleta, near where my pitch had been. And then I left, but I didn't wander off elsewhere. I always knew myself, where I was going, who I was. I have never changed the way I express myself to people or my feelings.
I started selling HBA again in September 2013. Now I feel that the magazine gave me the opportunity to see who I was from another perspective. I feel gratitude towards HBA that I can't explain. I am a more complete man, and I have continued to grow while selling the magazine because for me, it is something very important. I am never going to change the way I am either. It has given me so much and until now, I have been very happy. I have met a lot of people through selling the magazine, and I am still meeting people.
They bring me happiness, because every time they buy it, they look at me in a way which is very different from what I see around me, the problems or setbacks that every reader has in their daily lives. Despite being out in the street with their problems, they are always smiling. What I like most about selling in the street is seeing happiness. It's as if I'm on holiday when I'm selling HBA. That's what the magazine is, like a holiday, but I'm earning money and I truly have a great time.
I think that my best quality in terms of selling is my honesty. One look into my eyes is enough for people to know me. I don't want to be rich, or a millionaire, I'm just a free man with a lust for life. I would like to send a kiss and a hug to anyone who is reading this interview. Actually, better still, a lot of kisses and a lot of hugs!
ANTHONY
The Contributor, Nashville
USA
For the first time in 27 years, Anthony has a light bill in his name.
The 55-year-old Army veteran recently signed the lease to an apartment in Nashville after spending years sleeping in hotels, at friends' places and on the city's streets. "When the lady handed me my keys, I cried," he said.
Anthony has been selling The Contributor for seven years. Since that time, he's gained a regular customer base and profits to help pay rent for the apartment he acquired with help from the HUD-Veterans Affairs Supportive Housing (HUD-VASH) program.
After receiving the voucher, which offers rent assistance, it took Anthony two months to find a place that he could afford. He said that his case worker, Mark Holman, "busted his butt" to find him an affordable apartment in Nashville.
"If it weren't for HUD-VASH and my customers, this wouldn't have happened," he said.
Anthony became homeless after life threw him a series of events: child support obligations, loss of a job and health problems. He underwent back surgery, then had a heart attack. His career as a plumber and in fire protection was over. "People automatically think you're a drug addict, or alcoholic or pill head, but you never know what life will throw at you. You can't stay down," he said. "Thank God for The Contributor."
Selling The Contributor is hard work, according to Anthony, who has perfected his selling style with a "no pressure" attitude toward his customers. He sells at night, when he said customers are "not rushing somewhere," like they often are during the day. "If you think this job is easy, follow me for a week. I'll show you how much hard work each vendor puts into it. When you see people get off the street, you know they put some work in."
Anthony has become one of The Contributor's most-published writers. His stories touch on the reality of not only his own life, but the human experience: heartbreak, poverty, dreams and gratitude. "I get to free my soul. I get all that tension and heartache out. If you buy my stuff, I write about life. It ain't easy out there, and the stuff I write, people like because they feel the same way."
He has now sent his words in the form of greeting cards to Hallmark and American Greetings, and hopes his writing will one day help him pay his bills. His friend Jennifer Robey works as his "secretary and computer whiz," helping him transfer his stories to a flash drive and sending them out to other outlets until he gets his own computer. "The Contributor made me a writer," he said with a smile. Anthony said that the best part about having a place of his own is the "serenity." Besides, now he can cook for himself. He likes to make what he calls "goulash" in the crock pot: hamburger, green beans and onions. And cornbread to sop it up.
He's still furnishing his new home and is especially looking forward to owning pots and pans to expand his menu options. "I just want to thank my customers. If it wasn't for them, I'd still be sleeping in the park."
DARNESHA
The Curbside Chronicle, Oklahoma City
USA
My parents separated when I was 3 years old.  My mom progressed into another relationship, and me and her boyfriend had some serious issues. He would fondle me. That's when my mother and I's relationship went down the drain. I was telling her about it and telling her I was going to report it, and she was telling me that she didn't believe me or she wanted to record it happening to make sure. He would try and break into my room at night – I had a deadbolt lock on my bedroom door. He'd try to pick my lock; I'd sleep with a knife under my pillow. I'd wake up every few hours and just look at the door. I wasn't getting sleep; I was failing my classes.
After a year, I'd had enough. If I hadn't said anything or told my grandmother and got the police involved, then I probably would've been raped. But I'm glad that I do have a voice.
I've been pillar to post since then, moving to my dad's side of the family, then a few cousins on my mom's side, and an uncle's house. I felt like I was a burden all the time, so I was very troubled as a teenager… But I made it. I graduated high school. 
After that, I went to Houston Community College. I was doing pretty good until I got pregnant.
I met a man 22 years older than me. I was 19 and he was past 40. It was very embarrassing because everybody knew that we were talking, and I was meeting up with him around the corner. It was just bad as far as my mindset at that point in life.
I made the decision to get an abortion. When I got pregnant again at 21, I decided to keep the baby. I felt bad about the first abortion. I felt like if it happened for a second time, maybe it was meant to happen. Maybe having this child would save me. 
He would leave me and the baby at the house for days. When he would disappear with his friends, me and the baby would go to Star of Hope in Houston and we would sleep there overnight. I had this big diaper bag and you could put her inside of it. So, I made her like her own little bed out of it, and I just lay next to her on my mat in the shelter.
We had moved to Oklahoma City from Houston because he had friends up here and said he could get work. We were in an apartment at this point, and I was working a security job. He would go to jail and I would just be stranded at the house with the baby, unable to make my shift.
I just couldn't do it anymore. I had already left him mentally and I finally was ready to leave him physically… Right after I left him, doors started opening for me.
I found out about Curbside. There are times when I get out there as early as 6 a.m. I am able to make a living off of it. From my own experience, I can pay my bills because of Curbside.
No more rooming houses, no more bus stops, no more shelters, I have a full home with a backyard. I felt like I had to go through the worst things possible to get to this point. And I'm going to continue moving forward. I recently made a resume and am actively looking for more permanent work. I have a dream of becoming a registered Vet Technician. 
BLUEY
The Big Issue, Melbourne
Australia
Two years ago, when I was about 60, rather than die from drug abuse I decided it would be good to do something else. I was really in the gutter, going downhill fast, so the only thing I could think of doing was sell The Big Issue. And it's been perfect for me.
I was born to a large family in leafy Adelaide in the mid-20th century. I worked in sales, advertising and hospitality in Australia and overseas. I lived in Berlin for five years in the 70s.
I was 27 when I was the victim of a murder attempt. It was a random attack, they killed two other people; they were only teenagers. I started going downhill from there. I wasn't diagnosed with PTSD until much later – it wasn't recognized as a real diagnosis in those days. Post-traumatic stress disaster, I call it. It changed my personality. I self-medicated and I started to isolate myself as a result.
I was taking massive amounts of drugs. I went from high-powered jobs to a succession of marginalized jobs. I ended up isolated. The Big Issue has enabled me to re-engage to some extent.
In a way, I find selling The Big Issue quite difficult, to be honest. But if I'm selling The Big Issue, I'm not taking drugs. I don't have to worry about paying bills. I don't have to worry about overheads. It's better to have 20 bucks in your pocket than to have nothing.
Because if you've got 20 bucks, you're in control, you can do a lot of things, even if it's just reading a paper and having a coffee.
The main thing about being disadvantaged or marginalized is that you're not in control. And, by nature, that causes more secondary marginalization problems. You're coming from a situation where you've got very low self-esteem. And if you're living in the gutter, even if you're staring at the stars, that's where you are. The only way you can get back on your feet is stable housing, because then you can work out parameters and have control. I was very single-minded and relentless and I managed to get through the barriers, but that doesn't apply to everyone. I used to live under a tree. But now I've got housing commission accommodation, so I'm very fortunate.
If I've got spare money from The Big Issue I tell you what, I enjoy it. I buy books, I see a movie. Look, I'm basically a middle-class tertiary educated person: I like going to the movies, I like reading, I like going to exhibitions, I like dinner parties. The normal things.
My life has improved 100 per cent since I started selling The Big Issue. That's what I think I would like to express to people that buy the magazine: it really does make a difference.
LEE
StreetWise, Chicago
USA
Lee grew up on the far South Side of Chicago and has been in the city his whole life. "Well I was in and out of here for a while, he said of coming to StreetWise. I would come up and get something to eat every now and then. Everyone around here was always talking about selling and whatnot, so I decided to give it a shot. But I didn't sell consistently, I was really in and out with it. But for about a year now, I've stuck with it."
During the all-vendor meeting earlier this month, Lee was awarded "Most Improved" based on his consistent sales and reliability for his other responsibilities such as working the front desk in the StreetWise offices.
When asked about his selling strategy he humbly said, "I don't really have one, just say 'good day' or 'good morning' to folks, I guess. People move too quick for anything elaborate. You have to keep it simple."
Since he started vending, he remarked that he's become more familiar with areas that he sells in. "I got to know Clark Street really well. People will ask where things are, or where a good restaurant is and I wanted to be able to tell them how to get where they needed to go."
Lee said his favorite aspect of Chicago is its many opportunities and how much growth is always occurring in the city. "Especially for things like technology, we have a good market for entrepreneurs. They are always looking to grow things like that here."
Since becoming a vendor, he has learned quite a few things. "I've really improved my soft skills like communication, people skills, customer service skills, sales abilities, all the stuff like that."
You may have seen Lee's name before, since he is also an active participant of the weekly writers group and frequently has his articles published in the magazine. It was in writers group that he described his goals. He dreams about having his own house, creating low-income housing for people facing homelessness, and also starting his own business centered on technology and recycling.
Lee's vending locations are Clark and Deming, Ashland and Webster (Marianos), as well as outside the Steppenwolf Theatre (during special events).
JULIANNE & DOMINICK
Street Roots, Portland
USA
Selling Street Roots is far more than just a job for Julianne and Dominick Hart; it is an exercise in relationship building.
In nearly everything they do, Dominick and Julianne are together. They met in 2014 and bonded instantly through their mutual love of music. Dominick was playing drums in Chapman Park the day they met, and Julianne said she knew he was the one for her.
"I walked right up to him and asked if I could play my guitar for him," she said.
The two work well as a team and are rarely seen without each other. Their love for music shines through when they are selling Street Roots, and they can often be found making up songs to attract potential customers.
"When we get to work together, we are earning it together so we are both excited," said Julianne, smiling at Dominick.
After living together in Canby for several years, the couple unexpectedly lost their housing and ended up on the streets of Portland. Julianne said the transition from having a steady income and a house with her children to sleeping on the streets was hard.
To make matters worse, soon after they met, Dominick was diagnosed with colon cancer. The doctors initially told him he had just 10 months to live. In the past three years, he has had surgeries, and he looks forward to starting a new treatment soon that he hopes will lead to recovery.
Things have begun to look up for Dominick and Julianne. They recently got the keys to their own apartment, thanks to Transition Projects, a program that provides short-term and long-term housing support.
Having a place of their own opens up a world of opportunities for the two. "I'm going to be working to get a more regular visitation with them," Julianne said about her three children, "now that I have my own place with running water and electricity."
And Dominick now has a clean, safe environment to rest and heal from procedures. "Trying to recuperate from that (surgery) while living in a tent is not easy," he said.
When the two aren't selling Street Roots or making music, they enjoy gardening. "I like being out in nature and making it more beautiful," Julianne said. The couple say they'd like to eventually move to a smaller town where they are able to garden and enjoy nature.
Above all, they try their best to stay optimistic. "We're both survivors," Julianne said. "We made it through a lot, and I'm glad we have this new place to us now."