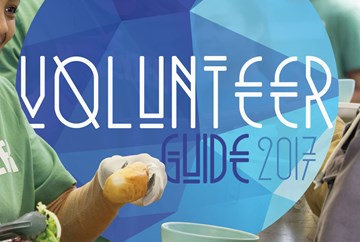 By: Dave Hamilton
May 8, 2017
After School Matters
After School Matters provides high quality after-school and summer program opportunities in the arts, communications, science, sports and technology to nearly 16,000 Chicago high school teens each year. We are always looking for group volunteers to host resume writing and mock interview workshops with teens, invite a program to your office for a behind-the-scenes tour, serve as a guest speaker during a program to share professional insights and guidance, and support the successful delivery of our diverse programs and events. The After School Matters volunteer program is flexible and can involve longer- or shorter-term commitments. We look forward to growing our group of passionate and enthusiastic volunteers!
If you're interested in helping After School Matters teens find their futures, contact Ramon Moran, Volunteer Coordinator at (312) 768-5200 or volunteers@afterschoolmatters.org.
"What a fantastic program with so many wonderful teens!" – Bethany H., Volunteer
All Chicago
All Chicago effectively combines immediate resources with long-term strategies to address the complex issues of homelessness through our Emergency Funds, Continuum of Care, Homeless Management Information System, and Learning Center programs.
Volunteer opportunities: Long-term or routine: Serve on event, marketing, programs, or other committees that raise awareness and engagement in our city.
Training requirements for volunteering: Professional skills.
For more information, contact Lydia Stazen Michael, Vice President of Development, lstazenmichael@allchicago.org or 312-379-0301 ext. 11
Almost Home Kids
Almost Home Kids provides a Transitional Care Program for children with complicated health care needs who are ready to be discharged from a hospital but for whom preparations at home need to be made.  In a comforting, homelike setting, children receive 24-hour medical and nursing support.  AHK trains families to both care for their children who are medically fragile and prepare the home for the arrival of their children.
Almost Home Kids is located at 211 E. Grand Ave. on the 6th floor of the Ronald McDonald House. Volunteer Program info www.AlmostHomeKids.org
Volunteer Opportunities
Long term – we rely on volunteers on a daily basis to help provide a better quality of life for the children we serve.  We are seeking individuals who are interested in volunteering with our children for an hour or two at a time:  weekly, monthly or anything in between. 
We have volunteer shifts seven days a week from 10 am to 7 pm.  After an orientation, volunteers self-select their volunteer shifts.
Volunteers need to register & attend a one-hour Volunteer Orientation, have a current TB test, a seasonal flu shot (during flu season) & clear a background check.
If you are interested in supporting AHK, but can't commit to volunteering regularly, you can support us by helping with events such as Christmas toy drive, National Nurses Week, meals or small gift certificates for items to thank our nurses.
"I've been volunteering at Almost Home Kids for over two years and I truly look forward to my time with the kids each week.  The team here is so engaged with each and every child, I'm amazed at the work they do. I feel so fortunate and proud of the work that goes on here every day." Kathy
Aquinas Literacy Center
Aquinas Literacy Center is a community-based organization located in McKinley Park on the southwest side of Chicago.  Since 1996, Aquinas has served the immigrant community by offering free individualized instruction in the English language.  Using trained, volunteer tutors, Aquinas serves over 200 learners annually.  We are always eager to accept new learners, volunteers, and supporters.  English Literacy Tutors commit to 90 minutes of one-on-one instruction per week with an assigned learner, plus an additional 20-30 minutes for preparation and minimal paperwork. Classes are scheduled between 9am to 8pm, Monday through Wednesday or Thursdays between 9am and 5pm, based on availability. Because consistent instruction is important in learning a language, we ask that tutors commit to the same day and time every week and commit to tutoring for a minimum of four months, preferably longer.  Before you begin tutoring with us, we require that you participate in 13 hours of pre-service training. After the initial 10-hour training workshop, you will complete the final three hours of training during regular Center hours. Tutor Training workshops are scheduled periodically throughout the academic year. If you are interested in becoming a tutor, contact Sabrina Poulin, Volunteer Coordinator at sabrina@aquinasliteracycenter.org or call us at 773-927-0512.
Aquinas Literacy Center is located at 3540 S. Hermitage Ave., Chicago.
BACK ON MY FEET
Back on My Feet combats homelessness using the power of running, creating community support and providing essential employment and housing resources. Operating in 12 major cities coast-to-coast, Back on My Feet uses running and community to motivate and support individuals every step of the way from homelessness to independence. Our success is measured not only by the health impact of miles run, but also by how many individuals obtain education, employment, and housing. By combatting homelessness through our innovative program, Back on My Feet proves that there is hope, that individuals can achieve things they never thought possible, and that there are people who will support them along the way. We seek volunteers who want to run alongside our members once a week on a M-W-F at 5:45am at one of our four teams: St. Leonard's Ministries near the United Center (2100 W. Warren Blvd.), YMCA Lawson House in the Loop (30 W. Chicago Ave.), Uptown (Wilson & Marine Drive) and in Pilsen at San Jose Obrero Mission (1856 W. Loomis St). We also have one-time volunteer opportunities throughout the year. For more information, go to chicago.backonmyfeet.org
BEST BUDDIES
Best Buddies' mission is to establish a global volunteer movement that creates opportunities for one-to-one friendships, integrated employment and leadership development for people with intellectual and developmental disabilities.
Volunteer opportunities: Short term: Best Buddies' Annual Friendship Walk is taking place at 9 am Saturday, May 6 at the Brookfield Zoo. The event is open to the public, and walkers and donors do not need to be Best Buddies members. While this is a free event, those who donate $50 will receive the official walk T-shirt. To register go to www.bestbuddiesfriendshipwalk.org/chicago.
Short term: Best Buddies Illinois is looking for interested runners in the 2017 Bank of America Chicago Marathon.
For more information, visit www.bestbuddies.org/illinois Office number 312-828-9313, Email- KaitlynRose@bestbuddies.org.
Care For Friends
Care for Friends provides easy access to community, food and overall wellness for Chicago's most vulnerable and under-served people, in an atmosphere of dignity and respect. 
Through its programs, Care for Friends successfully connects people with community resources.
Food for Friends: Care for Friends serves 9,000 sit-down, hot lunches each year to any guest in need three days per week. Our meals emphasize fresh produce and high protein content.
​​​We invite representatives from partner organizations to attend our meals on a rotating basis to start creating community connections with our guests. This familiarity makes it easier for our guests to overcome uncertainty and provides access to life and career skills training, quality job placement, addictions recovery, mental and physical health counselling
Toiletries For Friends: Guests receive personal hygiene kits for basic self-care and access to basic washroom facilities.
Healthcare For Friends: Guests receive foot care and evaluations twice per month by volunteers including nurses, podiatric and medical doctors. Clothes For Friends: At each of our meals, guests have access to a seasonal clothes closet, which can provide two articles per guest per week.
Contact: Gary Kenzer, Executive Director; 773 932 1010; gary@CareForFriends.org; www.CareForFriends.org
Volunteer opportunities: Prepare a meal for 100 with your business or friends: We are seeking volunteer teams to prepare and serve a Saturday or Thursday Food for Friends hot meal. Preparation begins at 9 am and we serve at noon. We are located at 530 W Fullerton Pkwy.
Volunteer Foot Clinic: Offered on the third Saturday and last Monday of every month. Homeless people are on their feet much of the time and resolving painful issues is important to them. The volunteer clinic is coordinated by a podiatrist and two nurses. Guests are encouraged to care for their own feet with the foot baths and tools we provide. They are assisted as the need arises or problems are identified. Volunteers keep clean basins filled with warm water, and empty and clean basins that have been used.
Neighborhood Relations: As a part of our Food Distribution Program, which serves hot meals three times a week, we also have volunteers walking the neighborhood. This is to create a positive presence in Lincoln Park and to assure our neighbors that during the times we serve (Mondays, Thursdays and Saturdays from 10am-1pm) the environment is friendly and safe. Represent our organization at neighborhood functions and speak about our services to the public.
Board of Directors: We are now seeking new board members who believe in our mission.
Center for Changing Lives
Center for Changing Lives (CCL) is a small agency making a big impact. We partner with those held back by lack of resources and economic opportunity to uncover possibilities, overcome barriers, and realize their potential. CCL offers financial, employment, and resource development coaching designed to support clients on their specific self-identified goals.
We are seeking volunteers for both short- and long-term  opportunities. Long-term, CCL volunteers support members with resumes, application labs, benevolent posts, and applications for benefits; manage CCL's front desk and provide excellent customer service; support participants in the Computer User Support Training Program as mentors; and facilitate employment orientation for Spanish-speaking members. CCL is also looking for volunteers to help in the preparation and execution of our annual Gala, on August 25.
All volunteers must interview with the Resource and Connection Coordinator and agree to CCL's volunteer policies and procedures. They will then shadow and/or be shadowed in their position.
Finally, CCL is taking those interested in signing up for Resource Up!--a network of participants, volunteers, donors and neighbors who can exchange skills, strengths, experiences, relationships and resources to open new opportunities for all.
CCL is located at 1955 N. St. Louis Ave., #101, 60647.
Those interested in volunteering can contact Kayla Villalobos at 773-342-6210, ext. 251 or at kayla@cclconnect.org.
Chicago HOPES for Kids
Chicago HOPES for Kids provides educational support for children living in Chicago's homeless shelters. It is our mission to provide our students with the resources and encouragement needed to succeed academically, despite the challenges of homelessness.
Chicago HOPES for Kids is a 501(c)(3) charitable organization.
Chicago Heightening Opportunity and Potential for Educational Success, DBA: Chicago HOPES for Kids
Website: www.chicagohopesforkids.org
Office address: 641 W. Lake St. Chicago, IL, 60661
Executive Director:  Patricia Rivera, LCSW, patricia@chicagohopesforkids.org
Program Manager: Kristin White, kristin@chicagohopesforkids.org
Volunteer Info: volunteer@chicagohopesforkids.org
Volunteer Opportunities: Long-term: Become an after-school mentor, two-hours per week at one of our partnering shelters. Visit chicagohopesforkids.org/volunteer for more information.
Short-term: Contact us for short-term opportunities.
In need-of: Marketing/Website Consultation, Community Partners, Graphic Design.
Chicago Lights
Chicago Lights provides hope and opportunity to our city's children, youth, and adults facing the challenges of poverty. Through supportive relationships and diverse programs, we empower people to thrive academically, secure economic stability, lead healthy lives, and build community. For children and youth, we offer academic and arts enrichment through Tutoring, Summer Day, the Dance Academy, and the Urban Farm. For adults, we meet basic human needs and support stability and self-sufficiency through the Elam Davies Social Service Center.
Volunteer opportunities: Short-term or one-day: Urban Farm: Groups and individuals help with weeding, shoveling, painting, harvesting, and more on Saturdays, 12 - 3 pm, 444 W. Chicago Ave.
Long-term or routine: Tutoring: Be a one-to-one tutor/mentor for students in grades 1–12, once a week, September–May.
Summer Day: Be a classroom, meal-time, or field-trip assistant for students in grades 1–9 for six weeks in June/July.
Social Service Center: Work with our Street Outreach team to connect with our neighbors on the streets, or be a Food Pantry or Clothing Share Shop Aide.
Training requirements for volunteering
Attend a new-volunteer orientation. If volunteering with children, pass a background check.
"When I moved to the city after college, I was looking for an organization that would allow me to continue my philanthropic passions—specifically tutoring/mentoring youth—and I was elated when I found Chicago Lights." Danielle Fragen, tutoring volunteer and president of the Chicago Lights associates board.
"I absolutely love Chicago Lights because it is making the world a better place." Janice Lewis, volunteer with tutoring, Summer Day, and the Social Service Center
www.chicagolights.org; 312.787.4570; chicagolights@fourthchurch.org
Chicago Shares
Mission: Chicago Shares, a 501(c)(3) not-for-profit organization, provides a safe, simple and convenient way for generous Chicagoans to help feed hungry people who ask for money in order to get something to eat.
Chicago Shares is a food voucher program that enables citizens to buy and then give out vouchers (called "Shares") instead of cash to needy people. These needy folks redeem the Shares at merchants (for example, select Jewel Food Stores) for anything except alcohol or tobacco. The participating merchants are reimbursed 100% for the Shares collected.
Contact: Ron Polaniecki - coordinator@chicagoshares.org; 312-573-4494;
Volunteer Opportunities: Savvy social media communicators and networkers. We need generous people who will buy Chicago Shares, hand them out (instead of fumbling for dollar bills) to needy people on the street, and then occasionally post about their experiences on social media. We need photos, video clips, tweets, and short social media messages to encourage others to try using Chicago Shares as a way to respond to the question, "Can you spare a dollar so I can get some food?"
Chicago Shares has been around since 1993. The purchase of Shares is considered a charitable tax deduction when the vouchers are given to the homeless.
Training Requirements – Training and materials provided. Position is non-paid. Out-of-pocket expenses beyond the potentially tax-deductible purchase of Shares (in $5 booklets) are not anticipated.
City Year
Fueled by national service, City Year Chicago recruits, inspires and mobilizes emerging leaders as full-time tutors and mentors who empower at-risk Chicago Public School students to reach their highest potential. Each year, we hire 230 young adults (18-25 years old) as AmeriCorps Members and train them over the summer in preparation for the coming school year. While this is one full year of service work, our young adults are paid a living stipend throughout their year and receive other benefits as well. All young adults interested in national service, in mentorship, and in building the necessary transferable skills to be successful in their professional careers are encouraged to apply at www.cityyear.org! 
For more information about City Year or the application process, contact Eric Barbour, Recruitment Manager at (312) 423.7162 or ebarbour@cityyear.org.
"My experience with City Year helped me better understand the systematic inequalities in our society and I am able to bring that knowledge into classroom discussions and research. City Year also helped me develop professional skills such as fundraising, teamwork and networking, which are all beneficial to me as a [college] student." Mohamed Adan, City Year AmeriCorps Member '13, Stanford University grad '17
Community Shares
Community Shares is a network of nonprofit organizations created to connect, fund, and raise awareness for community groups that focus on long-term solutions to social problems. Our member organizations provide education, promote health care, protect women and children, shelter animals, advance home ownership, advocate for individual rights, and work to end discrimination and violence. We have a wide variety of volunteer opportunities on our website at www.CommunitySharesIllinois.org/get-involved
Connections for the Homeless
Volunteers play a critical role in Connections' day-to-day operations. From helping at our reception desk on a weekly basis to staffing our Drop-In program, we are sure to have an area of need to match your experience and interest.
We want your volunteer experience to be as rewarding as possible, so to get started, please complete our online volunteer application at www.connect2home.org/weekly--long-term.html. You will be required to attend a one-hour orientation, held at 9 am on the 2nd Saturday of every month. To RSVP, call (847)475-7070 x111.
 Consider joining us at Hilda's Place shelter to help sort and organize donations in our clothing room and food pantry, as well as help with light cleaning work. Other special projects as needed will also be assigned.
We host Service Days every Wednesday afternoon from 2-4pm, and also the 2nd Saturday of each month from 10am-12:30pm.
Participating in Service Days does not require you to attend an orientation in advance. Service Days are at Hilda's Place Shelter (1458 Chicago Ave., Evanston).
Cornerstone Community Outreach
Addressing Homelessness, Providing Shelter, Accepting People, Finding Home.
"I've done various kinds of volunteer work with CCO. My family and I have given out Christmas presents to families here for years. As a Boy Scout, I've served food at the Veteran's Recognition Dinner. For my Eagle Scout Project, I chose to raise funds and buy toys for the children sheltered at CCO because I feel that every kid deserves to have something to enjoy, even when living isn't easy." - Devin Escue, CCO Volunteer
CCO provides safe shelter to families and single adults who are experiencing homelessness. Each day we offer shelter, nutritious meals, and intensive supportive services to nearly 350 people. Vital services include on-site tutoring, a weekly food pantry, a free clothing store, and more.
CCO offers many volunteer opportunities ranging from food prep, meal service, food pantry, free thrift store, and donation sorting. We are more than happy to discuss accommodating larger groups, youth groups, corporate groups, and those who would like to create a fun event for our shelter guests or purchase and prep food for a special meal. Volunteers serve for a few hours to several days or weeks.
If you are interested in getting involved at CCO visit www.ccolife.org/volunteer to fill out a volunteer application. Our Volunteer Coordinator can be reached at volunteer@ccolife.org.
The mission of Cornerstone Community Outreach (CCO) is addressing homelessness, providing shelter, accepting people, finding home.
Deborah's Place
Deborah's Place opens doors of opportunity for women who are homeless in Chicago. Supportive housing and services offer women their key to healing, achieving their goals and moving on from the experience of homelessness. Deborah's Place was started by volunteers and our volunteers continue to be an integral part of our organization. There are a wide range of volunteer opportunities throughout our programs, and we work together to find the right placement for volunteers' interests.
Meal service offers ongoing opportunities to meet residents and cultivate relationships. Volunteers prepare, serve, and clean up after meals.
Join us in our Learning Centers to share your skills on a weekly or monthly basis. Activities include: arts and crafts, financial literacy, creative writing, and more.
Landscaping and/or cleaning: Groups of up to 25 people are welcome at any of our three locations to beautify our spaces.
You bring the prizes, we'll bring the Bingo cards! Groups of 5-20 people can assist with Bingo, depending on the location. You can also bring a meal and serve lunch or dinner along with Bingo, should you choose.
Our 2822 W. Jackson location needs occasional support with office tasks, such as: filing, in-kind donation sorting and organizing.
Before volunteering, you must attend a one-hour orientation to learn more about Deborah's Place's values and our approach to ending homelessness. Volunteers must be at least 18 years old. For more information go to www.deborahsplace.org or contact Tenille Johnson, events and volunteer coordinator at (773) 638-6538.
East Village Youth Project
The mission of East Village Youth Program (EVYP) is to provide high quality after-school and summer program opportunities for over 1,000 low- to moderate-income Chicago youth to become prepared for college through various unique and diverse programs. EVYP is always looking for group volunteers to host resume writing and mock interview workshops, provide mentorship and internship opportunities, tutoring in various subjects for grades 5 -12, invite our youth to your office for a behind-the-scenes tour, guest speak during a program to share professional insights and guidance, volunteer within our development and fundraising department, conduct social media and communications and support the successful delivery of our diverse programs and events. EVYP volunteer program are flexible and can involve longer- or shorter-term commitments. We look forward to growing our group of passionate and enthusiastic volunteers!
If you're interested in helping EVYP youth find their futures, contact Jenn Romero, program coordinator, at (312) 275-0440 ext. 3 or jromero@evyp.org
First Slice Pie Café
First Slice Pie Café (www.firstslice.org) is an innovative restaurant endeavor that feeds those in need while also feeding you!  We serve up award-winning pies, a full menu of savory items, and use the profits from our food business to support our Outreach Program, which currently provides over 600 meals a week to those in our community who struggle with hunger & homelessness.
Because we use our profits for good, we run an intentionally lean organization and ALWAYS have jobs for volunteers!  If you're interested in a weekly or bi-weekly commitment, consider helping out in our pastry kitchen, prepping meals for our Outreach Program, or assisting with our weekly Andersonville Farmers' Market stand.  Seasonal opportunities include assisting with fund-raisers, off-site events, or serving Outreach meals.  We also love volunteers with special skills in marketing & graphic design, tech support, or job mentoring.  Visit the "Volunteer" tab on our website to fill out an online volunteer application & we'll be in touch!  You can also reach us via email at info@firstslice.org.
Gilda's Club Chicago
Gilda's Club Chicago (GCC) supports anyone living with cancer along with their families and friends, as well as those who have lost someone to cancer. The innovative program, including more than 350 free activities each month, is an essential complement to medical care and offers support groups, educational lectures, healthy lifestyle workshops, resource referrals and social opportunities. The mission is to ensure that all people impacted by cancer are empowered by knowledge, strengthened by action and sustained by community. Volunteers are critical to fulfilling our mission; they provided 8,000+ service hours in 2016.
Volunteer opportunities include: Clubhouse Volunteers: Front Desk and Special Projects – Greet members, answer phones and the door, help to complete mailings, gather craft supplies, etc.; Social Events for Adults and Kids – Set up, decorate, prepare food, lead activities during adult and kids parties and kids camps.; Supervised Play – Watch over members' children while the parents or family members attend Clubhouse activities.; Lectures/Workshops – Help staff set up, manage participant sign-in and evaluation process, and assist speakers as needed.
Outreach Volunteers: Community Events – Staff an information table or booth for Gilda's Club Chicago at races, health fairs, festivals, and other community events; Hospital Program: Assist with programs and outreach at hospital locations throughout the Chicagoland area. 
Apply now at bit.ly/GCCvolunteer, or for more information contact Volunteer Coordinator, Samantha Rowland at (312)464-9900 or SamanthaRowland@gildasclubchicago.org.
Girls in the Game
Girls in the Game offers sports, health and leadership programming to girls across Chicago. We serve over 3,500 girls each year.  We are looking for volunteer coaches for our After School Program, which is in 35 schools, Monday-Friday.  We ask volunteers to commit to working for at least 10 consecutive weeks throughout the year.  We are also looking for volunteer coaches for our Summer Camp program.  If you are interested, contact Office Manager Kaylise Algrim at kalgrim@girlsinthegame.org or check out our website at https://www.girlsinthegame.org/work-here-play-here/.
Green Star Movement
Volunteer@greenstarmovement.org; www.greenstarmovement.org
Mission: Green Star Movement inspires students and community members through the creation of public art.
Volunteer Opportunities:  We have short- and long-term volunteer opportunities for both individuals and groups to work on site with our participants to create permanent bricolage murals at schools and other public spaces.
Training requirements: none
"We loved volunteering with GSM! It's a great program and we wish we could volunteer on this project more often. Using our hands and creating art was a great way to spend a Friday afternoon!" – Sarah F.
"We had an amazing time and our volunteers loved it and want to do it again! The on site leaders were great and really knew their stuff!" Maggie, Target Wilson Yard, Green Star Movement volunteer at Park School
Hanul Family Alliance
Hanul aims to provide comprehensive community-based services to meet the needs of Korean-American seniors and families to enhance their quality of life.
Volunteer opportunities: Short-term or one-day: 17th Annual Korean Senior's Day Celebration June 3: We will celebrate Korean Senior's Day with over 700 seniors and family members. We are looking for volunteers to help out. Please contact kmua@hanulusa.org for more information. 5th Annual Youth Science Camp July 26-28: We are looking for upper class high school students or college students to volunteer and assist our instructors. Please contact Hyoshin Kim at hskim@hanulusa.org Long-term or routine: Adult Literacy Tutor We are always looking for individuals who would like to help tutor our clients learning English and studying for the US citizenship test. Please contact lpark@hanulusa.org for more information. Kitchen Assistance: We provide a lunch program for our seniors daily from 11:30 am - 12:30 pm at our Chicago and Mt. Prospect locations. We are always looking for volunteers to help with serving our clients and helping our kitchen staff clean up. Computer Literacy Instructor: We offer classes to our clients interested in learning basic computer skills to keep them up to date with modern technology.
We are always open for volunteers who can provide cooking, computer training, job coaching, literacy, tutoring. We also offer light fitness and craft classes like knitting. If there are individuals who would be interested in teaching elderly clients these skills, we are open to that as well.
Contact volunteer@hanulusa.org for more information.
H.O.M.E.
Committed to improving the quality of life for Chicago's low-income elderly, Housing Opportunities and Maintenance for the Elderly (H.O.M.E.) helps seniors remain independent and part of their community by offering opportunities for intergenerational living and by providing a variety of citywide support services.
Both individual and group volunteers are highly appreciated and have a positive and meaningful impact on the life of many seniors. Whether you engage in seasonal services like weatherization, painting, spring cleaning, landscaping or one-time opportunities such as organizing a party or an outing for the elderly, cooking on weekends or cleaning their homes - we are thankful for every help we can get. If you are interested and like to know more about us, please contact our volunteer coordinator, Mike Laz, at 773-295-2709 or MikeL@homeseniors.org.
Illinois Hunger Coalition
Want To Help Make Sure More Hungry Kids Get Meals This Summer?
The IL Hunger Coalition (IHC) seeks volunteers from May to August to help promote summer meals for kids through our Hunger Hotline and community outreach.  During the summer IHC's Hotline is busy providing information about Summer Meal locations.   Volunteers are always welcome for single events, or on an ongoing basis.  No prior training is needed.
IHC is a statewide, non-profit organization based in Chicago that works to end hunger and poverty by addressing the underlying causes.  In addition to advocating and organizing for policies and programs designed to eliminate hunger, IHC provides information and assistance to IL residents to help them get healthy food.
Please contact Amanda at akrittihc@yahoo.com or 312-629-9580 for more information.
Indo-American Center
The Indo-American Center (IAC) addresses the needs of South Asian immigrants as well as people from more than 20 nations. IAC provides services that facilitate their adjustment, integration, and friendship with the wider society, nurture their sense of community, and foster appreciation for the diversity of culture and heritage.
Volunteer Opportunities: Literacy Program tutors have the opportunity to teach or tutor adult English language learners as they develop reading, writing, speaking, and listening skills. Volunteers can either teach or tutor. Literacy training is provided, including 12 hours of ELL training through Literacy Works and ongoing observation of staff instructors and seasoned volunteers. Contact Laura at lsmith@indoamerican.org or ext. 105.
Youth Development Program is always seeking volunteers for the After School program and the Summer camp. Contact Kush at kpatel@indoamerican.org or ext. 112.
Citizenship Program helps clients prepare for their citizenship interviews. Volunteers work with the students 1:1, provided with interview questions for the Civics department.
Contact Loknath at lagarwal@indoamerican.org or ext. 124.
Workforce Development Program seeks volunteers for resume critiquing and mock interviews. Volunteers meet with scheduled clients on a 1:1 basis, help clients write and format resumes, and prepare for job interviews. Some professional experience is helpful. Contact Tanvi at tshah@indoamerican.org or ext. 106.
"The students are the reason I volunteer at the Indo-American Center.  They are so enthusiastic and motivated to learn English that it is a pleasure to teach them."
--Mary Ellen Channon, ESL professional, teaching English at IAC since July 2013
Inspiration Corporation
Dakota De Corah, volunteer coordinator: 773-878-0981 X 218
Mission statement: In an atmosphere of dignity and respect, Inspiration Corporation helps people who are affected by homelessness and poverty to improve their lives and increase self-sufficiency through the provision of social services, employment training and placement, and housing.
Inspiration Corporation was started in 1989 as a volunteer-run organization. That tradition continues today, with more than 1,500 people volunteering on their own or with groups every year. Volunteers help to cook and serve meals at Inspiration Cafe in Uptown, tutor job seekers, and much more.
All individuals who wish to volunteer must attend an orientation held on one Wednesday and one Saturday each month. For more information, visit or to submit a volunteer application visit http://www.inspirationcorp.org/.
"The best part of volunteering is the people I meet and work with.  The biggest challenge is my quest for the perfect omelet." – Mark Carlson
LaCasa Norte
La Casa Norte's (LCN) mission is to serve youth and families confronting homelessness.  We provide access to stable housing and deliver comprehensive services that act as a catalyst to transform lives and communities.
Our housing programs and supportive services include permanent, transitional, and emergency housing options, along with case management, education and employment support, food, clothing, all aimed to support our youth and families regain housing stability and move toward renewed and increased economic self-sufficiency.
Volunteer opportunities: Short-term or one-day
Saturday, September 16 – Greater Chicago Food Depository's annual Hunger Walk: Join and walk with Team La Casa Norte to help end hunger in Chicago.
November/December – La Casa Norte collects toys and winter coats to support youth and families confronting homelessness.
December  – Annual Volunteer Wrapping Party: Volunteers will "shop" and wrap gifts for youth and children in our programs.
Long-term or routine
Feed Our Youth Meal Program: Prepare meals for youth, ages 16-24, in LCN's various youth programs.
We have various opportunities available, both within our direct service programs and administrative departments. Please visit our website to learn more ways to get involved!
Training requirements for volunteering
All interested volunteers must attend an orientation, and go through an interview, prior to beginning volunteer service. Additional training will be specific to opportunity.
La Casa Norte, 3533 W. North Ave., O: 773-276-4900, F: 773-342-4253, info@lacasanorte.org, www.lacasanorte.org
Lakeview Pantry
One of Chicago's largest and longest-operating food pantries, Lakeview Pantry's mission is to eliminate hunger and poverty in our community by providing food, self-help initiatives and innovative programs and community outreach to raise awareness and provide solutions.
Our vision is to be a stable presence in the communities we serve, and to be a model of compassionate, effective, and collaborative service delivery by building upon our Food Distribution excellence, achieving Client Services excellence, and building capacity and strengthening our ability to carry out our mission.
Locations: 3945 N Sheridan Rd., Chicago, IL 60613; Oakdale, 1414 W. Oakdale Ave., Chicago, IL 60657 (773) 525 1777
Lakeview Pantry is looking to train volunteers to drive our vans to pick up daily donations from Trader Joe's, Whole Foods and more! Shifts are available Monday through Friday in approximately two-hour increments between 9:30am and 1pm. It's a great workout! You'll be a friendly face to our generous donors and an important part of our Pantry team.
Interested volunteers are required to attend a walk-in orientation. Orientation dates and times are available on our website at lakeviewpantry.org under the News and Events tab, and there is no need to register.
Requirements: Valid driver's license, ability to lift up to 50 pounds, personable with the ability and confidence to drive a cargo van. Open daytime weekday availability on a regular basis.
National Runaway Hotline
Crisis Liners are volunteers who are responsible for providing crisis intervention through 1-800-RUNAWAY hotline and 1800RUNAWAY.org online digital services. Liners are trained to effectively provide support and services for callers in a non-judgmental and empowering manner. The training program consists of 40 hours of instruction, discussion, role-plays, and on-the-job training in the crisis center. All training activities support the liners in learning successful active listening and crisis intervention skills. After completion of training, volunteers are asked to commit two to four hours/week for at least one year. Liners must be at least 16 years of age.
Please contact Becca Bowlin at volunteer@1800runaway.org or 773-289-1726 to get started.
3141 B N. Lincoln, Chicago, IL 60657, 1-800-RUNAWAY
Executive Director: Maureen Blaha, Mblaha@1800RUNAWAY.org, 773-289-1720
Mission statement: To keep runaway, homeless and at-risk youth safe and off the streets.
The Night Ministry
Providing housing, health care, and human connection to members of the Chicago community who are struggling with poverty or homelessness. Health Outreach Bus & Street Medicine Team provide food, medical care, hygiene supplies, case management, and a sense of community in six Chicago neighborhoods and in homeless encampments throughout the city. The Crib, open 365 days a year, emergency overnight shelter for youth ages 18-24. Response-Ability Pregnant and Parenting Program, housing program for pregnant/parenting young women 14-19 and their children. Interim Program, up to 120 days of housing for youth 14-20. STEPS, two-year youth housing program for youth 18-21 who have graduated from one of The Night Ministry's other programs. Youth Outreach, identifies youth living on the streets and helps them meet their basic needs through resource and referrals.
Volunteer Opportunities:
Health Outreach Bus: small groups are needed to provide and serve meals alongside the Bus, Sunday through Thursday evenings & Saturday afternoons. Individuals are needed to provide hospitality and help build relationships with adults experiencing homelessness.
The Crib: small groups are needed to provide and serve breakfast & dinner Friday, Saturday and Sunday. Individuals needed to provide hospitality in the evenings and early mornings.
Open-Door Shelter West Town: individual volunteers needed to help build supportive relationships with clients and assist with the program.
Service Saturdays: small groups/individuals help sort donations and pack personal care kits at The Night Ministry's administrative office.
No training necessary for meal groups/Service Saturdays. Volunteer orientation required for direct service individual volunteers. Contact volunteering@thenightministry.org for more information.
Project CARE
Project CARE (Community Adult Reading Experience) is Morton College's adult volunteer tutoring program. Trained volunteer tutors teach adult students seeking assistance with English and Math. Project CARE was founded in 1986. We serve Berwyn, Cicero, Stickney, Lyons, Forest View, and McCook.
Our Mission: To enhance the quality of life of our diverse community through exemplary teaching and learning opportunities, community service, and life-long learning.
Our Goals: To provide individualized tutoring instruction to students transitioning into Post-Secondary and Career and Technical Education programs;
To create a path for professional development and community involvement for Morton College students and community members, including seniors.
Volunteer Tutor Position
Provide individual and small-group tutoring in English and Math to adult students and prepare creative lesson plans. Help students improve academically by meeting with them on a regular basis. Help students solve their learning problems and work on study skills.
Qualifications
Be at least 18 years old
Have a high school diploma or GED
Be able to volunteer 3 hours a week for 3 months
Be willing to complete 15 hours of initial training
Be sensitive to the needs of the local community
Contact information:
Irina Cline
Academic Support Specialist
Morton College    
3801 S. Central Ave, Cicero, IL
Room 245C     
708-656-8000 ext. 2383
project.care@morton.edu                     
A Safe Haven
A Safe Haven Foundation is a 501(c)(3) not for profit, social enterprise that helps people aspire, transform and sustain their lives as they transition from homelessness to self-sufficiency with pride and purpose. A Safe Haven provides the tools for each individual to overcome the root causes of homelessness through a holistic and scalable model. A Safe Haven's visible social and economic impact unites families, stabilizes neighborhoods, and creates vibrant, viable communities. Corporate and organization opportunities are available: Food pantry, Tutoring & Mentoring, Special projects, Events, Holidays, Office and Administrative Work, Childcare.
Have a special interest? Plan your own volunteer day or donation drive!
We ask that all new volunteers attend a volunteer orientation before getting started. If you are interested or have questions, please email Volunteer@ASafeHaven.org. Like us on Facebook (asafehavenfoundation), Follow us on Twitter (@A_Safe_Haven), and Follow us on Instagram (A_Safe_Haven_Foundation).
Sarah's Circle
Sarah's Circle is a refuge for women who are homeless or in need of a safe space. By providing life necessities, housing, case management, clinical and social services, we encourage women to empower themselves by rebuilding both emotionally and physically; realizing their unique potential.
Volunteer Opportunities: Short-term or one-day: Provide a Meal: Provide a pre-cooked or ready-to-serve meal to the women in the Interim Housing Program. Volunteers can provide breakfast, lunch or dinner. With some exceptions meals are served from 8-9 am, 12 -1 pm and 5:30-6 pm Monday through Sunday. Volunteers may arrive 30 minutes prior  to set up. Meals provided should be enough for 50 people. Host a Celebration: Host a party or celebration by providing the cake, entertainment and fun. Volunteers are also encouraged to provide optional party favors/small gifts. We provide the guests and space. Holiday and themed parties are welcomed. Volunteers will provide light refreshments, entertainment and/or games and fun!
Long-term or routine- Front Desk Assistant: Assist program staff in meeting the most immediate needs of clients!  Greet everyone who enters our facilities. Assist clients by answering questions, distributing toiletries, organizing mail, taking messages and assisting with laundry. Donations Coordinator: Organize our in-kind donations! Help organize Sarah's Circle in-kind donations: this would include taking stock of what we currently have, organizing the storage room, writing thank-you notes to donors, and  keeping track of new donations.
If interested in volunteering at Sarah's Circle, please contact the Development Assistant at mnecastro@sarahs-circle.org or 773-751-7454.
Tikkun Olam Volunteer (TOV) Network
Jewish United Fund's Tikkun Olam Volunteer (TOV) Network is the Jewish United Fund's connection point for people who want to donate their time to help others in need. In accordance with tikkun olam, the Jewish concept of repairing the world, TOV connects members of the Jewish community with rewarding volunteer opportunities that best meet their interests and needs. JUF impacts every aspect of local and global Jewish life, providing human services for Jews and others in need, creating Jewish experiences and strengthening Jewish community connections. TOV@juf.org, 312-357-4894, Facebook: TOV Volunteer Network (JUF)
Volunteer Opportunites:
Short-term: JUF Uptown Café: TOV's most popular program – volunteers serve a kosher, restaurant-style meal to those in need living in the Uptown neighborhood; Mitzvah Manias: monthly calendars of one-time volunteer opportunities throughout Chicago and the surrounding suburbs; Good Deeds Day: an international day of service with volunteer opportunities across Chicagoland.
Ongoing: TOV Reads: in partnership with Working in the Schools (WITS), volunteers read one-on-one with a Chicago Public Schools student on a weekly or bi-weekly basis; JUF Community Legal Services: a legal clinic staffed entirely by volunteer employees who donate their time to provide pro bono legal assistance in civil matters.