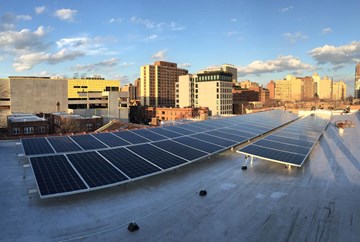 By: Suzanne Hanney
June 20, 2016
Melting ice sheets in Antarctica that could threaten U.S. coastal cities like New York convinced Wellington Avenue United Church of Christ (WAUCC) that the Paris Agreement on Climate Change isn't happening fast enough.
The WAUCC congregation went beyond the Agreement's focus on switching from fossil fuels when it mounted photovoltaic panels on the roof of its building at 630 W. Wellington Ave. to produce its electricity. Since the March 11 installation of the solar panels, WAUCC has become "carbon neutral:" it has removed as much carbon dioxide from the atmosphere as it put into it. Over 10,930 pounds of carbon dioxide emissions have been saved, equivalent to 280.75 trees.
The panels cost $65,477 but they will pay for themselves in seven years, said Pamela J. Richart, a WAUCC member who helped guide the process and a co-founder of the Eco-Justice Collaborative. (Half the cost was paid by a grant from the Illinois Community Foundation.) Richart said she was also careful that the solar panels were responsibly made in terms of fairness to workers, supply chain, reduced chemical use and more.
In the future, the panels will generate about 25 percent of the building's energy needs – even though it also houses TimeLine Theatre, which uses both stage lights and air conditioning. When the theatre is dark, solar production could exceed the building's needs and the energy would go to the local power grid.
"It's a smart investment, but it's also meant to help show the way to a healthier planet," Richart said.
"Here Comes the Sun! A Celebration of the Move to Solar Energy," is a June 18 event at WAUCC designed to motivate other individuals and congregations. The event will start at 11:30 a.m. with a family eco-festival featuring music, refreshments, solar production info from Ailey Solar and Faith-in-Place, and an art project. From 1-3 p.m. a panel will discuss the urgency and the how-tos, from grants to installation. Keynote speaker will be David Ulrich, executive director of the Great Lakes and St. Lawrence Cities Initiative. Panelists will include Richart, project coordinator Kathy Engert and Dorian Breuer of Ailey Solar.
During its 2010 centennial, WAUCC decided that creating a post-carbon, just, and sustainable community would be a core value of its next hundred years. A capital campaign raised the funds for the solar panels on its historic Arts and Crafts building. In terms of social justice, it was the first UCC congregation to ordain an openly gay man in 1976 and in 1984 the first UCC unit in Illinois to offer sanctuary to Central American refugees. It has fought against the death penalty and it welcomes immigrants.