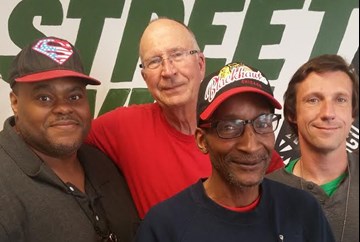 By: Staff
February 21, 2017
John: As far as blowing up a team and all that, it sounds good, but you have to have someone that can actually evaluate talent. The jury is still out on Rick Hahn and Kenny Williams. But, as far as Theo Epstein is concerned. I don't think anybody can do what he did. That's why I was more impressed by how he was able to transform the Cubs than when he was the general manager of the Red Sox. Don't forget, he was the guy that was the mastermind in reversing two so-called curses; the Curse of the Bambino in Boston and this past year the Billy Goat Curse of the Cubs.
Bill: Ghost Buster, right?
John: Who, if anybody would know, who else would be able to do something like that? Dallas Green couldn't do it. I don't think anybody else who was a general manager of Chicago could do it. The only person who might come close, if anybody, would have been Jerry Krause.
Bill: I was going to say the same.
John: Because he was able to plug in players that Michael Jordan had not liked at the time, who has proven to not be as good of an owner as he was a basketball player. But anyway, Krause was as valuable in building the Bulls as Theo Epstein was in building the Cubs by getting the right kind of players that fit into the system. I think that may be the problem with John Paxson and Gar Forman. Those two have not been able to do what Jerry Krause did. So if you want to blow up a team, you have to have people in place that can evaluate talent.
Vince: The Bears haven't done it since Jerry Vanisi way back in the 80's.
Bill: Krause was a good baseball scout too.
Russell: You guys do have a point, but you've got to spend money if you want to win championships. And you have to make good decisions. For example, Dwayne Wade is 35 years old – how many years does he have left in the tank? They traded Derrick Rose and Joakim Noah. Jimmy Butler is still here, who some people see as a troublemaker. And there are rumors that they may even trade Butler to the Celtics because they have a bunch of draft picks. The team should have done that the first time – I would have kept Derrick and traded Butler. We could have gotten a lot for Butler. He showed me something about his character last week in that game against Miami when he only put up three points. He wasn't even trying to play and the coach benched him for a game.
Bill: Yeah, it was a mess.
Russell: That game might come back and hurt the Bulls.
Bill: It might hurt but it might help too.
Russell: They could end up one game out of the playoffs. Think about it.
Bill: That was a really sad game.
Russell: I want to say one more thing. Shout out to my girl Serena – number 23!
Bill: Unbelievable.
Russell: My favorite number, 23!
Vince: She finally did it. Congratulations to Serena Williams.
Bill: And her sister!
Russell: Michael Jordan gave her some new pairs of Jordans – two pairs. The new ones. A pair of pink ones, and I can't remember the other color. That's a pretty classy guy.