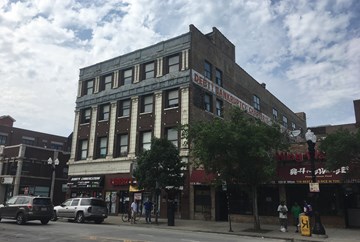 By: Suzanne Hanney
August 7, 2017
The news July 19 that the Wilson Men's Hotel in Uptown had been sold was distressing to StreetWise Vendor Bill Plowman, who has lived there since November 2013 and who said that he really doesn't have anywhere else to go.
Plowman is legally blind, with correctable vision of 20/200, and he came to Chicago from western Illinois because of better opportunities to accommodate his disability. He has been a StreetWise vendor off and on for 21 years, intermittent with telemarketing  and research jobs.
"If I go back downstate my future is over," he said. "If you want groceries you have to go to the next town five miles down the road."
Plowman's monthly disability allotment of $755 has been reduced to $600 as the State of Illinois has deducted for Medicare. Right now, the Wilson Men's Hotel rent of $85 a week is all he can afford. His StreetWise money helps with food and laundry.
Plowman said his cubicle at the hotel is roughly 36 square feet. "I'm about 5 feet 6 inches tall. If I stretch out lying down I can touch one wall with my hands and the other with my feet." He has less room sideways. There's room for a bed and a few storage tubs but not a table or chair.
Tenants petitioned to stay in the building but Plowman heard about those meetings after they were over.
However, Andy Ahitow, a founder and principal of City Pads, released a statement to UptownUpdate.com that promised to collaborate with ONE Northside and tenant associations to create a "desirable, effective and safe relocation plan for current residents…[who would] have first priority to live in the remodeled building. We look forward to working with our neighbors and residents every step of the way, as nobody knows the Uptown community better than they do." At least 20 percent of the new units would be affordable, he said.
On July 3, even before the $3 million sale was announced, City Pads had advertised a yearlong case manager position on Facebook.
The relocation process will start in the next 30 days and will take up to 12 months to complete, City Pads' Danielle Nash responded in an email to questions StreetWise sent Ahitow. Once the building is vacant, construction will take about another 12 months.
The building now has 256 cubicles; after renovation, it will have up to 82 studios with bathrooms and kitchens, Nash said. The average size of the new units will be 300 square feet. Rents will range from $800 to $1200.
Ald. James Cappleman (46th ward) had been working with former Wilson Men's Hotel owner Jay Bomberg, with tenants and with ONE Northside to find an affordable housing buyer over the last several years, according to Caitlin McElroy, 46th ward director of community affairs.
Cappleman had sought up to 100 percent affordability until the very end, McElroy said. The alderman's office had contacted Heartland Housing, Peter Holsten and Mercy Housing about the property and had set up meetings with the mayor's office and with the Chicago Department of Planning and Development.
"But for whatever reason, they were not able to make it work financially," she said. "We're going to continue. We're in constant communication with ONE Northside and we're working with them to make sure this building has as many units as possible."