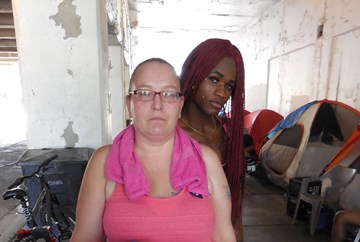 By: Suzanne Hanney
August 8, 2016
Only 18 of the 75 people in Uptown's tent cities had been housed by July 28, with another 11 people "inactive:" they had moved out of Chicago or not been in touch with outreach workers, so the focus is now on 46 people.

The City's Chronic Homeless Pilot Project began in April with the goal of finding housing by the end of July for all the people camping under Lake Shore Drive viaducts at Irving Park Road, Wilson, Lawrence and Foster Avenues. On July 13, Mayor Rahm Emanuel sent a letter to landlords saying, "In order to help our fellow Chicagoans get back on their feet, we need our landlords to rent units to them." People with vacant units were asked to visit https://www.surveymonkey.com/r/nomorehomeless. They could also call the Center for Housing and Health at 312.334.0957 or contact Svetlana Zhexembeyeva (SZhexembeyeva@housingforhealth.org) or Ellen Ryan (eryan@housingforhealth.org).

"It's gone much slower than we had hoped for," Lisa Morrison Butler, City of Chicago Commissioner of the Department of Family and Support Services (DFSS), told WBEZ Radio July 22. "There isn't a single person who isn't frustrated about that."

Morrison Butler told WBEZ that up to 20 of the tent city residents had not followed up with outreach workers. Many were distrustful of the system and several lacked identification, which has also slowed their placement.

"There's an understandable level of healthy skepticism but I think the City is sincere about wanting to get this done," Chicago Coalition for the Homeless (CCH) Executive Director Doug Schenkelberg told StreetWise later in a telephone interview.

Schenkelberg said CCH staff had been trying to talk with people living under the viaducts, who had been confused as to who their case managers where or where they might be in the process.
The Uptown initiative has not brought new money to the table, Schenkelberg said. Instead, the money has been shuffled from within the DFSS supportive services budget, with the Chicago Low Income Housing Trust Fund paying for the dedicated units.

"We've said all along everyone on the Central Referral System list is in need of housing and we don't have enough housing stock out there with supportive services," Schenkelberg said. "What this pilot program does not do is create a bigger pooI of housing. It does create opportunities for people who are living in this particular area to be assessed to access housing. We think it's a good first step but there has to be systemic change so there are more units and more dollars for supportive services."

Geography also comes into play, DFSS officials said in a July 26 statement. "When placing clients in housing, client location preference is paramount, which may slow the process down, depending on the availability of units in the area."

Schenkelberg said tent city residents may prefer housing on the North Side, because they have been receiving services there. Another factor is family size: the need to accommodate singles or couples.

Most of those housed so far have been in "bridge" units. It can take two to four months until a permanent unit opens up, said Arturo V. Bendixen, executive director of the AIDS Foundation of Chicago's Center for Housing and Health, which helps to coordinate outreach. A bridge unit can get someone out of a tent, so that they have a roof over their heads and a kitchen.
Bendixen said 20 bridge units are filled. The City has prioritized money for another 20 units but availability is on the South and West Sides. On the North Side, the vacancy rate is only 3 percent, he said.

North Side rents are also a complicating factor. Individuals will pay up to 30 percent of their income and the Chicago Low Income Housing Trust subsidy will pay the remainder up to the fair market rent. There are North Side units at $700 or $800 per person, Bendixen said, but finding them takes time. That's why Mayor Emanuel sent the letter to North Side landlords large and small asking for their cooperation.

The Center for Housing and Health works with Heartland Health Outreach, Heartland Health Housing, Deborah's Place, Inner Voice, Heartland Human Care Services and North Side Housing. Using City money, it has hired three full-time case managers, one at Deborah's Place, one at Inner Voice and one at Heartland Health Housing, who will first help individuals find the housing they want and then help them pay their rent, keep appointments and stay healthy.

"We hear the reason it's taking so long is they just don't have enough landlords who are taking people," said Anthony Avery, 27, who lives under the Wilson viaduct. Avery filled out his paperwork with North Side Housing but when their office moved, he was given a person at Cornerstone Community Outreach in Uptown.

Avery lost his job in retail management in California in May 2015 and moved to Chicago when a friend suggested there might be a job here.

"It didn't pan out," he said, and so he lived on savings and then moved into Cornerstone from August to November, when he moved to the tent city. He has no family or support group in Chicago. He sometimes works mornings handing out flyers and spends afternoons charging his phone at Starbucks or in the Bezazian branch library reading. He showers at nearby Clarendon Park.
A Native American lady, 61, who declined to give her name, also filled out papers "but I have yet to hear about that. You know how the government is – slow as hell."

This lady, originally from Minnesota, spends her time doing needlepoint and crocheting baby sweater sets, skullcaps, cell phone cases and slippers, which a friend sells for her. Her two-color business cards are emblazoned with "Happy Hooker," but the printed phone number is incorrect. She recalled working on a christening outfit – gown, hat, booties and blanket – eight months ago when she was in the hospital. A doctor's wife admired it.

"You're looking at $500," she said, bluffing. "You got it now?"

"As a matter of fact, I do," the doctor's wife responded.

The lady has asthma and a heart condition. Last year she had bacterial pneumonia from being outside in the damp weather. She also underwent kidney stone surgery. She came to the Tent City about a year ago after she was staying in a women's shelter and threw up in the communal bathroom and around her cot.

She said she is supposed to watch her blood pressure but she eats whatever people donate to the tent city, or uses a gift card they supply.

"When food comes we share, when water comes we share and when the fighting comes we go in the house," said Louis Jones, 49.

Jones was released from jail on a drug offense in May and came to the Wilson viaduct with his girlfriend of 10 years, Paula Coleman, 46. He no longer abuses drugs or alcohol and would like to work again as a dishwasher, but he said he needs an apartment first.

"You cannot walk into a professional setting with just 50 percent ready: 'Oh, you fell asleep. Oh, you smell bad,' " he said.

In the meantime, Jones sells cigarettes at a major Uptown intersection. He planned to sell bottles of water at Lollapalooza.

Together Jones and Coleman made the City's second signup list. They have contacts at two different agencies although they plan to stay together. They are also in the process of getting a government telephone. In the meantime, Avery has the same social worker as Jones and is their go-between.

Jones admires the way Coleman keeps the tent and its environs clean but said, "A woman needs her kitchen and mirrors."

Within 90 days, cold weather will return and Jones hopes they will have left the tent city.

"I could do it myself but not my woman. Any real woman who's got a real man who loves her knows it's no place for a woman."