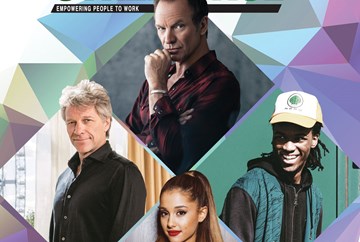 By: Jonathan Corvin-Blackburn
January 13, 2017
If you're reading this, congratulations! You survived 2016. Let's get the new year started off right with these great acts touring our great city. From american folk that warms your heart to progressive house that will get you sweating on the dance floor, our Winter concert guide has something for everyone.
January 6
Saba
Lincoln Hall
6:30 p.m.
$15
Chicago's own Saba is an up-and-coming rapper heading to Lincoln Hall this January. After being featured on a track with Chance the Rapper, he started gaining some notoriety. Growing up in the Austin neighborhood has had a clear impact on his music, both lyrically and through the deep house sounds he incorporated with his hip-hop for a unique vibe.
January 19 & 20
Ben Gibbard
Thalia Hall
8:30 p.m.
$36.50
Best known as the lead singer of Death Cab for Cutie and The Postal Service, this folk artist is headed to town to be still our hearts. Still a devoted member of both bands, his solo work was never meant to be an end but instead an aside to tell personal stories that did not quite fit with those other projects. This is evident in his very personal "Former Lives," which tells a range of stories through a multitude of genres.
January 20
The Lumineers
Allstate Arena
7 p.m.
$29+
Continuing the theme of folk music this winter, this band from Denver is the perfect cure to a cold January evening. After taking the radio waves by storm in 2012 with their hit single "Ho Hey," the Lumineers have become one of the most well-known names in the genre. They are touring now to promote their 2016 album "Cleopatra."
January 21
Basecamp
Schubas
10 p.m.
$12
This trio does not quite have the sound one would expect from Nashville, Tennessee. There is not a hint of country in their music. Instead this electronic R&B group is atmospheric and minimal. The lead singer's smooth, soulful melodies are backed by understated percussion and quiet synth, perfect for the intimate atmosphere at Schubas.
January 27
Borgeous
Concord Music Hall
8 p.m.
$25
Time to escape the cold and work up a sweat dancing to this progressive house DJ's beats. Combining intense synth and featured vocalists with catchy melodies, this producer has perfectly captured what is popular in the EDM scene today. When he drops the beat he will have you fist pumping on the dance floor.
January 28
Dashboard Confessional
House of Blues
7 p.m.
$27.50
Relive your angsty years with this emo band. A softer side of the punk rock movement, emo unplugged the guitars and brought emotional lyrics to familiar melodies. This band remains the biggest name in the genre, known for their poetic and dramatic lyrics, as well as emotional choruses that beg to be sung along to.
January 31
Phox
Lincoln Hall
8 p.m.
$20 ($23 at the door)
Proudly from Baraboo, Wisconsin (where they would not recommend you drink the tap water) Phox is and returning to Chicago to bring us their unique brand of indie pop. A genre-bending group, their vocals are a mix of jazz and country, backed by twanging banjos and string instruments. All of this is miraculously blended in a way to make it accessible to pop music lovers.
February 2
Kevin Garrett
Lincoln Hall
7:30 p.m.
$16
Move over Sam Smith, a new crooner is in town. Based in Brooklyn, this singer-songwriter has already caught the attention of big names like Katy Perry and Beyonce, who collaborated with Garrett on her recent single  "Pray You Catch Me." His music stands on its own though, with sweet, soulful ballads that keep things interesting with lo-fi electropop beats.
Talib Kweli
Metro
9 p.m.
$25
A well known name in hip-hop, Talib Kweli has helped define the genre. Originally hitting the scene as half of the duo Black Star, he has been standing on his own for many years. Kweli is still going strong with his recently released "Awful People Are Great at Parties." More than just an artist, he is also a staunch activist, participating in movements such as Occupy Wall Street and Black Lives Matter.
February 6
Sampha
Metro
8 p.m.
$20
You may have heard Sampha's soulful vocals without realizing it. Hailing from across the Pond, he has an impressive resume as a featured vocalist for well-known artists like Disclosure, Solange, Drake, Kanye West, Jessie Ware, SBTRKT, and Frank Ocean. Even with these greats, he has his own unique voice and style with his lo-fi electronic sound. See him at Metro just days after the release of his first full-length album "Process."
February 10
Whethan
Lincoln Hall
7 p.m.
$12 ($20 at the door)
Hailing from Chicago, this young electronic producer is swinging by home during his first U.S. tour. Still new to the scene, Whethan does not have a huge repertoire of recorded music, but his singles "Savage" and "Can't Hide" are excellent starts with catchy melodies, invigorating synth, and trap beats. Pair that with his invigorating remixes, and this is a show that is sure to have you dancing.
February 16
Tove Lo
House of Blues
8 p.m.
$29.50+
Promoting her sophomore album "Lady Wood," Tove Lo is headed back to Chicago. She originally took the radio waves by storm with her surprise, somewhat overplayed, hit single "Habits (Stay High)." She's more than just a one hit wonder, though. This "Queen of the Clouds" knows how to make music that bops with a bit of an edge. With influences like Courtney Love and Kurt Cobain, it's no wonder that she has her own unique grungy take on pop music today.
February 17
Run The Jewels
Aragon Ballroom
8 p.m.
$30.50
Back in 2013 after El-P and Killer Mike collaborated on their own solo projects and toured together, this hip-hop duo realized they made a good team. Their third album, unexpectedly named "Run The Jewels 3," is due out in early January. Passionate lyricists, these two know how to spit some rhymes. More than just a musician, Killer Mike is also a social justice activist, covering topics of police brutality and systemic racism in his music.
February 18
Austra
Thalia Hall
9:00 p.m.
$20
Hailing from Canada, this electronic group has a bit of an edge. Creating catchy tunes that are also a bit dark, they combine haunting melodies and pulsing synth to create their own unique sound. Their latest album "Future Politics" will be released on January 20, and this name isn't just for show. The group's founder Katie Stelmanis states that it calls for a commitment "to put together our collective visions and hopes and make a future we can stand behind." This concert is the perfect opportunity to hear their vision yourself.
February 20
Valerie June
Park West
8 p.m.
$20
Originally from Memphis, Tennessee, this singer-songwriter mixes the blues, folk, and bluegrass sounds of her city with the gospel and soul from her upbringing. She found her biggest commercial success with her third album "Pushin' Against a Stone," which has many collaborations with Dan Auerbach of The Black Keys. See her next month, touring to promote her latest album "The Order Of Time," due out January 2017.
March 1
Vallis Alps
Schubas
8 p.m.
$11 ($13 at the door)
Not to be confused with the lunar mountain range, this electronic duo still possesses an atmospheric vibe. Hailing from Seattle, they mix poetic lyrics, catchy melodies, and playful noises to make listeners feel like they are bouncing on the moon. With a self-titled EP already under their belt and a new one on the way, Vallis Alps' set should be a mix of old and previously-unreleased material.
Electric Guest
Thalia Hall
8:30 p.m.
$16+
Electric Guest will make you feel right at home with their original brand of indie pop incorporating bluesy vocals and psychedelic Americana vibes. After the breakout success of their album "Mondo," front man Matthew Compton struggled a bit after writing a very personal follow-up album that ended up being scrapped. Starting over, the band went on to write their upcoming album "Plural" with a promising first single "Dear To Me."
March 3
Sting
Aragon Ballroom
8 p.m.
$90
This 16 time Grammy award winner and environmental activist needs no introduction. Known for his use of reggae and worldbeat in his unique brand of rock, Sting is still going strong after releasing his 12th studio album, "57th & 9th," at the end of last year. Join him at the Aragon Ballroom as he begs "Roxanne" to stay and walks through "Fields Of Gold."
March 4
Haley Bonar
Schubas
10 p.m.
$12
This Canadian singer-songwriter is no stranger to the stage, releasing her first album over 15 years ago. With a wide range in her sound, she moves effortlessly from heavy electric guitars to quiet and emotional pianos, always melodic and always telling a story. This show will promote her latest album "Impossible Dream," released early last year.
March 9
Tennis
Thalia Hall
7:30 p.m.
$18+
Tennis has continued to evolve their sound since their first album, moving from an airy, muffled, surf pop sound to music driven by 80's synth. Now, the first single from their upcoming album has much more of a blues influence, yet still keeps their sweet indie pop sound. Their new album, "Yours Conditionally," will be released the day after this show. If you're lucky this duo may sell you a copy a day early.
March 10
Save Ferris
Bottom Lounge
8 p.m.
$20
One of the biggest names in the ska movement of the late 90's, Save Ferris is headed to Chicago as a part of this year's Riot Fest. After a messy break-up and some litigation with past band members, the group is ready for a fresh start with a new EP being released this month. Join them and relive that "10 Things I Hate About You" dance scene while you skank the night away.
March 13
MØ
Metro
7 p.m.
$23
This hit-maker knows how to create good pop music. Collaborating with producers from Diplo to Jack Ü, she has been treating audiences to new songs from her unreleased and untitled 2017 album. She has said this album will be much more political than the last. It will be exciting to see where her sound heads next.
March 14
Ariana Grande
United Center
7:30 p.m.
$30+
Reader beware, a "Dangerous Woman" is headed to the United Center. She can be identified by her airy soprano, catchy pop songs, and she was last seen wearing latex bunny ears. Be warned, she may seduce you and tell you she's "Into You." If seen, call the authorities, move "Side to Side," and remain calm. Everything will "Be Alright."
March 19
Vince Staples
Metro
8 p.m.
$20
Occasionally being stopped by security guards at his own concerts, this young artist is the opposite of the rapper stereotype. He rejects a life of luxury, dressing in plain clothes and staying sober. His music is poetic, analytical, and focused on race and class in America demonstrated in his latest EP "Prima Donna," which opens with a "bang" of a gunshot after a somber rendition of "This Little Light Of Mine."
March 26
Bon Jovi
United Center
7:30 p.m.
$19+
Classic American rock band Bon Jovi is returning to Chicago to promote their 2016 album "This House Is Not for Sale." Concert-goers will also hear old favorites like "You Give Love A Bad Name" and "Livin' On A Prayer" as well. The house might not be for sale, but tickets to this show are. Get them before they sell out. For more information on Bon Jovi, check out StreetWise vol. 24 no. 50.
The Venues:
AllState Arena,
6920 Mannheim Rd, Rosemont
Aragon Ballroom,
1106 W. Lawrence Ave.
Bottom Lounge,
1375 W. Lake St.
Concord Music Hall,
2047 N. Milwaukee Ave.
House of Blues,
329 N. Dearborn St.
Lincoln Hall,
2424 N. Lincoln Ave.
Metro,
3730 N. Clark St.
Park West,
322 W. Armitage Ave.
Schubas,
3159 N. Southport Ave.
Thalia Hall,
1807 S. Allport St.
United Center,
1901 W. Madison St.