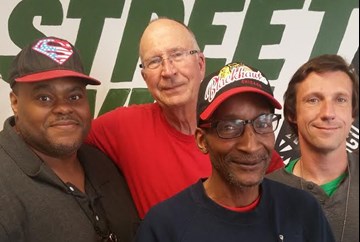 By: Staff
November 27, 2017
On November 11, the SportsWise team was treated to tickets to the DePaul vs. Notre Dame college basketball game at the brand new Wintrust Arena (200 E. Cermak Road)
Donald: That was an exciting game. Notre Dame ain't nothing nice! They had sharpshooters all over the floor. DePaul didn't have a chance. They made a lot of mistakes and Notre Dame exposed all of their weaknesses.
Russell: I really like Wintrust Arena. It was easy to get around and find our seats. The food was right there, too. The atmosphere was great, although there were some annoying Notre Dame fans right next to us. Man, they were loud! DePaul played well in the first half, but they fell apart at the end. I hope that this will help DePaul get some of the local kids to stay in town. There are a lot of great players at schools like Simeon and Curie, but all of them leave. A lot of the DePaul players were from out of state. Notre Dame beat us this time, but we'll get them next time!
John: The arena was so convenient to get to. All you have to do is take the train and walk a few blocks. So much easier than when they were in Rosemont. It's going to encourage students to go to games. Honestly, Loyola should try to do something similar with their basketball arena or maybe share with DePaul. The game was close for a while, but Notre Dame was too good. DePaul is going to struggle with teams that are from bigger conferences because there's a big talent gap. Hopefully DePaul can get some better recruits from Chicago. I remember back in the days of Ray Meyer, they got everybody good from Chicago. Nowadays, they all go to Duke, North Carolina, or even UCLA.
Donald: I was amazed at the shooting from Notre Dame. Every time I looked up it felt like they were draining another three. They had several guys who could lead with the ball and then pass it to the open man. DePaul played them close for a while, but those Notre Dame boys are good! The story might be different next year, though.
Russell: I enjoy college basketball so much more than the NBA. In the NBA there are so many time outs. It felt like this game flew by. They weren't stopping every couple of minutes—they just played. DePaul plays Northwestern soon and I'm hoping all of Chicago comes out to support both teams.
John: DePaul played well on defense and made some tough shots, but they have to improve their rebounding. Every time there was a board up for grabs, Notre Dame came down with it. They were too big for DePaul and it showed throughout the game. It was fun seeing all of the Notre Dame fans there. The arena is easy to get to so there's always going to be plenty of visiting fans. This game might have been the start of something for DePaul. It is definitely going to help with recruiting and hopefully brings DePaul back to the glory days.