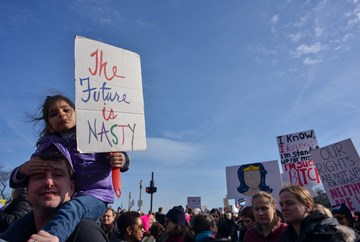 By: Andrew Moreno
February 19, 2018
A year after Donald Trump's inauguration as president of the United States, women in Chicago marched to protest his policies. They were joined on January 20 by people in Japan, Italy and other nations, all united and marching for "Power to the Polls."
This year's march was more than a protest for women's equality. It was about the importance of increasing voter participation through new registrations and about encouraging more women to run for elected office.
"If we believe in equity in this country, then we have to have a strong women's voice at the table," said Sol Flores, who is a candidate for the 4th Illinois District seat being vacated by U.S. Rep. Luis Gutierrez (D-Chicago), who has held the seat since 1993. "Fifty percent of our population look like me and yet only 19 percent are in Congress."
The League of Women Voters participated in this year's march, actively registering new members of the electorate and making it easier for people who have moved recently to update their addresses. The League also handed out helpful voter information bookmarks.
Jane Addams Senior Caucus marched just days after protesting Housing and Urban Development (HUD) Secretary Dr. Ben Carson's visit and his call to cut $7 billion from the HUD budget. JASC member Debra Miller disrupted Carson's speech to say how devastating cuts would be to seniors.
Women Employed (WE), meanwhile, reminded people that the Illinois gubernatorial primary will be March 20 and March 4 is the last day to register to vote via the State Board of Elections website. Its legislative agenda promotes equal pay through the "no pay history" bill; through time off to allow workers to care for themselves and family members; and through state support for public services.
While some people said that this year's march was not going to be as authentic as the initial one to protest Trump's inauguration, the reality of 2018 march proved them wrong. The Chicago march drew 300,000 protesters, compared to 250,000 last year. Nationwide, there were over a million protesters. San Francisco had about 50,000 marchers, New York 200,000; Los Angeles 500,000 and Washington, D.C. about 10,000. In Charlotte, women waiting to use restrooms gave up gender specificity after lines for women's facilities were 15 times longer than those for men.
Chicago had diverse marchers, from families with a newly registered 18-year-old to show them the importance of voting, to organizations advocating for equality. Molly, a young activist, said, "It is important to be here especially when you are young to come and talk about the issues that affect us, not only now but in the future. This is our future and we need to take a hold of it."
Others called for more than just a march to the polls but for increased grassroots activism in the name of building equality. The International Socialist Organization proclaimed, "We need to move beyond electoral politics, as we have seen that the resistance from the Democrats has not been enough."
For Refusefacism.org, the march was about demanding the impeachment of both Trump and Vice President Mike Pence.
Said Jay Becker of refusefacism.org, "We must organize millions against Trump's fascist regime. Trump and Pence must go."