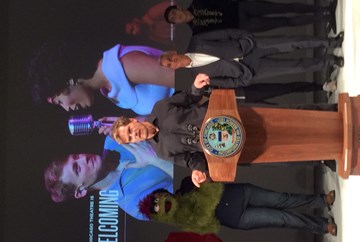 By: Suzanne Hanney
October 1, 2018
The year 2019 will be "The Year of Chicago Theatre" thanks to a collaboration by the City of Chicago and the League of Chicago Theatres that will involve new brand positioning, national and international advertising – and efforts to expand theatre on the South and West Sides.
"To truly fall in love with Chicago, you must go to our theatres," said Department of Cultural Affairs and Special Events (DCASE) Commissioner Mark Kelly at the September 17 press conference at the Steppenwolf Theatre.
"This is where the city bares its fearless soul," Kelly said. "From joy to heartache and every feeling in between, Chicago theatre tells stories that evoke big emotions. Stories that take risks, inspire awe, ask tough questions and dare audiences to do the same. Through Broadway musicals or storefront plays or improv, the energy of the city comes alive in our theatres."
The campaign will be similar to that in 2017 for public art and in 2018 for creative youth, Kelly said. The "Year of Chicago Theatre" will include:
* $200,000 in financial grants to theatres and nonprofit theatre programs
* a theatre-themed film series next summer at Millennium Park
* an expanded Chicago Theatre Week in conjunction with Choose Chicago, the marketing organization for business and leisure travel to the city
*a  new Chicagoplays.com, the website for the League of Chicago Theatres. 
"We all know we have something special," said Mayor Rahm Emanuel. "The rest of the world knows. Now we will shout it to the top of our lungs."
The new brand positioning for 2019 will be "Chicago theatre is the fearless soul of Chicago," with advertising inside the city -- including McCormick Place and O'Hare Airport -- and around the globe, Emanuel said. This brand positioning was developed by FCB Chicago along with DCASE, Choose Chicago, Broadway in Chicago, World Business Chicago and the League of Chicago Theatres.
"The campaign will embrace theatre as something that sets Chicago apart from other cities," said League of Chicago Theatres Executive Director Deb Clapp. Clapp described growing up attending Chicago theatre, and said that in the name of equity and inclusion, the geographic scope of theatre will be expanded so that all Chicagoans have access. The Chicago Park District's "Night Out in the Parks" program will offer theatre events in all 77 Chicago neighborhoods.
"All you will need is a lawn chair; it's a new use for 'dibs,'" Emanuel joked.
But the issue of equity "challenges us even when it is uncomfortable to be challenged," Emanuel said. "Theatre can do it as no other art form."
As Emanuel spoke, projections above him changed to describe Chicago theatre as "brave," "visceral," "provocative," "welcoming" and "awe-inspiring." Accompanying photos were from the plays "20,000 Leagues Under the Sea" at Lookingglass Theatre, "Enemy of the People" at Goodman Theatre, "Six Corners" by American Blues Theatre at Stage 773 and "Jesus Christ Superstar" at Lyric Opera. The "Year of Chicago Theatre" will encompass not only Chicago's flagship stages but its 250+ storefronts, as well as dance, improv, opera, puppetry and more.
Even if actors move from Chicago, they still call the city their home, Emanuel said. "It's where they learned to take risks, learned to express outside what they feel inside."
Red Orchid Theatre founder Michael Shannon agreed, separately calling the company and Chicago, "a piece of my heart." Shannon was nominated three times for Screen Actors Guild Awards as Nelson Van Alden on HBO's "Boardwalk Empire" (2010-14).
It's also a place where actors can build relationships and explore other jobs, such as producer, said Celeste M. Cooper, a Joliet native who received her master's in fine arts at DePaul. Now an ensemble member at Steppenwolf, she will appear there in "Doll's House Part 2" in January.