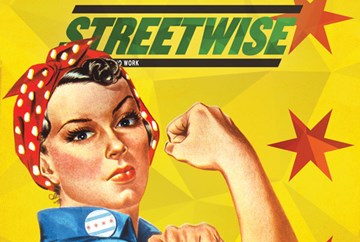 By: Suzanne Hanney
September 5, 2016
A feminist doesn't hate men, she hates male privilege, "that they can get paid more and laid more," said writer/poet Kwyn Townsend Riley.
But a feminist could smile more once men learned, "No means no, no matter how many drinks or how tight the skirt." It's not a matter of " 'she was asking for it, the way she was dressed,' " said Townsend Riley, co-keynote speaker of the Chicago Young Feminist Conference 2016.  "Rape culture is what serenades boys to sleep while girls ask for night lights."
Preventing campus rape culture from derailing a young girl's education was just one topic at the conference, along with "Feminism through the generations," and reminiscences by Chicago activists.
The first-ever Young Feminist conference August 15 at the office of KPMG was a reaction to women seizing leadership positions, from Hillary Clinton's nomination for President to new United Kingdom Prime Minister Theresa May and German Chancellor Angela Merkel, said Bridget Gainer, founder of the Off the Sidelines Chicago, which hosted the event and whose mission is to encourage more young women to "take their ideas to action."  Gainer said in her welcome that 25 years ago she was an organizer in New York.
Now she said she is doing different things, such as having kids (and being a Cook County board member for District 10, which includes the lakefront and Northwest Side). "But I am still working for justice.
"At some times feminism is one way and at other times it morphs. But you don't leave it behind."
Gainer said later in an email newsletter that her two takeaways from the conference were to build a coalition to pass legislation giving workers in Cook County five paid days of sick time and to continue the "Nothing Stops a Bullet Like a Job" campaign to keep young people employed.
Is it important to call yourself a feminist? That's what moderator Heidi Stevens of the Chicago Tribune asked a panel on Feminism Through the Generations.
"A lot of people I admire may not even define themselves as feminists: for example, Beyonce," said panelist Tarrah Cooper, managing director of the Mercury public strategy firm and former press secretary for Mayor Rahm Emanuel. "They just want to be great. Hillary [Clinton] wants to be great, to create change. There's not a right way or a wrong way, it's all about results."
Cooper gave the same answer: "it's about results," when asked how to respond to misogynist behavior.
"Be great," she said. "No one can hate on someone who has a great work ethic."
Questions from the audience of 200 young women sometimes focused on whether they themselves looked like feminists.
After a Latina prefaced her question to panelist Amina Imran about about how to define herself at a diverse school by saying she was the only Latina there, an audience member across the room shouted she was a Latina too.
"When I first entered high school, I thought I was the only one with values," Imran responded. "Be kind, be caring, be there for another person."
Imran is a rising senior at CICS Northtown Academy who was vice president of student government last year and who helped with a school event to buy Christmas gifts and winter essentials for people who were less fortunate.
Earlier, someone had asked Imran to reconcile feminism with her Muslim religion. She does use the word "feminist" to describe herself, although it conjures up thoughts of extremism, Imran said. Yet she is a humble person, someone who values peace. "Give a compliment, empower people."
"Be bright," said panelist Kim Hunt, executive director of Pride Action Tank, an AIDS Foundation of Chicago project designed to improve outcomes for LGBTQ communities. Hunt noted that she first started her career in transportation planning in the mid-'80s, when she was a young black female in a world of middle-aged white males. "Sometimes allies don't look like you, but they're there."
Hunt admitted that in the early days of the feminist movement, she had preferred Alice Walker's term, "womanism," which "felt more all-encompassing." A small thing the audience could do to promote feminism would be to support Black Lives Matter's "Say Her Name" campaign, which honors women killed by police or intimate partner violence.
Panelist Carolina Cannon, a Whitney Young High School rising senior who founded Acting for Gender Equality, which promotes feminism through discussions, speakers and service projects, said that the conventional wisdom is that religion and feminism don't go together. As a Mormon, she believes they do. "Be your authentic self. That's what feminism is."
Both Cannon and Imran said they now supported Clinton for President, although they initially preferred the policies of Bernie Sanders.
"I felt I was pressured to vote for Hillary because she was a woman," Cannon said. She admitted that she had never lived in a time where it was unique to have a woman on the ballot. Still, Clinton's nomination "was a powerful moment."
Another panel on "Know Your IX," meanwhile, referred not to the sports equity imparted by the 44-year-old civil rights law. Instead, it addressed safeguards Title IX requires so that women can pursue an education equal to that of men – particularly if they have been sexually assaulted.
Ashley Knight is DePaul University Dean of Students, with a dual appointment as its Title IX coordinator. Since 2011 colleges have been called to have a liaison to provide remedies for sexual assault victims. It could be just a matter of changing a class schedule or housing to avoid the perpetrator, or it could mean going to the police.
"The main point is, you should not have to lose your education," Knight said. "You should remain whole."
Campus sexual assault victims don't have to press charges, because going to police is a more intensive process, said Knight and Kristen Elizabeth Field, national interim coordinator of expansion and fundraising for Step UP! "It's a very invasive procedure because basically, your body is a crime scene," Field said.
Nationwide, there is a backlog of 400,000 untested rape kits. Statistics show 2 out of 3 rapists are serial perpetrators, "so when we do not test, we leave perps in our neighborhoods," Field said. To address this backlog, rape kits were sent to governors in every state.
Field actually had a friend who had been raped; as soon as her kit was tested, it was matched to someone already in custody.
But campus assaults often start out far more benign than they finish, said moderator Susanna Homan, editor-in-chief and publisher of Chicago Magazine. "You think rape is a stranger who attacks you, not someone you go on a date with and let kiss you."
It can start with a young man walking a drunken girl home but it becomes rape when he takes advantage of her condition, said Emma Gonzalez, a volunteer in Chicago Public Schools and with Rape Victim Advocates.
This violation of dignity doesn't seem like rape because it is different from the criminal stereotype and it comes "after you've been in a space you wanted to be in," agreed Kaethe Morris Hoffer, executive director of Chicago Alliance Against Sexual Exploitation (CAASE).
In fact, the definition of "consent" is the acronym "FRIES:" freely given, reversible, informed, enthusiastic and specific, said Dylan Lanoff. Lanoff is a senior at Indiana University who directed a group called Safe Sisters, which is 100 women from 23 sorority chapters who educate their peers on prevention of campus sexual assault.
Nationally on college campuses, 1 in 4 women is a victim of sexual assault and 1 in 33 men, Lanoff said after the panel. However, only 1 percent of campus perpetrators nationally ever spend a day in jail, "which says a lot about rape culture, classism and sexism." 
What message should mothers give their sons, an audience member asked the panel.
"Start at a young age raising sons to respect boundaries," Lanoff said.
"We're trying to change the conversation from 'don't get raped,' to 'don't rape,' not that 'she drank too much' or what she wore." DePaul's Knight said. Meanwhile, the movement for the rights of the accused is also gaining steam. If campus rape defendants can afford to lawyer up, they do.
Simultaneously, the Black Lives Matter movement "has exposed how critical fairness is," Hoffer said. "We underprosecute and overpunish rape." What will be key in the future is coming up with penalties that still allow defendants to be rehabilitated as community members instead of being labeled "sex offenders."
In 2015 State Sen. Toi Hutchinson (D-Olympia Fields) sponsored a bill in the Illinois General Assembly to help colleges and universities develop clear policies regarding sexual assault reporting and response. Students would be notified of their rights (including confidentiality) and others would be trained to spread awareness.
Hutchinson was among policymakers who gave personal stories about, "Why I am a feminist."
She introduced a bill that requires insurance coverage for contraceptives that will go into effect January 1. In 2012 she and State Sen. Sara Feigenholtz (D-Chicago) passed a bill to impose a new $3 per person surcharge at Illinois strip clubs that will raise $1 million annually for rape crisis centers across the state. She was honored for her efforts by CAASE, the Chicago Metropolitan Battered Women's Network and the American Civil Liberties Union.
The idea was a bit unconventional and media spun the concept with sexist headlines rather than focusing on its actual purpose, she said. She described her shock at a newspaper story with a picture of a stripper captioned, "Senator Toi Hutchinson not pictured above."
Hutchinson went back to law school while raising three children. When she was suddenly made aware of an open Illinois Senate seat, she ran, even though she was a black woman candidate up against five white men.
During that election, she told the audience how an older black woman came to meet her, "just to see if I was real."