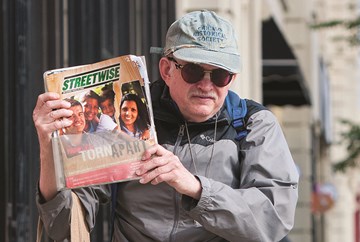 By: Alexandria Spillman
September 18, 2017
On a hot July day, few things can satisfy like a big scoop of chocolate ice cream. Pour a soda over top, and you've got the makings for a sweet, bubbly float that will always beat the heat. James Metzgar is lucky enough to live right across the street from Zanzibar Café, 1036 W. Bryn Mawr Ave., in Edgewater, where he can get just that anytime his sweet tooth strikes.
When he entered the café, James took notice of the art adorning the walls. He grabbed a booth seat and soaked up the ambiance. "On the inside," James said, "there were pictures of various neighborhoods, specifically Edgewater and Uptown. That made it a home-y atmosphere."
James ordered a Coca-Cola Float with Zanzibar ice cream—Zanzibar's signature "extremely sweet" chocolate ice cream, according to James. "That was the only thing I got because the float with the ice cream was pretty filling," James said. "If I had wanted more, there were so many good choices with all the varieties of sandwiches, pastries, and salads."
"It's so close to home for me, that I can always go back and try something new next time," James added. "If I go there again, I will probably make it a full meal. I would probably get some kind of pastry and a sandwich some time too."
Not only was the float delicious, but James says that the service he received was perfect, too.
'The service was great," he said. "I got everything very quickly, just a few minutes of when I ordered it so I have no complaints about the service, and that's one of the reasons why I left a tip after I was finished with my float."
At this point, James drew a significant comparison between himself and his server.
"I think tipping is important when you're being served in a restaurant," he said. "I've heard that waiters and waitresses make wages that are lower than the minimum because it's anticipated that they will earn tips. Come to think of it, sometimes we, as StreetWise vendors, get tips. Sometimes, it's only a tip."
James highly recommends Zanzibar to anyone looking for a relaxing spot to study or socialize. The small café is comfortable and cozy, and doesn't appear to accommodate large crowds or heavy traffic all at once, James noted, making it an ideal spot for those seeking peace, quiet, and sweets. On that hot July afternoon, James recalls having the whole place to himself.